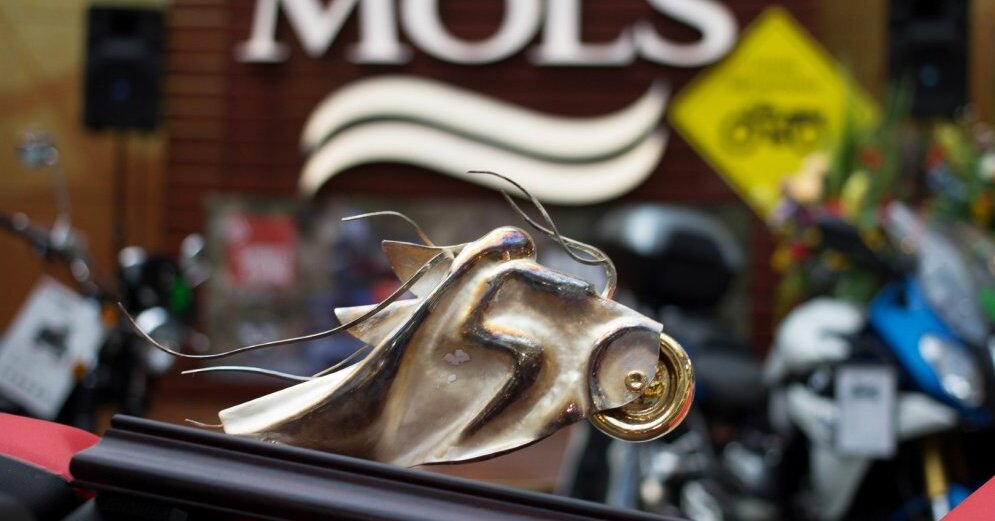 The winner of the Latvian motorcycle 2018 will be announced at the Mols shopping center on Tuesday, August 21st at noon, and will evaluate the bidders from BMW, Harley-Davidson, KTM, CanAm, Honda, Mash, Royal Enfield, Triumph, Ducati, MV Agusta and Husqarna. The organizers of the traveling prize t / c "Mols" of the Youth Artist Ogeegs Auzers and the contest "Latvian motorcycle of the year" will be awarded to the winner of 2018.
The annual vote of journalists and moto-specialist approaches and the winners of the "Latvian motorcycle of the year 2018" are revealed. The vote was represented by September 21, 2018: Honda GL1800 Tour DCT, Honda CB1000R + ABS, Honda Africa Twin Adventure Spots DCT, BMW G 310 GS, BMW F 850 ​​GS, BMW K 1600 Grand America, Harley-Davidson Softail Fat Boy , Moto Guzzi V9 Bobber, MV Agusta Turismo Veloce 800, Husqvarna Vitruc 400, Mash Scrambler 400 Custom, CanAM Spyder F3 Sport cruising, KTM 1090 Adventure R, Ducati Scrambler 1100 Sport, Triumph Boneville Bober, Triumph Boneville Scrambler and Triumph Tiger 1200/800.
Voting took place in categories: "Latvian motorcycle of the year 2018" – 1st, 2nd and 3rd place; high-comfort large motorcycles (cruisers), street engines, adventure motorcycles, choppers / boers, scramblers, motorcycles up to 500 cm3 and popular mood.
Arnis Blodons, organizer of the "Latvian motorcycle 2018": "It is the fifth anniversary, because we hold such a competition from Latvia and also in the Baltic states, which activates the interest in motorcycle news and motorcycles, making interested people the most suitable and most interesting vehicle for their daily life and recreation can choose joint test days and individual visits to the judges are experienced motorcyclists, journalists, as well as representatives of specific professional services whose routine is related to motor transport, for example Normunds Krapsis, head of the traffic police department who is subordinate to the police for motorcycles.
Oskars Irbītis, chairman of the jury of the jury "Latvian motorcycle 2018": "The competition this year was a big challenge for the jury – so different motorcycles, for different roads and public.) It was not easy for the jury to evaluating, as evidenced by the results of the vote, there was no clear leader and results changed with each successive voter in the jury vote and in the popular vote It was not easy until the last moment, because the number of points for some participants was the same was. "All this was determined by hundreds of seconds, as sports commentators say, and this creates their intrigue and the tension that we expect. This kind of competition means that the moto market is so well developed that it is very difficult to become a leader. to choose the very best. "
Last year, after the jury's vote, the first prize was "Latvian motorcycle 2017": 1st place – Yamaha Tracer 700; 2nd place – KTM 1290 Adventure S; 3rd place – "BMW R 1200 GS"; People & # 39; s vote: 1st place – Honda Rebel 500; 2nd place – BMW R NineT Scrambler; 3rd place – Mash TT40.
Source link