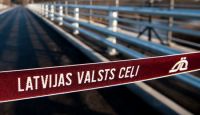 A footpath on the left side of the road is closed from the Friday bridge at Kekavins to the roundabout A5 (Salaspils-Babite) in Riga, as the sidewalks and balustrades, as well as the beams under the side wall, are damaged. The walk on the right side of the road remains open.
According to the traffic information center of the national road authority of Latvia, the permissible speed in the bridge area is reduced to 70 km / h and the width of the carriageway on the bridge is reduced from 4 m to 3.5 m. This means that bulk carriers must be taken into account.
The need for limitations was determined by a special inspection performed by the bridge. Restrictions remain valid until the bridge is rebuilt.
Source link