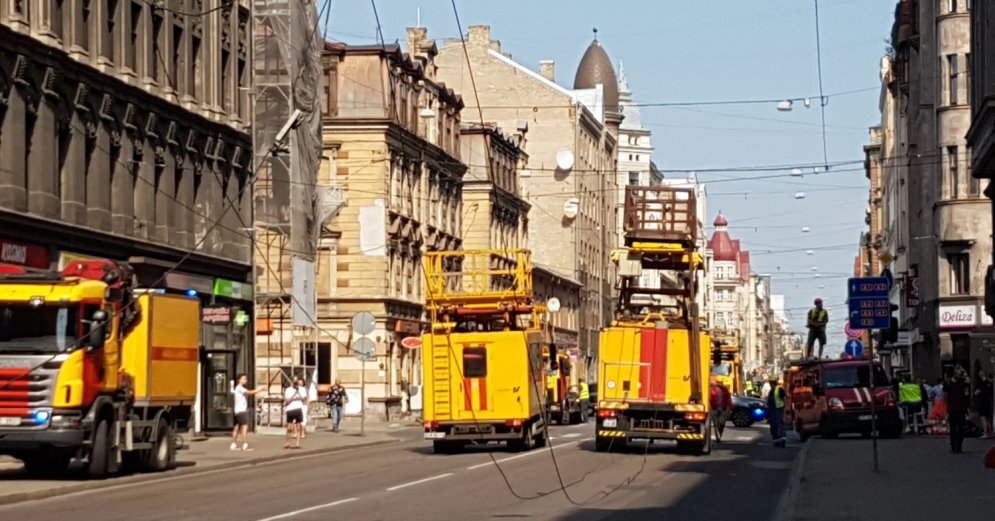 On Friday, at the Aleksandra Caka street in Riga, the truck dug up the contact wire of the trolleybus, closing traffic from Blaumana to Gertrudes Street. At 4.40 pm traffic was restored, the portal "Delfi" was clarified by the State Police.
The call to the State Police at the police station on Caka Street was received at 1.42 pm.
One of the eyewitnesses said Delfi, the incident was already around 13.40, but the police brigade arrived around 14.10 when the street was closed.
At least three cars were injured in the incident and the emergency medical service was on site.
The anchors were removed from the walls of the house from the scene of the accident, at the intersection of Lāčplēša and Čaka streets a traffic light was damaged shortly after the change.
Damage to the arcade at the intersection of the streets Lāčplēša and Čaka has also been damaged during the accident – different signboards are divided into the building.
In the portal "Rīgas satiksme", "Delfi" said that specialists are currently working on site, who collect contact networks.
Changes have also affected the trolleybus route. The vehicles run to Gertrudes Street. It is intended that the damaged area will be in good night hours, it will inform "Rīgas satiksme".
The emergency call to the Emergency Medical Service (NMPD) on Chaka Street was received at 13.42. From one place to the hospital, a wounded person, a passerby, who was in a stable position, was brought to the attention of the person concerned by a leg-injury.
The 18th and 23rd rounds stopped at 13: 44 at the intersection of A. Čaka and Lāčplēša Street for technical reasons.
– Rīgas satiksme (@Rigassatiksme_) August 24, 2018
When the police were informed, traffic was restored around 16.15, but ten minutes later the police reported that, in connection with the change of wires on A.Čaka Street, it was closed from Lacplesa to Bruņinieku Street. Around 16.40 hours it was reported that the traffic has been restored.
Source link