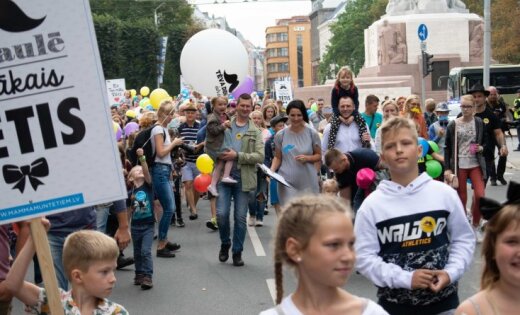 Photo: Photo: Andris Barbans, Artūrs Ķipsts.
About 500 participants went to Sunday in the center of the city of Riga, mostly for families with children of different ages, according to the agency LETA.
The players had colorful balloons in their hands, as well as posters decorated with inscriptions like "I am proud to be a dad", "My honorable family", "I love you dad" and others.
The procession started at the Freedom Monument and was supervised by the Guardian Orchestra in the Vērmanes Garden, where until 5 pm the organization "Mammamuntetiem.lv" organizes a specially dedicated festival for the fathers.
As the LETA agency has pointed out, the festival is already at its peak.
Entrance and activities are free. The event includes both a concert and various activities for the whole family, including relay, experiments, educational performances and games, creative workshops, bowling, nature gymnastics, tastings and other activities.
The purpose of the festivities is to strengthen the tradition of celebrating the Father's Day in Latvian families, to thank our fathers, to discuss the subject of the role of the father in the life of the child and to share the enjoyment of to promote dreams and the free time of children.
As the head of the parent organization Inga Akmentina-Smildzina points out, participation in the procession of the Father's Day has become a tradition for many families – we have already noticed some families. "These families have also introduced their own traditions – especially for the walk, for example, they all have shirts with thematic slogans. We have also noticed that there are a growing number of future parents and young parents with a baby in a trolley. go with grandparents ", she emphasized.
Source link