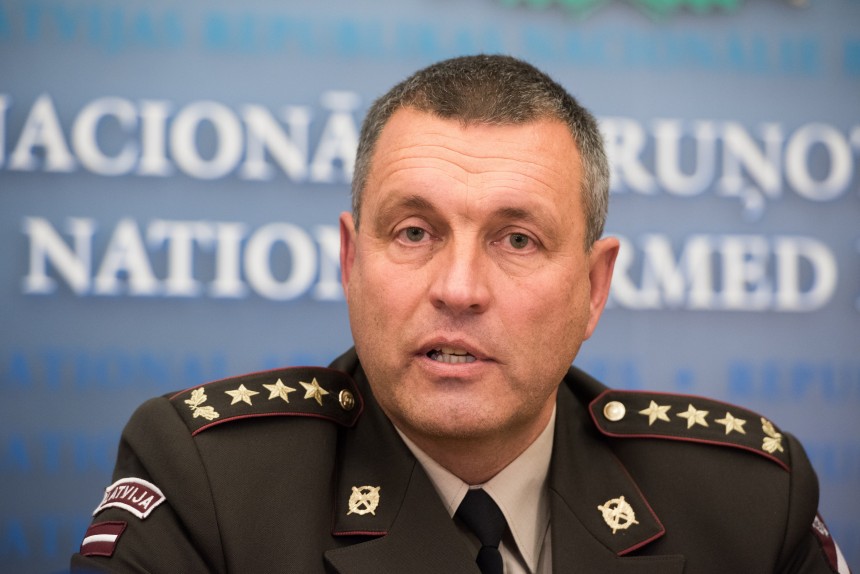 During the military term "Namejs 2018" soldiers will not use private plots without permission and prior coordination, nor will they be in any other courtyard, Leonid Kalnin, commander of the National Forces (NAF), promised this morning in an interview with the Latvian radio.
Kalniņš warned that the training would cover almost the entire territory of Latvia, therefore residents should not be disturbed by the unexpected presence of soldiers or armored personnel ships.
As reported, major military exercises begin in Latvia today since regaining the national independence "Namejs 2018", which will last until 2 September.
Kalniņš warned that the training would cover almost the entire territory of Latvia, therefore residents should not be disturbed by the unexpected presence of soldiers or armored personnel ships. "We have not specifically asked, but the public (…) will take us to the streets and roads, and certainly to our neighbors, if there are units in one of the buildings or arches that will fulfill their tactical tasks for their abilities. to train, "said the commander of the army.
He emphasized that the municipalities concerned were already aware of these activities in good time and had the opportunity to inform their residents. On the other hand, planned traffic restrictions will not be extended when moving armored vehicles. "You do not have to worry about this, these delays will be small and noise will be generated directly by training, not by combat munitions," Kalnins asked.
The question of what to do when an armored vehicle suddenly enters the yard during training and troops appears, the NAF commander said that the soldiers would not go to any courtyard without a license because the owners of the country for which the training was planned would already previously agreed. "We have more than 500 agreements with the owners about the use of their territories, and only in these cases will we use their property and infrastructure to train their soldiers," Kalnins assures.
As reported, more than 10,000 participants in the Namejs 2018 will participate in the training of Latvian and Allied troops and guards, reserve soldiers, volunteer aid workers, AM staff, as well as police and border guards.
The active phase of the training takes place not only in the landfill Ādaži, but also in Skrunda, Forest Mackeviča, Lachusila and other regional landfills, as well as in at least 36 districts of Latvia – Akniste, Aluksne, Apen, Ādaži, Baldone, Daugavpils, Garkalne, Grobiņa, Gulbene, Iecava, Ilūkste Jelgava, Jekabpils, Livani, Krustpils, Kuldiga, Keguma, Kekava, Nereta, Nīca, Marupe, Olaine, Ozolnieki, Priekule, Rezekne, Salas, Salaspils, Saldus, Skrunda, Smiltene, Stopinu, Vaiņode , Vārkava, Vecumnieki, Viesites and Vilaka provinces. The inhabitants of Riga, Liepaja, Valmiera, Ventspils, Jēkabpils and Daugavpils will most likely study.
Training assignments will be carried out on land owned by legal and private entities, through prior coordination of these activities. Likewise, construction companies in mobile applications will support training with heavy equipment such as bulldozers.
Students will play different scenarios, for example, one of them will be the elimination of spontaneous unrest in Jekabpils and Valmiera. In this unrest, armed people will be involved without distinction, who will respond in the first instance to structures for internal affairs that will be assisted by the armed forces. The role of the enemy in playing Allied troopers.
"We will defend the defense of our country, we will use deterrence and defense operations, all teams have the right to move and provide local protection to specific cities." The state defense structure will be 100% verified, we will not create a scenario against a particular country, but we will prepare the national armed forces to protect Latvia from any danger, "said NAF Commander.
Although military equipment and non-technical movements of pedestrians will be visible on public roads, the NAF commander recommended that ammunition should not be used outside landfills and rifles. The American helicopters deployed in Lielvarde, the Latvian and Allied heavy and light motorized vehicles, as well as unmanned aircraft are involved in the training.
There are firefighters at fire fighting places to prevent a fire from being released in the Adazi landfill this summer.
The Allied training will be represented by the NATO battalion deployed in Latvia, American soldiers, as well as soldiers from Lithuania and Estonia. Although Poland and the Czech Republic are already represented in the NATO battalion, the two countries will send extra soldiers for training time.
Source link