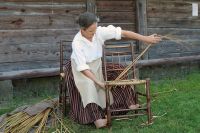 September 2 nd afternoon From 10 am to 4 pm the Ethnographic Open Air Museum of Latvia organizes an annual event called "The Day of Crafts, Play and Dance Day", as well as the Latvian bath parties. Visitors can get acquainted with the Latvian sauna tradition, participate in broom making, listen to lectures on different topics of nature, health and sauna, and learn Latvian dances, games and games.
During the event this year a "Golden Brooch" bath show will be organized by the Sauna Theater, where Latvian bathhouses will show their skills and skills and will be rewarded in three categories: gold, silver or bronze lock. The challenge is to show that the bath traditions in Latvia are being developed and are still highly valued, and every visitor will be able to get acquainted with the nuances of this profession and enjoy the professional sauna saloon in the sauna room, informs Ieva Lāce, organizer of the event SIA "Pirts skola".
During the day visitors can enjoy the craft market, where you can buy bath accessories, food and linen. Children are given the opportunity to participate in creative workshops and to discover natural plants. For entertainment, the dance club provides Latvian dances and songs, while the part of the Bathing Holiday event will be revealed and concluded with a song and fire ritual, says I. Lāce. Visitors are also welcome to visit other events throughout the area.
Go to www.brivdabasmuzejs.lv and on the day of bathing – www.facebook.com/Pirts-Skola for more information on the & # 39; day of occupation: games and dance games & # 39 ;.
Source link