Shadow economy is one of the most urgent problems in Latvia. It tries to eradicate it with a whip – by introducing control measures and with roots – and offers a fine for tax debt. Entrepreneurs believe that instead of just confronting the consequences, the causes that promote gray business activities should be eliminated.
According to the study by Professor Arnis Saukas at the Riga School of Economics, the share of the shadow economy in Latvia was the largest in the Baltic states – 22% of GDP (almost 6 billion euros). According to the study, in Lithuania and Estonia, the gray economy in the gross domestic product is 18.2 percent.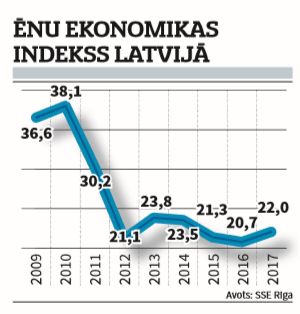 More than half, or 56% of entrepreneurs, are of the opinion that the shadow economy in Latvia is driven by too high taxes, according to a survey by the Latvian Association of Alternative Financial Services, carried out in July this year by the market and public opinion research center SKD.
The survey also shows that half or 52% of entrepreneurs are confident that employees work envelope salary did not opt ​​for banks or non-bank lenders, but for other considerations, for example to receive more rewards.
The second most important factor, in the opinion of entrepreneurs, which contributes to the shadow economy, is the lack of confidence in the state, according to 26% of Latvian entrepreneurs. In turn, 7% believe that the shadow economy is being promoted by a lack of integrity in society. The research also shows that more than half or 52% of entrepreneurs disagree with the statement that employees choose themselves envelope salary, to avoid different obligations, and points out that envelope salary is chosen for other reasons, for example on the arm get more money or because there is no trust in the state and its social guarantees.
"During the last six months, the statement that employees choose to receive compensation is often said on both the political and the media agenda. envelope due to debts. By looking at the views of entrepreneurs, it can be concluded that there are a number of other factors that have a much greater influence on the formation of the shadow economy in the country, including afixed salary payment and receipt. Survey data shows that entrepreneurs invite politicians to think about reducing labor taxes as the primary and most effective tool for fighting the underground economy, "said Gints Āboltiņš, head of the Association of Alternative Financial Services in Latvia.
Shadow economy factors,% of surveyed entrepreneurs
Taxes too high 56
Lack of confidence in the state 26
The lack of good faith in society 7
Debts of households at banks and non-bank lenders 2
Other 9
Factors in the shadow economy,% of the respondents
Taxes too high 42
Lack of confidence in the state 33
Lack of good faith in society 11
Other 14
source: Latvian association of alternative financial services
Source link