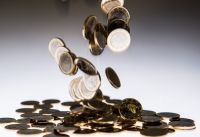 The Fiscal Disciplinary Board (FDP) also warns of an increase in budget spending, said a FDP president, Jānis Platais, on Friday in an interview about "900 seconds" of LNT. He stressed that the development and growth of the Latvian economy this year is the best since the crisis. The economy is growing fast, the external environment is very favorable.
However, a strong increase in spending is a concern. "We already have a statement from the European Commission that Latvia's spending is rising sharply, and FDP has also warned against the acceleration of spending on fiscal conditions," said Platais.
The FDP leader emphasized that both in the private sector, both in the public sector and in productivity gains. In the private sector, productivity is particularly important if there is a desire to prevent excessive influx of foreign workers into the future. In the public sector, however, salary growth can be achieved by reducing the number of employees and increasing productivity.
Platas also stressed the need to think about an "air bag" or reserves in the state budget and households that might be needed if the economy grows in the coming years no longer so fast.
The Fiscal Discipline Council is an independent collegiate body set up to ensure that budgetary discipline is monitored. The Board began its activity on 1 January 2014.
Source link