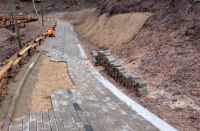 The Nature Conservation Board (DAP) has renewed the application for a competition for the prevention of Sigulda serpentine construction faults for the second time, said Dap & # 39; s spokeswoman Maira Reena.
Rena explained that until the closing of the tender for the first tender, 30 July, no company DAP asked her and no one asked for correction of defects until the end of the first extension of the first tendering period – 13 August
. ] That is why the second extension of the tender has already been announced. Companies can submit their offers to the DAP on 28 August
As mentioned, the DAP has announced the purchase of Sigulda serpentine construction faults. In accordance with the procurement rules, the winner of the competition must correct defects within one month after signing the contract. The regulation also stipulates that the bidder's tender must have a guarantee period of not less than two years, and must also comply with the principles of environmentally friendly or "green" construction during construction work.
In September last year, a new Sigulda serpentine was eroded as a result of heavy rain. from the holiday resort to the Gauja Bridge. In October the damage caused by inactivity by the construction company SIA Ventars was even greater, the agency Leta informed DAP communication specialist Rena
. She explained that despite several requests from DAP, to make warranty corrections for Sigulda winding pedestrian phase of the festival square. to the Gauja Bridge, the future During these weeks, SIA Ventars did not start these works, which resulted in further damage caused by successive storms.
According to the agreement between DAP and SIA "Ventars" during the warranty period, the contractor must, at his own expense, provide trail cover damage to the slopes, the repair of defects, housings, descending deflections, housings and wooden legs, as well as the prevention of damage. drainage of waste water systems.
Administration at the beginning of the winding road, both on the Gauja and on the festival site, has placed informant posters on alternative routes, as well as information about alternative running DDA social networking accounts and website.
However, this is not the first time that the new serpentine path formed lesions. "Shortly after the commissioning of the newly constructed road to the DAP, the designer and builder of the object discovered errors that, according to the terms of the contract, a declaration of inspection and defect were prepared for the construction worker", Rena
Source link