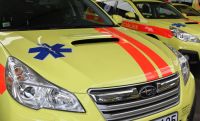 A person in the Riga region burned many burns while burning a bottle of fluid, a spokeswoman for the Emergency Medical Service (NMPD) told Elina Jurevica. A 47-year-old man was burned the moment he wanted to turn the oven on.
Upon inflammation of a bottle of oxygen, the man was exposed to thermal burns to the face, arms and thorax and was taken to a hospital.
In turn, a 45-year-old woman in the Vidzeme region accidentally crashed into her hot soup pan. She was taken to a hospital with thermal legs, arms and chest burn.
A total of 963 calls were received by the NMPD & # 39; night, of which 172 were wounded.
Source link