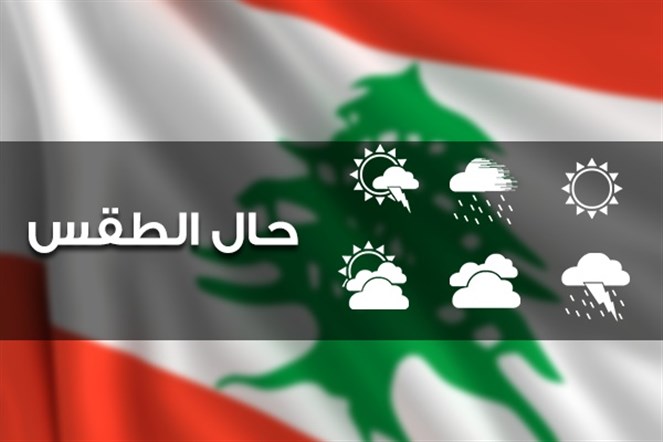 The meteorological department of the Ministry of Civil Aviation predicted that the weather will be partly cloudy to cloudy with stable temperatures and active wind on Monday, because the fog will form on the highlands and the atmosphere will be ready for occasional sporadic drops, especially on the mountains.
– General: a stable and humid summer weather that dominates the eastern basin of the Mediterranean is becoming mild from Monday.
– Weather forecast in Lebanon: Sunday: Partly cloudy with low temperatures on the mountains and inland without modification on the coast, and the fog is heavily formed on the highlands and sometimes the wind is active. Monday: Partly cloudy to cloudy with constant temperatures and active wind, fog forms on the highlands and the atmosphere is ready for sporadic spray sometimes especially on the mountains. Tuesday: Partly cloudy to cloudy with little change in temperature with haze on the highlands and occasionally sporadic rain showers in the morning, especially in the south of the country.
– Expected temperatures: on the coast from 24 to 32 degrees, above the mountains from 14 to 26 degrees, the interior from 17 to 34 degrees.
– Wind: Southwest, between 15 and 40 km / h
– Reject: on average, heights deteriorate due to fog
– Relative humidity on the coast: between 55 and 80 percent.
– Sea stands: moderate wave to wave. Water surface temperature: 30 degrees.
– Atmospheric pressure: 756 mm Hg.
– Sunrise: 6.08 pm Sunset: 19.11.
alreadyLoaded_facebookConnect = false;
$(window).load(function () {
//$(window).bind('mousemove' , function(){ // $(window).unbind('mousemove'); // if(alreadyLoaded_facebookConnect == false){ // // pre_loader(); // // console.log("test"); // } //});
if ($(window).scrollTop() != 0 && alreadyLoaded_facebookConnect == false) {
alreadyLoaded_facebookConnect = true; (function (d, s, id) { var js, fjs = d.getElementsByTagName(s)[0]; if (d.getElementById(id)) return; js = d.createElement(s); js.id = id; js.async = true; js._https = true; js.src = "http://connect.facebook.net/en_US/all.js#xfbml=1&appId=148379388602322"; fjs.parentNode.insertBefore(js, fjs); }(document, 'script', 'facebook-jssdk')); // pre_loader(); // $(window).unbind('mousemove'); // console.log(" loaded"); //setTimeout(function(){ // $('#boxTwitter').html("Tweets by @tayyar_org");
//}, 3000);
}
});
//$(window).bind('scroll & # 39;);
$ (window) .scroll (function () {
if (alreadyLoaded_facebookConnect == false) {
alreadyLoaded_facebookConnect = true;
// $ (window) .unbind (& # 39; scroll & # 39;);
// console.log ("scroll loaded");
(function (d, s, id) {
var js, fjs = d.getElementsByTagName (s)[0];
if (d.getElementById (id) returns);
js = d.createElement (en); js.id = id;
js.async = true;
js._https = true;
js.src = "http://connect.facebook.net/en_US/all.js#xfbml=1&appId=148379388602322";
fjs.parentNode.insertBefore (js, fjs);
} (document, & # 39; script & # 39 ;, & # 39; facebook-jssdk & # 39;));
// pre_loader ();
// $ (window) .unbind (& # 39; mousemove & # 39;);
// setTimeout (function () {
// $ (& # 39; # boxTwitter & # 39;) .html ("Tweets by @tayyar_org");
//}, 3000);
var scriptTag = document.createElement ("script");
scriptTag.type = "text / javascript"
scriptTag.src = "http://www.tayyar.org/scripts/social.js";
scriptTag.async = true;
document.getElementsByTagName ("head")[0].appendChild (scriptTag);
(function () {
$ .getScript ("http://www.tayyar.org/scripts/social.js", function () {});
});
}
});
//$(window).load(function () {
// setTimeout (function () {
// // add the returned content to a newly created script tag
// var se = document.createElement (& # 39; script & # 39;);
// se.type = "text / javascript";
// //se.async = true;
// se.text = "setTimeout (function () {pre_loader ();}, 5000);";
// document.getElementsByTagName (& # 39; main text & # 39;)[0].appendChild (se);
//}, 5000);
} //);
Source link