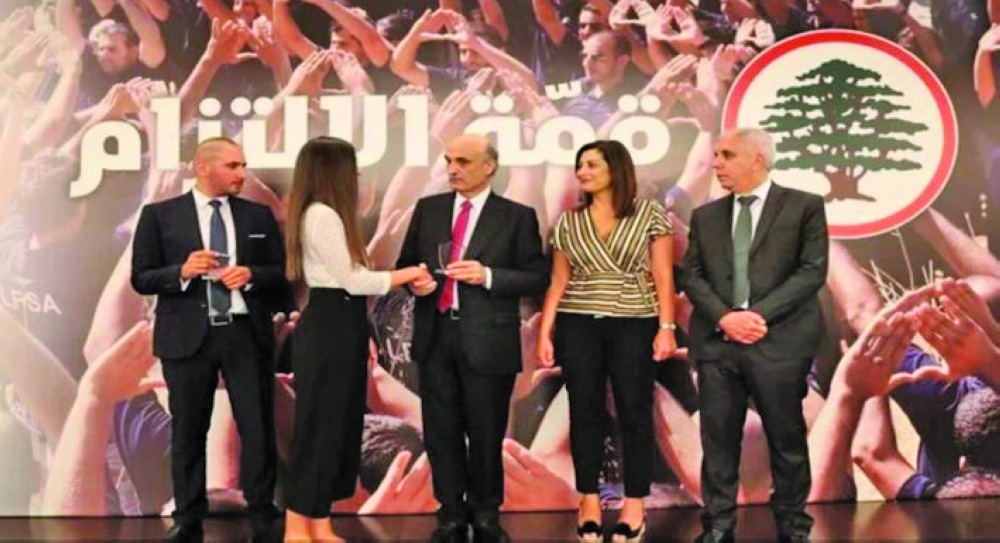 Geagea: Lebanese security system lies and Lebanon lives in freedom or no life
Lebanese Armed Forces Party leader Samir Geagea expressed his concern that "some remnants of the joint Syrian-Lebanese security system will continue to exist in Lebanon, but we will not allow that it will reappear to take its reach, but we will continue the march and work to completely eradicate it from the Lebanese regime, either to liberate Lebanon in freedom or no life at all. "
Geagea said during an interview The students of the "forces" of his graduates: "It is true that this security system has disappeared, but everyone knows that nothing has been completely eliminated and some remains are left behind Some of the phenomena that remind us of the Syrian-Lebanese security system are the summonses they are done against the background of comments published by some through social networking sites. Some of these comments should be mentioned because we live in a jurisdiction and should not be circumvented in order not to disturb the chaos. In the context of freedom of expression, and I think as a Lebanese citizen, I have the right to publish data or information objectively on my Facebook page that I have read or know about, and that should not lead to an investigation. "
:" Despite all the corruption in the administration And the corruption issues that fill the newspaper pages every day, which is the main topic discussed and discussed in the salons, and although the news mainly spread where, but some of the judicial departments in Lebanon call only a few civil servants and staff of the ministries, "August 7, which has become a memory, must always remain in the memory so as not to be repeated, and we must work to completely eliminate the remnants of the Syrian-Lebanese surveillance regime that is reports. "
That" the public interest is a safety valve and plug "The Middle East is still politically formed because the countries have not been permanently repaired because countries in these countries have not yet done. Some think that if we were to live in a European country today, we would not talk about these things, but the question of involvement & # 39; has another aspect in my approach lies in the decision of everyone to live in the margins of history or at the heart of it, for everyone To make the decision, either to continue on the path of this whole humanity or to crawling on his raft, so I think each of you must work to always be the core of history and to contribute to the extent of his position in determining the course of events in his community, and the work that you do Must be comparable to what the real politicians do and not to the service providers. "
Source link