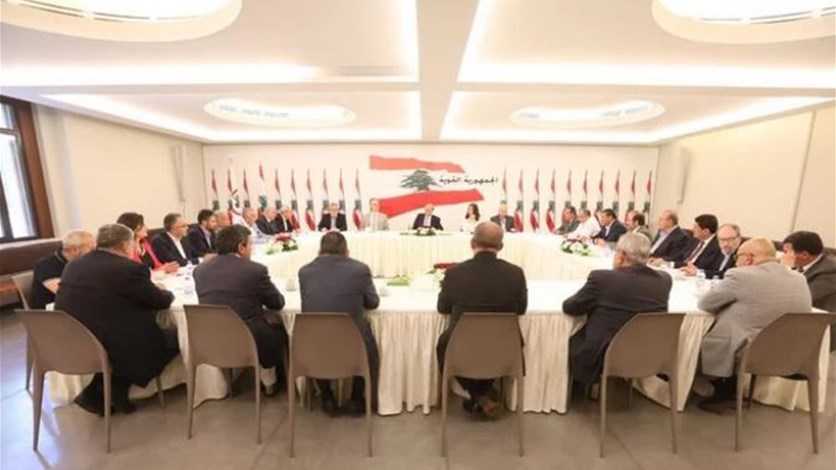 The strong block of the republic confirmed its willingness to form the government today, noting that the Lebanese armed forces have done their utmost to accelerate the authorship of political calm to create the conditions for the approval negotiations, to make maximum concessions to the birth of the government.
In a statement that former MP Fadi Karam had read after a meeting in Maarab, the bloc emphasized that the ball is in court of those who unjustly try not to curb the Lebanese armed forces. The Lebanese are responsible for the delay in writing. Socio-economic finances, no less.
The bloc was surprised at the deliberate insistence on standardization with the Syrian regime and the tension in the country in controversial cases agreed that it would be suspended and deported to ensure political stability and institutional regularity, "in particular that the war in Syria has not yet ended, no peace has been achieved, reconciliation has not been reached, Call for withdrawal of this issue from circulation to avoid its implications for the formation of the government and to maintain internal political stability pending a final settlement with an Arabic and international umbrella.
The bloc emphasized the need to stick to the policy of self-restraint that kept Lebanon a stable oasis in the heart of a hot and explosive region and to resolve the issue of displaced persons, away from the attempts of politicization that are exposed To standardization and to encourage displaced persons to speed up mechanisms to send them back via a four-party committee United Nations, Russian and Lebanese to translate the mechanisms as quickly as possible.
He pointed out that the block is in the process of submitting a bill on housing-backed loans, and another proposal to open credits for the purchase of medicines, and to follow the other bills to the joint parliamentary committees.
In response to a question as to whether they had addressed the meeting, the Foreign Minister and Expats in the caring government, Gebran Bassil, said that "the individual and collective political suicide is to defeat the man himself and his brother and his group. to obtain political and ministerial status and a transient political moment. " Our meetings only deal with serious matters and my advice to Bassil to hear his words. & # 39;
Source link