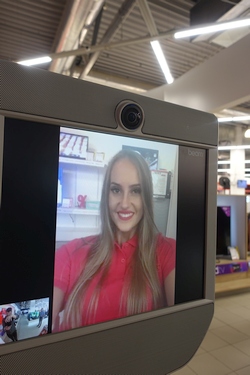 After the reconstruction, the door was officially opened by Elektromarkt, the largest online retailer of household appliances and electronics, located in the shopping and entertainment center "Acropolis" of Vilnius. But one of the biggest surprise buyers was waiting for them not to go to the store – they were met at the entrance by a new generation of human robots. Robot, a real girl who was seen and spoken on the screen, welcomed the shoppers, invited them to the store and informed them about specific departments. This is an Elelectromarkt experiment that wanted to test whether robots could at least adapt people advisers nowadays. This robot was publicly introduced for the first time in Lithuania.
After the reconstruction of the largest store since the opening in the "Acropolis" in 2002, new product categories have emerged, the range has been expanded and the shopping area now reaches more than three thousand. sq. m. According to Martynas Zumaras, the store manager, the renewed Elektromarkt goes hand in hand with the most advanced electronics stores in Europe, making it part of a robot that opens customers.
"The robot of the buyer is our experiment in which we wanted to see how buyers would react and whether they had a successful meeting with such a consultant." The face of the robot Blue Ocean Robotics is a big screen through which customers see the face of a friend who communicates directly with her.This girl also owns the robot, but she does it remotely, with the aid of a smartphone and a special program.Customers who do not know that they interact with the autonomous robot and respond very differently. we can deduce their reactions that if such a change from human consultants to serving robotics takes place within one day, many would be disturbed, "reveals M. Zumar.
The whole robot on Saturday and Sunday customers is not only happy with the customers, but also takes them to the store, introduces new product categories and tells them what's new in the store.
"Our goal has always been to offer our customers innovative, modern experience, and we want our customers to not only see goods, but also visit our stores, but simply spend time learning something new or experiencing unexpected excitement. That is why the shop is now divided into four larger categories – electronics and household appliances, coffee grounds, leisure materials and toys.We have developed the new strategy with one of the largest Italian design and consultancy firms Micar and the Italian architect Francesco Caragiulo. we create a family-oriented store, which at the same time is much more spacious, comfortable and cozy ", – says M. Zumaras.
Source link