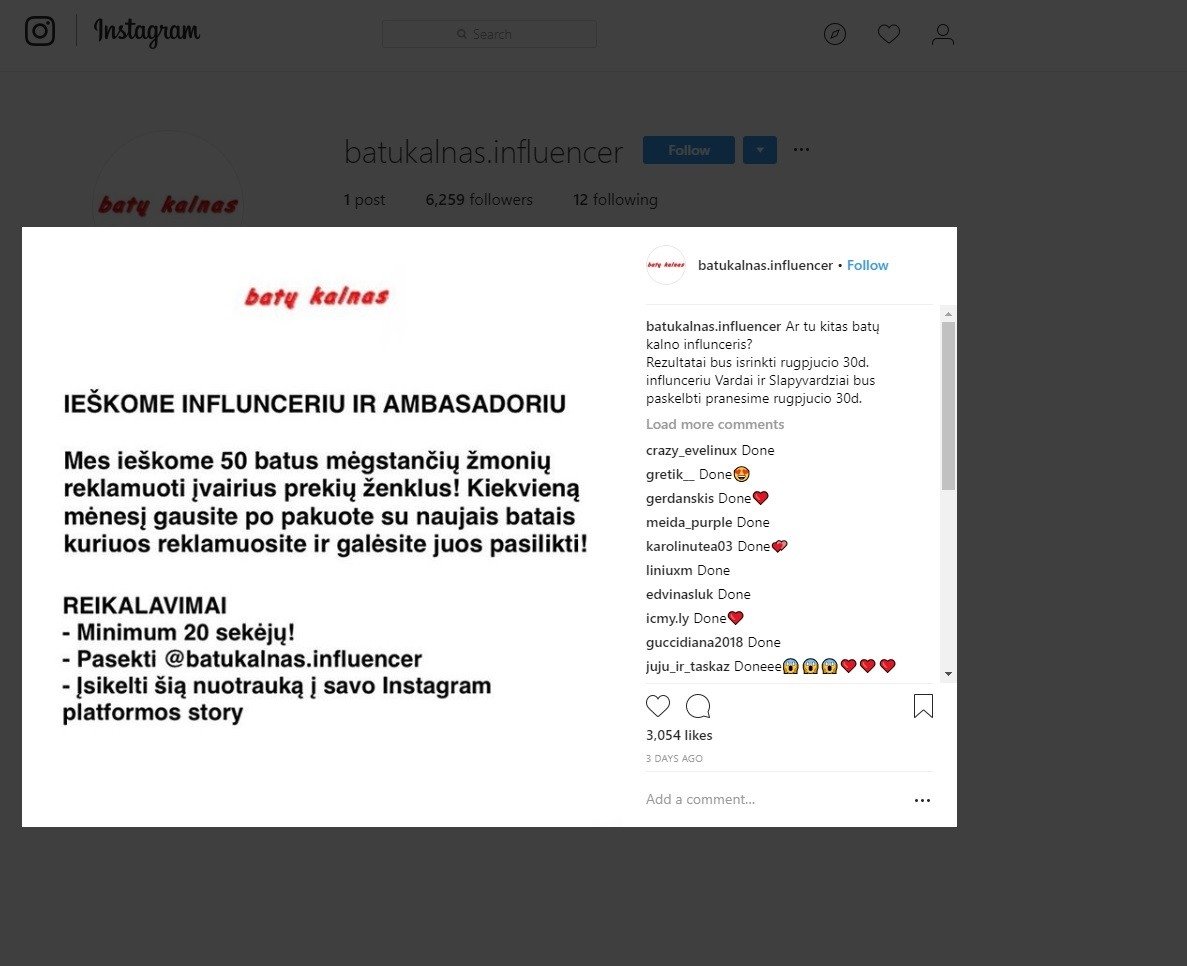 "Our brand has become a target for fraud, Instagram has created a profile on the social network, illegally using our trademark to publish false information, Lina Lukauskaitė, the head of the company that manages the" Batų kalnas "shoe chain, quotes. – We confirm that Batukalns.influencer is not affiliated with our company and that we are currently not conducting public campaigns on the Instagram network to search for trademark ambassadors We urge people to be cautious and take all necessary measures to remove profile. "
According to L. Lukauskaitė, the company will attempt to bring legal entities into such activities, as well as to assess the damage caused by the illegal use of the trademark.
The Batukalns.influencer profile was created on the social network Instagram, which posted a message that "Shoe Mountain" is looking for 50 boat friendly people to advertise different brands, with more than 6000 followers in a few days. The ambassadors of the brand are expected to receive a new pair of shoes every month to advertise.
Stasys Drazdauskas, a lawyer at law firm Sorainen, claims that documents have already been sent to the social network Instagram with the request to cancel the profile. In the near future, a procedure will also be started to find out who committed such illegal activities. The lawyer says that if they detect unauthorized persons, they may have to pay a fine of up to € 800 and, after finding serious damage, up to € 19,000.
"Tricks on business social networks are spreading quickly through company brands, misleading campaigns are misleading to the consumer and undoubtedly damage the reputation and image of the company and endanger the consumer," said Sorainen's lawyer.
In the case of a false listing, the company receives dozens of questions per day to become brand ambassadors. People turn around to see if the information in the profile post with the "Shoe Mountain" logo is real.
---
Source link