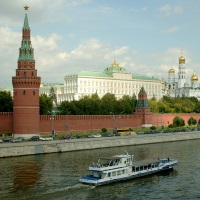 The representatives of the Russian bank decided that the Ministry of Finance would not buy foreign currency by the end of September, stabilizing the ruble, the weakest of the last two years.
This is the most decisive action of the Central Bank of Russia in response to the slowdown of the ruble in recent days, for fear that new US sanctions will continue to apply.
"The decision was made to increase the predictability of monetary policy actions and to reduce volatility in the financial markets," according to the Russian bank reports.
Earlier this month, the Central Bank suspended foreign exchange transactions for six days when the ruble weakened, but trade resumed on the seventeenth day of August.
"The central bank had to intervene because it was too uncomfortable, and now we need a better atmosphere in emerging markets to provide sufficient support for the ruble," said Edwin Gutierrez, spokesperson for Aberdeen Standard Investments.
As the evening approached, the foreign exchange market was paid for one dollar with 68,2738 rubles, or 0.66 percent more than yesterday. Once today the ruble had weakened to 69,0125 rubles per dollar, or to the lowest level since 2016. Since the beginning of the year, the dollar has risen by 18.7 percent compared to the Russian currency and in the last year 15.6 percent.
Source link