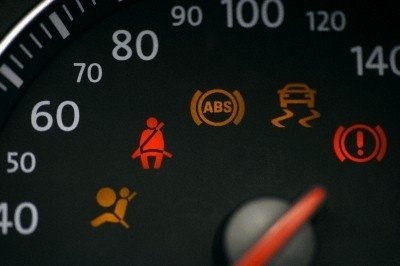 Changes in security can be divided into two parts: the body structure and electronic systems. Automobile bodies are and are being developed every year, creating special deformative, shock-absorbing zones. Electronic security systems have recently become more popular – not 20 years ago, not every car has an anti-lock braking system (ABS) and today there are a number of different systems in the list of new cars.
Who would buy a car without ABS?
The very first electronic security system that has become mandatory for all cars sold in the European Union is ABS, which happened in 2004. Later ESP (Electronic Stability Control) and TPMS (Tire Pressure Monitoring System) became mandatory. Such mandatory systems are unlikely to emerge in the coming years – EU representatives talk about plans for 2023-2024, but manufacturers and customers themselves are making a big boost.
Hardly anyone would want to buy a car without ABS for several years. Even the ESP system is self-evident in the models used, what to talk about new ones. The number of "self-evident" systems is growing in the market for new cars. And that is why & # 39; is guilty & # 39; not only for producers who are not at the expense of security, but also for demanding customers.
As expected, the premium car – luxury Lexus, Mercedes-Benz, or others – has a list of at least ten different electronic security systems that allow the driver to feel better at the wheel (lane exit warning, blind spot assistant), adaptive cruise control others). However, such systems are becoming more common in cheaper, affordable models – crossovers in small towns. They do not necessarily cost extra, sometimes in standard equipment.
For example, adaptive cruise control is the four-wheel drive of the Suzuki Vitara Allgrip and the Volkswagen T-Roc. The road sign recognition system is available on the same Suzuki model as the Citroën C3 Aircross and some have been ordered separately. More popular is the standalone braking system with pedestrian recognition – in the basic equipment it is Vitara, T-Roc, Hyundai Kona and much more.
Many of the cars listed above, with such high-quality equipment, cost around 20,000. Eur and their monthly rent would not reach 200 Eur.
After 4-6 years, at least nine out of ten new cars are likely to be equipped with an autonomous braking system, adaptive cruise control and others mentioned above. Multi-year vehicles without such systems will in the near future look the same as the current non-ESP or TPMS and can be difficult to sell.
5 years ago, few wanted to buy used cars with mirrors that were not heated and windows that were operated with handles; Nowadays, heated side mirrors and electric windows are a matter of course in all cars.
Great history of Lithuania
Statistics provide an excellent basis for evaluating the development of cars. Lithuania in 1980 Automation was much lower than it is today, but all that year, according to official data, there were 6 192 accidents in the country, killing 836 people. 245 deaths per million inhabitants and 1.33 per thousand vehicles. One in a hundred vehicles in the year was involved in an accident and more than one in a thousand people were killed.
Nineteen years (1999), the figures have changed considerably. Modern fleet – Lada and other Russian models were replaced by Japanese quality Suzuki, Toyota, German Volkswagen, French Renault and others. This is reflected in the statistics: although the number of traffic accidents was higher (6,356), the number of deaths was 748. This is 202 deaths per million and 0.64 thousand vehicles.
Nineteen years later – in 2018 – Lithuania has never approached the European Union average. The country has the highest number of cars in history, but the number of accidents was 3,111. 170 people were killed, or 61 million (0.1 per thousand vehicles).
Statistically, the change is huge: although drivers are more aware nowadays, roads, their maintenance and the entire traffic infrastructure, cars are the most important factor in increasing security. There are a number of records on the YouTube portal, where old and new cars are confronted with a front end (kaktomuša) in a special safety test. Their weights, weight centers or other characteristics are not important, almost always the "passengers" (dummies) in the new or the new car are minimally injured and the old one is very hard or even tragic. This result is the result of decades of radical changes in physique, special deformation zones and airbags.
Such tests demonstrate the excellent performance of the so-called passive safety features of new cars. They work in the event of an accident and cause less injury to passengers. However, the various electronic systems that are in motion, called active safety devices, have an even greater impact – often avoiding an accident.
It is strictly forbidden to use the information published by DELFI on other websites, in the media or elsewhere, or to distribute our material in any form without permission, and if permission is received, it is necessary to DELFI to be specified as a source.
Source link