Short composition – good bread
According to dietitian Živilė Dumbraitė, to choose a healthier and more nutritious product it is first necessary to read the label correctly – it will contain all the useful information. The ingredients of the product are listed in descending order of weight. This means that the first ingredient in the product will be the most and the last the least.
"It is also worth getting to know the nutritional value, the amount of additives in bread. In my opinion, healthier bread usually needs very few ingredients: good flour, water and salt. The shorter the composition, the better ", says Ž. Dumbraitė.
Flour from all parts of the grain is a healthier choice
The specialist advises to pay attention to the main ingredient of bread – flour. "I always give priority to whole baked bread because it has more fiber, which is good for the body. The flour also determines the taste properties. Rye bread will be more sour and wheat will be naturally sweeter. Although the taste is unquestionable," In my opinion, healthier bread can be just as tasty as bread with more sugar or preservatives ", says the dietician.
"The amount of sugar, salt and fiber in our diet is also important. Those looking for healthier bread are advised to choose one that contains no more than 5g of sugar per hundred grams, no more than 2g salt and no less than 6g fiber, "says Ž. Dumbraitė.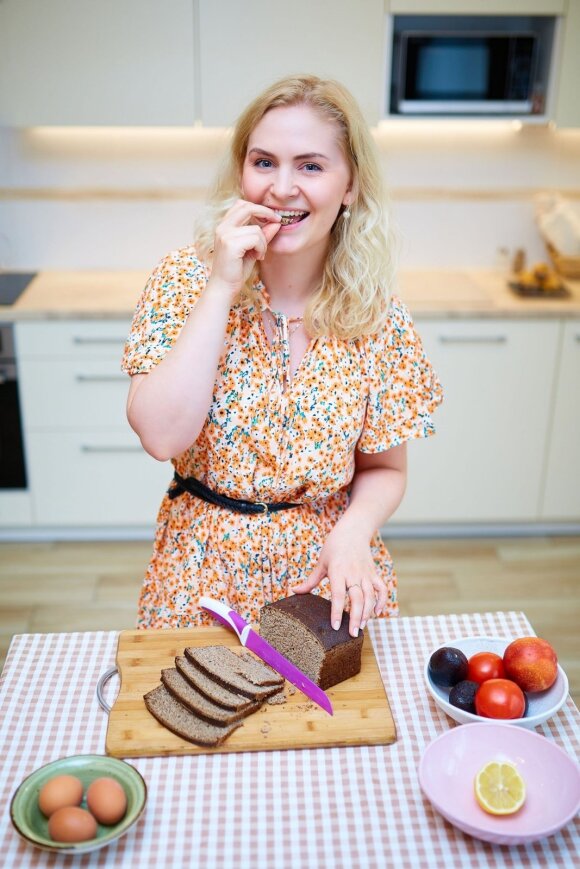 Živilė Dumbraitė
© Personal album photo
Calories in bread – should you fear that?
Bread, which is rich in additional additives such as seeds, whole grains, dried fruit, has more calories. However, according to experts, this does not mean that such bread should be excluded from the diet.
"Calories are not the most important criterion when choosing bread. My advice is not to count them, but let yourself be guided by a feeling of hunger and satiety. The aim should be to combine as many foods as possible, by combining your favorite bread with protein-containing products such as humus, meat, fish and also fat-containing products: avocados, cheese, nut butter and others. Don't forget to flavor the sandwich with your favorite vegetables, "says dietician Ž. Dumbraitė.
Snieguolė Šoblinskienė, Vilniaus Duona's Product Development Manager for the Baltics, also agrees that the most important thing in nutrition is to listen to your body and not blindly track calories. Otherwise, we will give up products that are good for the body, even if they contain more calories. "It would be a mistake to read only the calorie count when reading a bread label. It is very important to take into account other characteristics: the type of flour, the method of production, the amount of sugar, salt, protein, carbohydrates, fiber, additives. For example, bread with seeds has more calories, but we get the most calories not from them, but from the carbohydrates in the flour that our brains need, "says the specialist.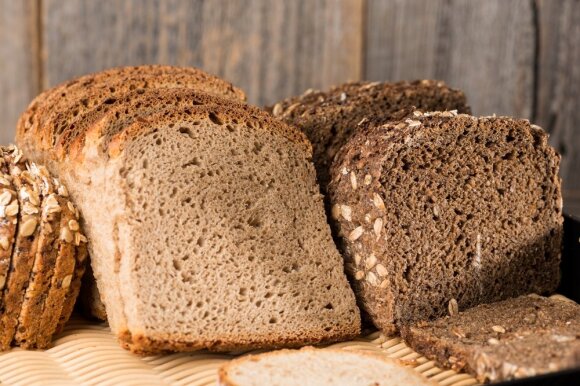 Bread
According to S. Šoblinskienė, although seeds have more fat and calories, they also have positive properties – they contain good fats, vitamins and minerals, so such bread should not be abandoned.
"In the diet we have to maintain a balance, choose bread or other products based on lifestyle, immune system. For example, an active athlete will choose bread with more protein. It is gratifying that more and more consumers are turning to nutrition and looking for healthier In my opinion, bread is one of the healthiest products, and if that bread is rye and wholemeal flour, it is in a sense a real stomach broom, "says S. Šoblinskienė.
It is strictly forbidden to use the information published by DELFI on other websites, in the media or elsewhere, or to distribute our material in any form without permission, and if permission is obtained, it is necessary to use DELFI as the source to state.
Source link