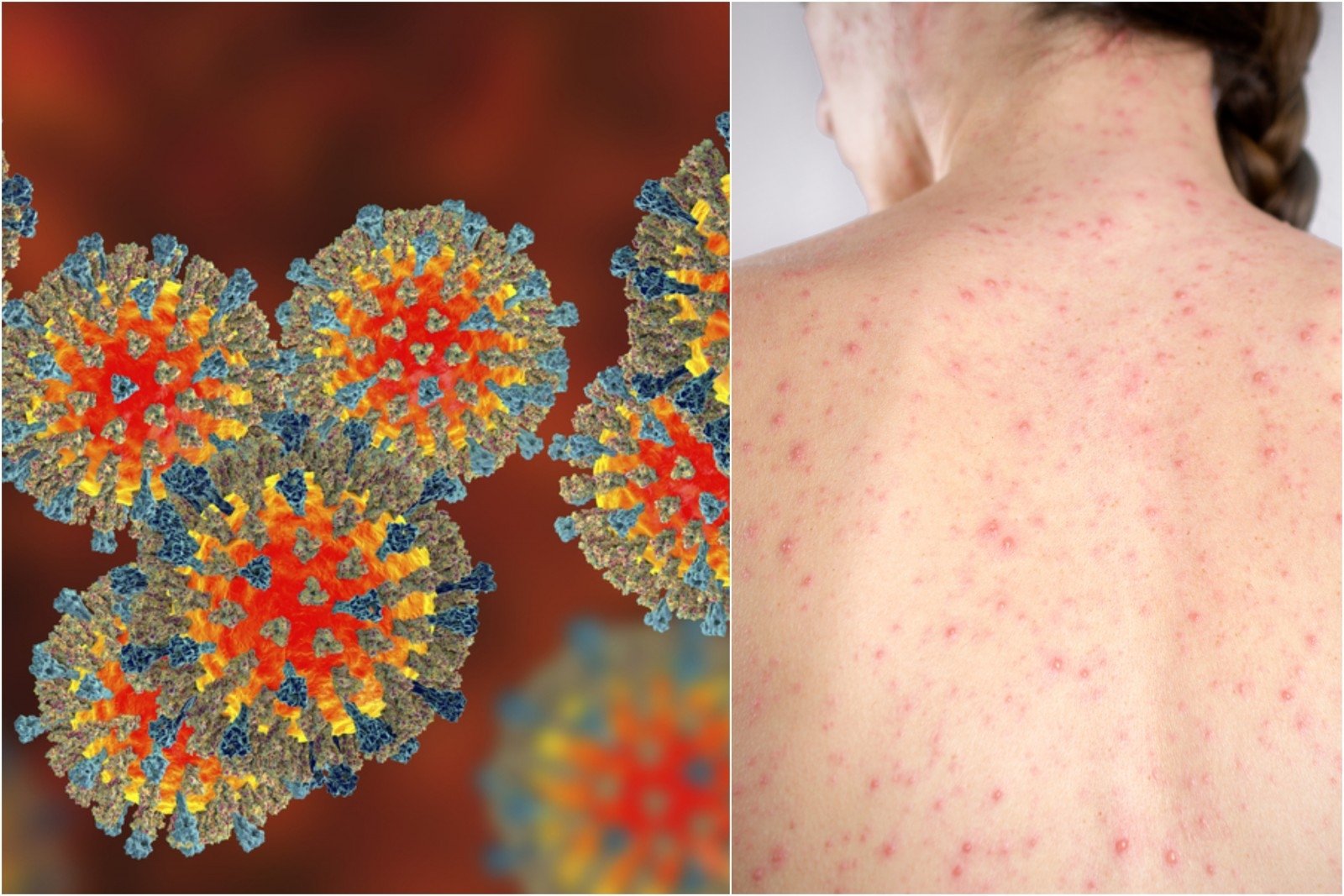 Recently, the incidence of measles has increased in Vilnius County, according to data from the National Public Health Center under the Ministry of Health.
More than 60 percent of all cases were registered this year in the province of Kaunas, 39 of the 60 municipalities in the country suffered measles this year.
"In explaining the reasons, the National Public Health Center has established the highest rates of unvaccinated children (68%) and vaccinated or unvaccinated children (74%, excluding adults with unknown vaccination status). The age distribution of To assess measles cases, clear groups can be distinguished – children whose parents refused to vaccinate, children under the age of 1. age not yet vaccinated 35-44 years old people who have been vaccinated with one dose of vaccine, ie, y. Another important risk group are healthcare professionals, "says Rolanda Lingiene, director of the National Public Health Center, department of Vilnius.
The number of illnesses of healthcare professionals is high – even 17 percent. from adult cases.
"Healthcare workers are at risk not only for them, but also for their patients. Virus-sensitive workers can become measles virus distributors and thus endanger the health of both their colleagues and patients. Children who are too young to to be vaccinated are at particular risk. It is therefore necessary to protect them in the formation of collective immunity, "says Lingiene.
Other causes of measles spread – people also get infected after staying in other cities in Lithuania (for example, when they traveled to Kaunas or Vilnius). Travelers also run the risk of becoming infected by traveling in countries where measles outbreaks are recorded, for example in Ukraine, Poland and the UK.
This data was provided by the National Center for Public Health, which on Thursday discussed the epidemiological situation of vaccination-controlled infections and invited representatives from the Ministry of Health, academia, health institutions and municipalities.
"We want to point out that healthcare professionals need to be vaccinated at the initiative and expense of the heads of their institutions, and that's what employers have to do. Only 26 percent of our healthcare institutions have inspected us. We have been guided by vaccination measures of employees against measles by their managers. It has also been recorded that 61% Heads of institutions organized serological tests to assess the immune responses to their employees. We offer employers to act responsibly and ensure the safety and vaccination of their employees, "- said Lingiene after the discussion.
"To stop the spread of the infection, not only the vigilance of personal and public healthcare institutions is important, but also the awareness of the population, especially in the case of unfavorable measles in an epidemiological situation, – people who suspect they are ill (ie symptoms such as fever), skin rash, respiratory tract infection and / or conjunctiva) or in contact with a deaf person during the 21-day period, should contact their health care provider by telephone and at the time of registration all provide necessary information and care to be able to provide patients with the necessary doctor services in their homes or ensure rapid and appropriate isolation when they arrive at a personal medical institution, "says R. Lingienė.
"We see vaccination coverage decreasing with vaccines included in the Lithuanian preventive vaccination calendar for children: for example in 2018. the vaccination coverage of one-year-old children with diphtheria, tetanus and pertussis was 92.3%. And it was the lowest coverage in the latter 10. The coverage of the BMR vaccine, which also protects against rubella, was only 92.2 percent in Lithuania in 2019. It has not sought the recommended 95% Rubella cases in Lithuania have not been registered since 2013, but the spread of this infection is observed in neighboring Poland. Diphtheria cases have not been registered since 2011, but it is worrying that vaccination coverage is only 93%, "- said R. Lingiene about the other risks.
Although some infectious diseases have no longer been available to the people of Lithuania for some time, it is important to understand that there are no limits to their infectious substances, so the risk of developing and spreading infections in a sensitive society is high, warn public health professionals.
Vilnius is on the rise
Deputy Minister of Health Algirdas Šešelgis said that preventive measures are already being taken. There are even exercises at airports, because the disease can also come this way. There are also worrying trends in the spread of sad illness in the capital.
"Consultations between professionals have brought considerable benefits and need further discussion. In Lithuania, measles cases are being suppressed, but Vilnius is very concerned about the increase in measles in Vilnius," he said.
The representative stressed that measures should be taken against those doctors who request non-vaccination. "We have contacted the responsible authorities to assess the behavior of such doctors. A press release appears today and tells you what these doctors are at risk. The medical community and medical institutions are not honored when they work with them. In other countries the license is withdrawn, perhaps in Lithuania we will have such examples ".
He asks, however, not to take the culprits of the hunt, but to solve the problems that now arise.
"To say that mistakes have been made – we cannot blame and seek blame in any way, because the situation is such that it is too expensive to mislead in explaining relationships or seeking feelings of guilt." We will not resolve this and we will not. I can say that I have serious doubts about the mistakes made, "says A. Šešelgis.
The radonuk has been renewed in Poland
According to R. Lingiene, there have been no rubella in Lithuania since 2013, but these diseases are very high in Poland.
"If hospitals are not sufficiently isolated, this disease can spread very quickly, which increases the risk. Healthcare professionals ask for more footage and to improve hospital insulation measures, because measles is a very volatile infection, so even individual ventilation is needed and it is also important for all professionals to work together and for a common agreement.
Personal health, public health professionals, residents, even the media must work together. That's why I want to thank the media very much for writing it, "the specialist explains.
This text may not be copied without written permission from ELTA.
Source link