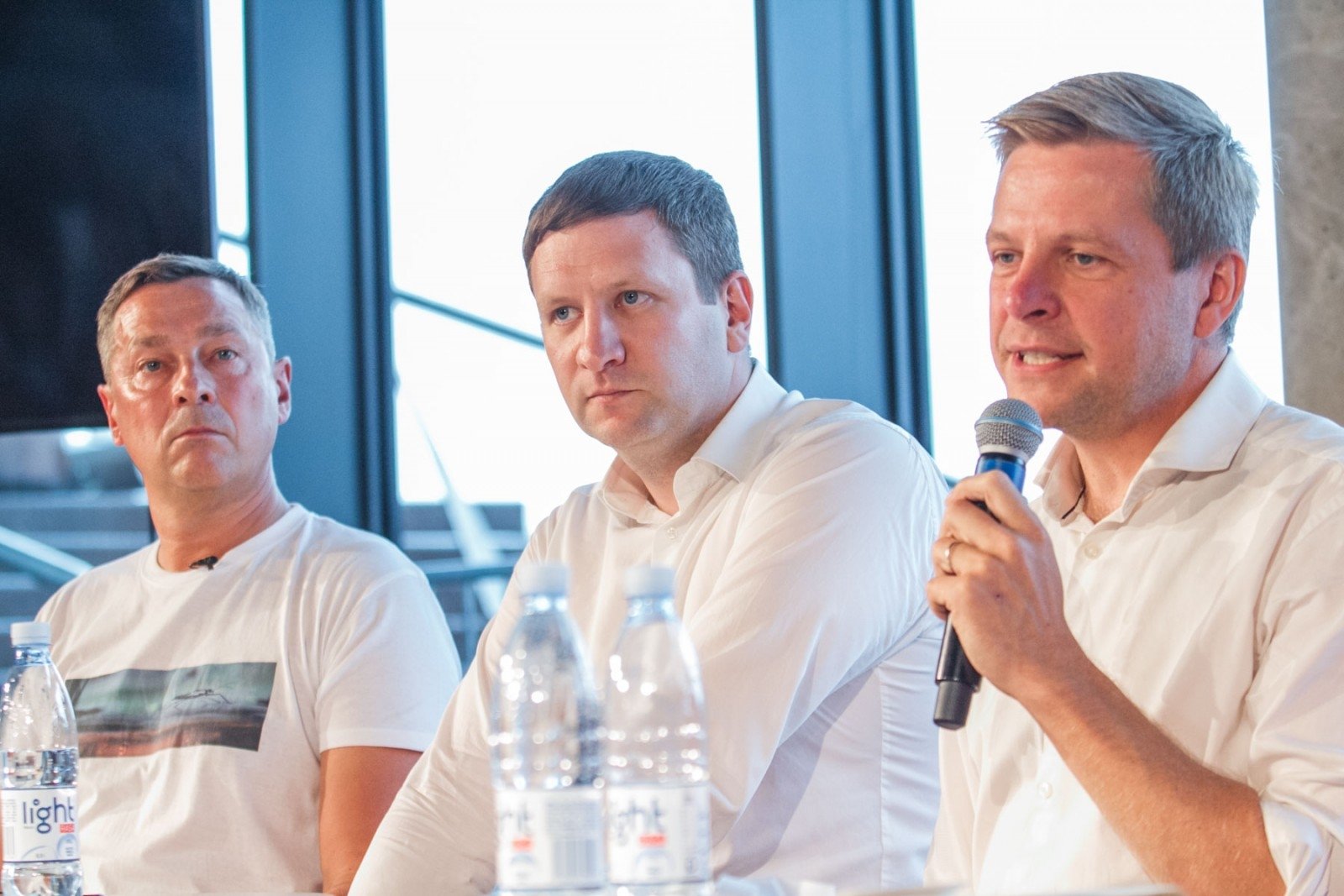 Looked at the name of the National Stadium
During the discussion "Vilnius vs. Kaunas: What & # 39; s Going?" The representatives of the municipality of Vilnius received a question about the already legendary National Stadium and its construction. "The stadium is a celebrity in Vilnius, built since 1988. It is a cultural attribute, perhaps it is better to never finish it? Some buildings and demolished buildings and demolished", – joked G. Palackas.
However, an increased policy has confirmed that such practices are being discontinued. "The winner of the concession is well known and clear, and this time I sincerely believe that the stadium will stand and it will not be so unpleasant and outrageous if you see European teams come to Tallinn and play very nicely," said Palackas.
According to him, it is impossible to compare the Darius and Girėnas Kaunas stadium with the national stadium. "Similar things can not be compared: the Darius and Girėnas stadium, in terms of design, scale and complexity, is an absolutely unfair project for the National Stadium," said the deputy mayor of Vilnius.
R. Šimašius even mentioned how the National Stadium could be called. He will give the stadium a name for the name of footballer and hunter captain Romualdas Marcinkus.
Kaunas is a feeling
During the discussion, Kaunas and Vilnius had to bow to the city politicians: if Vilnius is the European "G-point", what is Kaunas? This question was asked by one of the viewers.
According to the mayor of Kaunas, Simonas Kairis, who participated in the discussion, Kaunas is a feeling. "Kaunas is not a point but a feeling." Kaunas has the feeling that, as we often say to foreign guests, it is hard to describe, but it really does exist, this feeling is called "Kaunastic", – said S. Kairys.
The mayor of Vilnius, Arturas Zuokas, who had criticized the advertising of Vilnius G-spot for a few weeks in public space, hastened to stifle him. "There is a" G-point "in Vilnius, and in Kaunas it is a feeling, but here is the essence of bipolarity," – joked politics.
Does the idea of ​​a twin city still exist?
It was the bipolar subject that focused on the discussion. "In 2003, when the municipal councils of Kaunas and Vilnius approved the idea of ​​a two-city, I said loudly that Kaunas and Vilnius could only compete in basketball fields, I think that should be such a direction Today we see a certain contradiction, but this should not be ", – said A. Zuoka.
According to him, the idea of ​​the Kaunas and Vilnius twin cities is just as relevant as in 2003. "If Kaunas and Vilnius were to work together, the performance would be much greater for the cities themselves and thus for the whole country, because Kaunas and Vilnius were the economic backbone. of the state ", said Zuokas. On the recommendation of the politician, if Vilnius and Kaunas would jointly carry out public contracts, they would receive better prices.
The current mayor of Vilnius, Remigijus Šimašius, also looks at the idea of ​​twin cities, or at least closer cooperation between cities. According to him, there is a problem when dealing with investors. "The main question of all foreign investors is: are there enough people? This is the only reason why some companies opted for Bucharest or Warsaw, because it is more convenient to hire 2,000 people at once.It would be difficult in Vilnius or Kaunas. Selling Kaunas with Vilnius is simpler.To do this, you need not only the languages.In fact, things are really necessary – this is transport ", – convinced the mayor of Vilnius city.
But other participants in the debate did not support the idea of ​​a two-city. According to S. Kairis, Kaunas does not need Vilnius to attract foreign investors. "Europe is full of cities, not capitals, which have a good life and no complexity, I see that there is a greater desire today for a bipolar to speak of Vilnius than Kaunas," said S. Kairys, but emphasizes that there is cooperation between cities. takes place.
Gintautas Paluckas, Vice Mayor of Vilnius, did not doubt the idea of ​​the two. "Maybe it's atypical, as a left-wing, but as a kind of friction, competition is necessary, it's first and foremost necessary for Kaunas, because there's nothing worse than a slogan: it's possible to live in Kaunas", said the leader of the Social Democratic party.
Kupčinskas is looking forward to the mayor of Kaunas Matijošaitė
Algirdas Davidavicius, professor at the University of Vytautas Magnus, working in Kaunas, said during the discussion that although cities can be considered economically bipolar, there was a cultural gap. "In Kaunas I am identified as a citizen of Lithuania, social, cultural extraterrestrial.It is not easy to break in freely closed Kaune circles.I have said more than once: you are here in Portugal," A. Davidavičius shared his experience.
Economically, according to A. Zuokas, Kaunas has not yet captured Vilnius. "This is indicated by elementary figures: Let's take a People's Income Tax, which is collected in Vilnius and Kaunas, and its part goes to redistribution.
The difference between Kaunas and Vilnius is 20 times – both Kaunas pay less than residents of Vilnius income tax. Kaunui has a lot to do. Kaunas, the second largest city in Lithuania, should contribute a larger share to the state economy, "Zuokas said.
However, the mayor of Kaunas was pleased that Kaunas, unlike Vilnius, had no debts. "Unlike Vilnius, we found an undeveloped city, we received a growing budget," he said. S. Kairys also assured that people from other cities and countries in the city of Kaunas were changed by the city. "Look at the look at the Universities of the city of Kaunas, and I think that fewer and fewer people feel" Portuguese, "he said.
The former mayor of Kaunas, Andrius Kupčinskas, who participated in the discussion, asked if he agreed that the current mayor of Kaunas, Visvaldas Matijosaitis, is doing better. "I am happy for the mayor of Kaunas", A. Kupčinskas answered in a laconic manner.
It has been the third time
DELFI recalls that the "Freedom Picnic" festival will take place on Saturday in the island of Kaunas Nemunas. His program includes discussions with politicians and public figures, experts.
Participants in the festival will discuss next year's presidential and municipal elections, health care, pensions, tax reforms, a referendum on dual nationality, the prestige of the teachers profession, etc.
The "Freedom Picnic" was held for the first time in 2016. His idea came after the journalist Andrius Tapinai refused to meet the Kaunas district community. At that time the event, which took place at Stulginsky University, received a lot of support, according to the organizers' calculations they visited about 10,000. People performed by famous Lithuanian artists.
The authors of the "Freedom Picnic" claim that the goal of the festival is to draw up specific guidelines that each of us can do in the coming years to improve the state and its citizens.
It is strictly forbidden to use the information published by DELFI on other websites, in the media or elsewhere or to distribute our material in any way without permission, and if consent is obtained, it is necessary to state DELFI as a source .
Source link