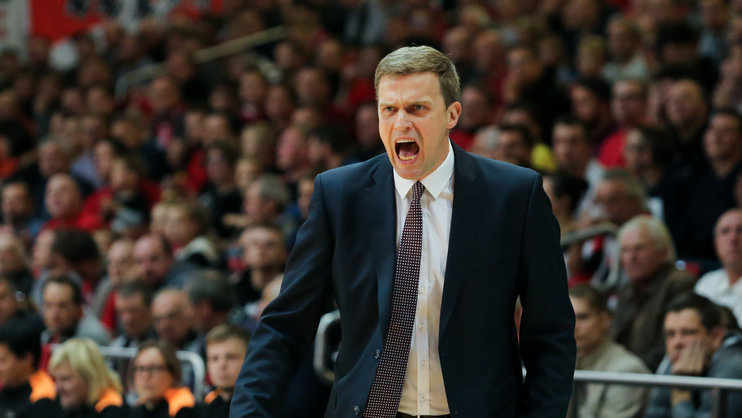 Vilnius "Rytas" in the Lithuanian basketball league ("Betsafe-LKL") remains unbeaten and wins the third victory in a row at 95:66 and beats the "Skycop" prize.
The game has brought the team coach a lot of fun Dainius Adomaitis, who praised his students, rejoiced at the appearance of young players and expressed concern only because of the health of Martin Echod.
"We had to start with a good, intense defense and maintain a high pace for 40 minutes, which I think many have achieved.We were planning to use a number of other players differently, they reacted well, of course there were mistakes, but they were not rough and as much as in the previous game, all reports, including young players, we continue ", – D. Adomaitis spoke.
– Many points scored in a quick attack, can this be explained by the defense of the bumps?
– I think so. The simple thing is that aggressive defense gives you the opportunity to grab the balls and score points quickly. This can also be seen in statistics. This intensity on both sides, to let them walk away with us, proved to be true from the first minute. This helped to take a lead and then we set the pace in the rest of the game.
– Tuesday is the start of the European Cup. Are there concerns?
– Of course, yes. With Echodu it is not clear whether you can play, tomorrow you wait for research, we wait for conclusions. In the cup of the cup he turned his ankle, he did all the research, started training and emulated. Before "Nevėžis" everything was fine, but then the pain returned. We gave the rest to rest and then we decided to solve the doctors, not me.
– Has this benefited Marek Blaževicius?
– I think he proved very good. Nobody will be happier than I when young players from the club system play on the field, earn points and collect balls. For all fans these are pleasant moments. I see Marek's work in training, he goes forward step by step, I think we should give him a chance and find as much time as possible in the game.
Source link