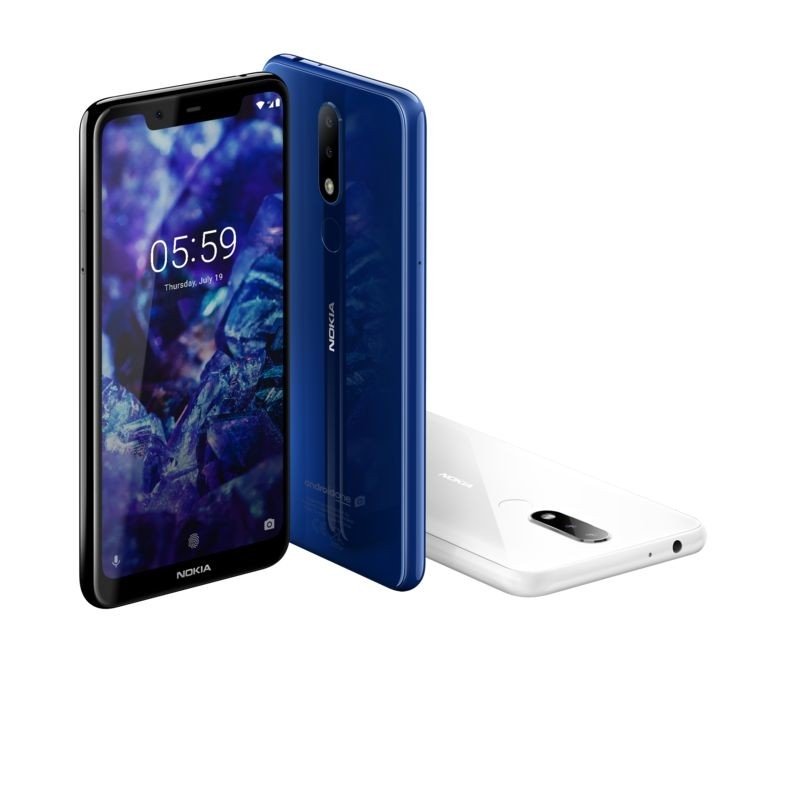 This smartphone has a popular design with full-body full-screen display, high performance and advanced imaging features at an impressive price, reports the media.
"From the start of our journey we have focused on the experience we expect from the Nokia phone – the beautiful design and craftsmanship, the technologies that give you more and more attention every day in a clean, safe and up-to-date environment. date Android ™ version Today we continue to deliver on our promise to offer the new Nokia 5.1 Plus with the latest innovations.
For example, the full screen surface of the phone is as good as you would expect from a Nokia Smartphone. Equipped with the latest chipsets and become part of the Android One family, this device offers superior performance and advanced intelligent video features widely expected from first-class smartphones, "said Juho Sarvik, HMD Global Product Manager (CPO).
Nokia 5.1 Plus
The Nokia 5.1 Plus works with the advanced MediaTek Helio P60 eight-core processor, which is usually on top of the line smartphones. With the processor it is easy to operate game, video or multifunctional gadgets. With enhanced video features, you can record studio frames with an external depth sensor and an optional mix of bokeh, as well as portrait lighting. The dual 13 MP / 5MP reversing sensor with electronic video stabilization ensures that your films are stable and lively and that special moments with your friends are perfectly captured in every situation.
The 5.8 "HD + screen over the entire body of the phone gives fans the opportunity to view as much content as possible. The design of Nokia 5.1 Plus is super refined – 2.5D curved glass at the front and back, rounded corners and a camera room with CNC metal cladding and optical glass window, as well as a glossy finish frame. The ergonomic design and the slender shape of the phone, which is held in the hand, is only 8 mm thick and gives a special feeling.
The Nokia 5.1 Plus uses a metal case with a polycarbonate frame to be tested at extreme temperatures and thorough testing to ensure that this model meets the strict Nokia quality standards.
A commitment to pure, safe and up-to-date Android One
Nokia 5.1 Plus connects to the Android One Smartphone family of the Android One and offers a smart, secure and great experience from Google. Each device is constantly being updated, security packages receive security upgrades every month for three years and two years after delivery – guaranteed OS upgrades. Like all Nokia phones in Android One, it has a longer battery life and more free memory because there are no additional themes or unnecessary third-party gadgets.
And you're always on the forefront with the latest Google services like Google Assistant and Google Photos with free unlimited high-quality photo storage (requires a Google account and Internet access).
Together with Android Oreo ™ you can enjoy the latest features on your new Nokia phone, such as Google Lens. Nokia 5.1 Plus is also ready for Android Pie. This update contains the new app actions and many other great features. App actions help you quickly move on to another action, such as taking a taxi or listening to your favorite songs, with what you want to do next. App actions are displayed in Android, in environments such as Launcher, Smart Text Selection, Play Store, Google Search app, and Google Assistant.
accessibility
Nokia 5.1 Plus comes in two colors: Gloss White and Gloss Midnight Blue. Nokia 5.1 Plus will be available in Lithuania in the fourth quarter for an average sales price of 199 euros.
It is strictly forbidden to use the information published by DELFI on other websites, in the media or elsewhere or to distribute our material in any way without permission, and if consent is obtained, it is necessary to state DELFI as a source .
Source link