"I bought the phone in 2016. I bought it as water-resistant, but it turned out that it was not true," – 15 minutes said the interlocutor.
The phone broke when M. Gogelis decided to test his watertightness, as seen by the television company "Bitė" in the TV ad.
"We watched our son" Bite "advertising, in which the iPhone 8 model was sunk, the son asked if we could do this, or could our phone be underwater? I said that if it's already shown in ads, it is possible.
Before I tried it, I opened the phone descriptions of the internet and checked for the same waterproofness of the eighth and seventh model of the iPhone. I saw that the security certificate is the same: IP 67. This means that the device can withstand water sprays and can be scaled to a depth of 1 m for up to 30 minutes.
We have taken a 15 cm deep glass jar. We filled the tap water about 10 cm, we put the phone down. Initially he acted, the screen shone. Phone in the water took about 10-20 seconds. After the screen was left, the screen became darker, the connection was lost and after a minute the phone went off and was not switched on ", – M.Gogelis talks about the consequences of the test.
Leave the dish, the screen darkens, the connection is gone and after a minute the phone is switched off and no longer switched on.
Read also:
Responsibilities are shocked by producers, sellers and advertisers of advertisements
After the test, M.Gogel contacted the mobile operator Telia from whom he had purchased a mobile device. According to Mr. Gogel, he was clearly told that the warranty does not apply if the phone is damaged by moisture.
M.Gogelis received the same answer from IDeal from official Apple representatives in Lithuania.
"I just said that they are not responsible for this and that I am guilty myself." He said the device would not really repair and offered the right to look for those who have made such ads ", – said the interlocutor.
Then the remaining person without a mobile phone approached the "Bitė" office to take action or at least to investigate why advertising encourages potentially risky behavior.
According to M. Gogel, the truth could not be found there. "I just said that advertising did not encourage such behavior, but only showed the possibilities of the phone, if my phone is broken, this is probably for other reasons and advertising is not related, and they also refused to cover losses," M. Gogel.
Bitė does not claim to respond to careless customer actions
According to Arūnas Mickevičius, marketing manager of Bitė Lietuva, each manufacturer uses different warranty rules that customers get and with which they can get acquainted with the purchase of a new device.
"Specific to Apple devices: This manufacturer does not guarantee any violations caused by liquids, despite the classification of the device, in such situations it is often very difficult, and it is sometimes impossible to objectively determine in which circumstances the device was damaged by moisture, "- said A. Mickiewicz.
According to A. Mickiewicz, the recent iPhone 8 advertising was carried out by professionals and not encouraged to promote similar home tests.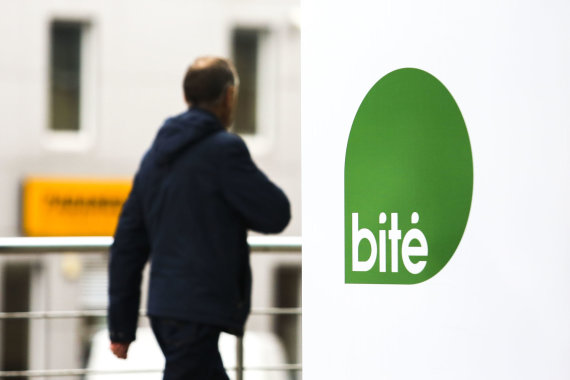 Irmantas Gelunas / 15min photo / "Beat Lithuania"
"The ad used a real and functioning iPhone 8 phone, which is watertight under the IP67 rating (also announced by Apple), which is only awarded to installations that can immerse themselves in water for up to 30 minutes to a depth of 1 meter.
In this case we tried to show a slightly less extreme situation in advertising – for this we did not use editing and the telephone continued to work well after filming. Analogously successful tests can be found in virtually every professional overview of this model, but there is always the risk that due to wear and tear, damage or other reasons, protection may not work, "- said A.Mickiewicz.
There is always a risk that protection due to wear and tear, damage or other reasons is not possible.
The author of the experiment stayed on the broken deck
M.Gogel claims to be fooled, but representatives of Telia, who have sold the device and Bite, who have shown advertisements, believe that the customer is guilty because he has not followed the manufacturer's recommendations and does not mobile device could be worn, so water protection could not work
"I want to emphasize that we have never encouraged people to repeat this kind of experiment in advertisements, which is an extreme emergency, there is always a risk that due to wear and tear, damage or other reasons protection may not work," – said A. Mickiewicz.
IDeal announces that even if the device is waterproof, the guarantee for this type of error is not valid.

Warranty conditions iPhone Mobile device
Source link