Samsung introduced the new Galaxy Tab S4 tablet a month ago. It is clear that the manufacturer still does not lose hope in a day to throw his usual laptops with such a product on the market. It is not confusing by Samsung's own representatives, who emphasize in press releases that this tablet is a device capable of performing computer functions. Are you sure?
Answer immediately that no. In the course of a few weeks I realized that laptops are so far irreplaceable. From my professional perspective, I can only say that Tab S4 alone is unable to meet the work needs.
In my opinion, the tablet is ideally suited for basic and short-term work, such as reading and writing e-mails or viewing a kind of documentation. But if you had to go to a press conference in the ministry to write an article there, the notebook would still be a priority tool.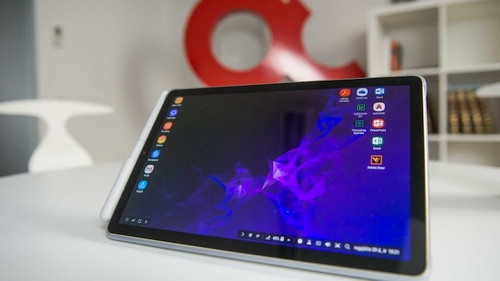 Samsung Galaxy Tab S4
© Edvard Blaževič
Of course you might be in conflict with me and you say this is a concern. I agree. In this case I will not disagree, but I will only share my understanding that I have not seen a colleague in writing a piece of paper for the past three years. Why? A small survey showed that the computer is still the first choice for the convenience of colleagues.
Who is that tablet? I will say it briefly – for entertainment. I have already said that it is easy to check e-mail on a tablet. mailing and writing e-mails, but it's even more fun to browse the internet on this device, read e-books and watch a YouTube video.
Many of my friends with tweets also do not think differently about watching films. Go back to bed or sit in the airplane seat, take the tablet in your arms and do not need anything else. In this case, the tablet surpasses a laptop that looks less practical.
But here I want to ask one question that torments me for many years. If the tablet is primarily intended for watching movies or surfing the internet, why do manufacturers expect buyers to buy new models every year? There are not many sources for such tasks on the tablet, so in my opinion it can be used for a long time. Perhaps here, and the truth, why the sale of dishes does not meet the expectations of manufacturers.
Whatever the manufacturers want, the tablet does not make laptops. It is still a niche device, especially useful for traveling or entertaining, but not for daily work. In this case, the Samsung Galaxy Tab S4 is 100 percent. performs its function. The size is optimal, the screen is of a great quality and the sound is sufficient to watch the film on keliese and without headphones. What else should I expect from a tablet?
Of course, the manufacturer has added many different types of toys here, such as an S-Pen pen. How often have I used it in a few weeks? Hmmm, really little. But I am not a designer or influencer, so I do not have to work with visual material or attach glasses to pictures of an instagram. In other cases, managing your tablet is usually enough for your own fingers.
One can admit that the latest Samsung tablet is actually the best Android device in its category. Despite this title, in my opinion, however, it is still not possible to fully replace all conventional laptops. On the other hand, the price of this tablet in Lithuania is higher than 700 euros. I think this is one of the biggest minuses in this niche device.

Source link