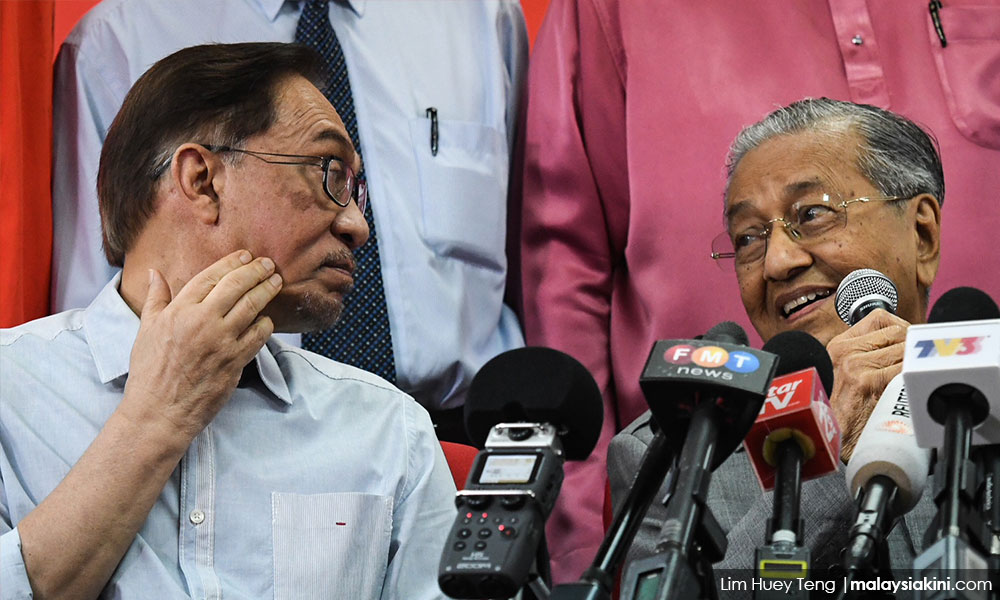 Prime Minister Dr Mahathir Mohamad said he will fulfill the agreement of Pakatan Harapan partners that he will be the interim prime minister, with the timetable mentioned as two years before handing over the reins to Anwar Ibrahim.
"I am convinced that he (Anwar) is now more mature and has a lot of experience," he said.
Mahathir said this during a meeting with Malaysians who stayed in Brunei last night in a hotel in Bandar Seri Begawan.
He answered a question from one of the guests who had worried about the history that was repeated in the choice of the successor.
Harapan consists of Bersatu, DAP, PKR and Amanah. Mahathir is Bersatu chairman, while Anwar is president-elect of PKR.
On another question, Mahathir said that much was done to replace the previous prime minister, such as holding demonstrations, trying to institute a no-confidence vote (in Parliament), filing police reports, and actually coming up with a popular declaration in which the leadership of the (previous) government – but it was of no avail until the people knew their position through the ballot box.
In the same tone, the prime minister said that they could do the same if they were dissatisfied with his successor (via the ballot box).
He also rejected accusations that he was an "Ultra Malaysian" & # 39; is, because he is no different than other labels thrown at him like Mahafiraun, Mahazalim and the like, of which he said it was political fodder that his opponents were fond of.
& # 39; For me, the country comes first & # 39;
"For me the country comes first, so there is no big gap between the races, even if a country is not multiracial, if there are big differences between people, it will be disastrous," said Mahathir.
According to him, if the gap were very large, especially along racial lines, it would lead to hostility and widespread riots.
As such he said that efforts should be made to prevent this and that this was what the Harapan government was doing, namely uniting people and making racial issues.
He added that, whether someone likes it or not, you can not run away from racial issues in a multiracial country, but with efforts to promote unity, control racial tensions or hostility.
Referring to the Pan Borneo Highway project, Mahathir said that the government will continue to carry out the project, but it may take a longer time to complete because there were other financial obligations that needed to be addressed first.
He said that apart from development projects, the government apparatus also had to be repaired & # 39; because the administration of the country was damaged during the previous line and he asked the people to be patient to see the new developments.
Asked about his hopes after his resignation, Mahathir said he would like to see Malaysia as a pride of all people as in the past and would bring Malaysia back to its glory when the country was called an Asian tiger, and wanted the government to be more democratic. are not kleptocratic.
He said he wanted a rule of law to protect the people and Malaysia as a developed country, as envisaged in Vision 2020, although it may not be realized on the basis of the target date.
– Bernama
Source link