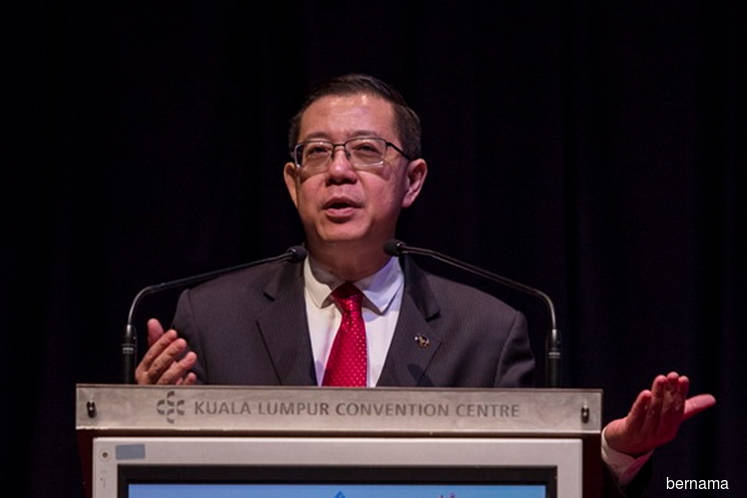 KUALA LUMPUR (August 21): The police yesterday recorded a statement from Minister of Finance Lim Guan Eng about the missing RM19.25 billion funds in the Restitution Guarantee for Goods and Services (GST).
"The police have registered my statement under Section 409 of the Criminal Code," Lim said in a statement today.
Section 409 states that: "The person who in any way is charged with property, or with a power over property, in his capacity as a civil servant or an agent, commits a criminal breach of trust in respect of those goods, shall be punished with a term of imprisonment for a term of not less than two years and not more than twenty years and with whips, and will also be a fine. "
Lim said the missing funds hit 121,429 companies and individuals who did not receive their repayments in 2015, 2016, 2017 and 2018.
"According to the GST Act 2014, the refund of the input tax must be made within two weeks, but a large number of companies and private individuals have not received the refunds in 2015," he said.
According to him, the companies and people affected by this scandal now wonder why the money in the GST Refund Trust Account has not been returned to them within two weeks, as required by law.
"The government is facing a deficit of RM19.25 billion because there is only RM148.6 million on the GST Refund Trust Account, when there would be RM19.4 billion.
"Where is the RM19.25 billion missing since 2015? The federal government is working hard to return RM19.4 billion early next year, because the money is not from the government, but from the people," he added. to it.
Lim said that former Prime Minister cum finance minister Datuk Seri Najib Razak must answer three questions on the issue.
The first, he said, is whether Najib has authorized GST reimbursements not to be made within two weeks, as required by law.
The second question is whether Najib approved the decision of former Finance Minister Tan Sri Mohd Irwan Serigar not to pay the full amount of RM82.9 billion repayments as requested by the Customs Department.
According to Lim, only RM63.5 billion has been transferred to the trust account since 2015, resulting in a deficit of RM19.25 billion.
The third question, said Lim, is whether Najib approves that the GST reimbursements that have not been reimbursed since 2015 would instead be recognized as government revenue and would be used if the government were satisfied.
"The answers to these important questions will explain the legal role of Datuk Seri Najib as Minister of Finance, because only a Minister of Finance has the power to approve or reject the transfer of RM19.4 billion to the GST Refund Trust Account. , "Lim.
Source link