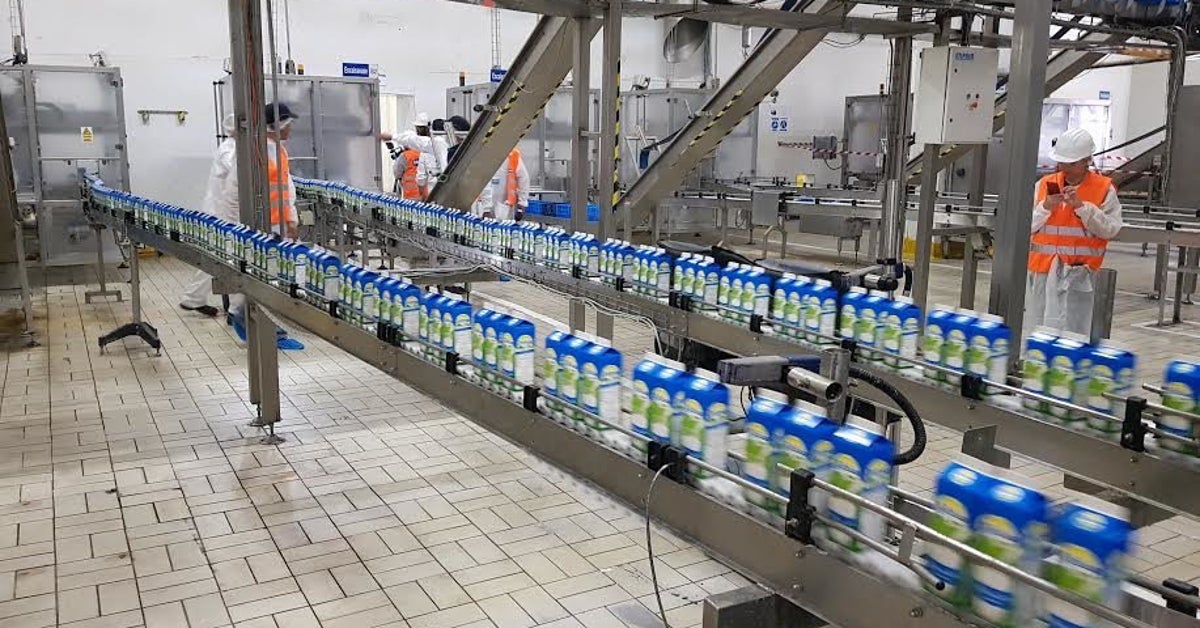 ECONOMY – "This is the second time in my career that we have opened Danone factories for the press, we do this exceptionally and, in the context of the boycott, we have decided to use the transparency card for the production of pasteurized milk and milk powder. "says Denis Hermant, vice president, in a solemn way. at Centrale Danone for 35 years. In the wake of his & # 39; ntwaslo or nwaslo & # 39; campaign, which invited consumers to express themselves on the & # 39; fair price & # 39 ;, according to them fresh milk, the company continues to show paws.
"The crisis communication of Central Danone clearly contrasts with that of the other actors affected by the boycott", says an expert in communication. "Afriquia has remained silent while the mineral waters of Oulmés are shy in their communication, despite price reductions that are often observed in supermarkets". "Central Danone's strategy is two-edged: Transparency or a drop in the price of too brutal milk can be seen as recognition of an unfair price that has been in place for many years," she continues.
"We buy 10 million dirhams of antibiotics tests per year"
After a quick passage through a single washing machine then the use of a vest, a helmet and a charlotte, visit the factory of Fkih Ben Salah, one of the units that produces the pasteurized fresh milk "Central" with that of Meknes and El Jadida, can officially begin.
The milk is transported in an insulated tanker from the farm to the plant of the Centrale Danone, which covers 5.6 hectares and employs 328 people, before being stored in a large tank cooled at 4 ° C, called " milk tank ". "We arrange the cooling at home As far as the breeders are concerned, we try to make them aware of the cooling of their milk at 6 ° C after milking, but we can not do more than just education," acknowledges Denis Hermant. It should be noted that European safety standards recommend storage at 4 ° C immediately after milking.
Next step: quality tests. "We first test the temperature, the pH, the appearance and the smell, then the composition of fat, protein and lactose," says Hind Azizia, quality manager in the industrial unit. from Fkih Bensalah. A step away from anecdotal because the system of aggregation of small farmers around a large industrial milk processing encourages them to improve the quality of their milk by linking the price to quality. Milk of good nutritional quality is more profitable for the breeder
The milk is tested again in a milkscan, to check for the absence of contaminants. "Although cows using antibiotics are systematically isolated and their milk is thrown away, we test the presence of antibiotic residues as a precautionary measure, and in the rare cases where the milk does not meet the quality criteria and legal requirements, it is rejected.We annually purchase 10 million dirhams. of antibiotics tests, "says Denis Hermant.
Eliminating the risk of a high initial bacterial load
The beginning of the transformation process follows. Milk has to go through an important first step, pasteurisation. In contact with hotplates, the milk is heated to 90 ° C. This step eliminates unwanted microorganisms for humans. Then it is quickly cooled to reach a temperature between 1 and 4 degrees Celsius. And that is where it is rubbing. The French group's subsidiary, which had a market share of 60% before the boycott, collects milk from more than 1,200 collection centers for its challenger Copag (Jaouda brand), which are themselves supplied by nearly 120,000 small farmers, of which 85% only have 3 cows. has. By way of comparison, Morocco has a total of 2,830 collection centers and between 300,000 and 400,000 milk producers; only 182,000 of them are connected to a local collection network.
A huge logistics network, but that the company is obliged to pasteurize its milk at a temperature of 90 ° C, a practice that has been excluded for decades from the European and American dairy industry. The vast majority of the countries pasteurizes their milk at 72.8 ° C for 15 seconds. "The thermolabile components, very sensitive to heat, are clubbed to death and take a big hit.Today, advanced technologies can produce cold milk by microfiltration, ie membranes that separate the bacteria from the rest, not to change the vitamins and to keep the nutritional value intact, for example, Chergui uses this technique in Morocco ", details for the HuffPost Morocco a major industrial in the dairy industry.
"However, the subsidiary of the French group has an interest in pasteurizing its product at this temperature and their pick-up involves a multitude of stakeholders upstream, all of which can produce a milk with a very high initial bacterial load. therefore, it is mandatory to carry out rigorous treatment to ensure safe consumable milk, "says our source.
Management of the boycotoseot
Once pasteurized, the milk is creamed with a cream separator. The latter separates cream and milk by running the product at full speed. Then, depending on the desired milk, mix more or less cream with milk: fat-free (MG) for low-fat milk, 1.5% fat for semi-skimmed milk and 3.5% fat for whole milk.
Then place to homogenize. The milk is fed through small openings under very high pressure. Thus the size of the fat particles is reduced and these spread uniformly. This process also ensures a softer, softer taste and texture. The milk then goes through a final step, sterilization. It is heated with steam and reaches a temperature of 140 ° C for a few seconds. All micro-organisms have thus been destroyed. We talk about UHT sterilization, ie ultra high temperature.
The milk is ready to be packed in bricks, protected from the air and light for optimal storage. Stored in a cold room of 5,000 m2, it can then be routed to supermarkets and supermarkets throughout Morocco.
"In accordance with the regulations and guidelines of the ONSSA, all milk placed on the market must be traced, ie an obligation for the conditioner to trace all the elements that make up his product." All elements of traceability must be completed within a certain period of time. found, "says Abdenasser Lahmame, director of the Fkih Bensalah plant.
When there is overproduction, depending on the season, the milk is converted into powder in a drying tower. This milk powder is then again mainly recovered in yogurt. However, the Central Danone drying tower, with a capacity of 500 tonnes per day, was decisive for the intake of surplus milk this year when the boycott campaign struck the company. "Normally, from January to May, the high lactation period, the drying tower runs 4,000 tons of milk powder, this year we're at 8,000 tons and it's still running," Abdenasser Lahmame concludes.
Source link