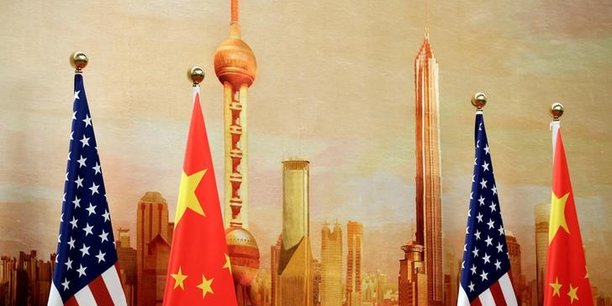 The economic climate does not improve between Beijing and Washington. Since August 23, a new salvo of customs taxes $ 16 billion imported American products were taken by China in response to similar US sanctions. Both countries persist in the trade war and replicate with every yardstick of its competitor. new 25% tax increasing to 100 billion dollars the total imported goods.
Here, too, iconic products are the target: on the Chinese side there are Harley Davidson motorcycles, bourbon, but also coal, steel products or medical equipment in the viewfinder. American side, a thousand products are concerned: electronic components, machine tools, semiconductors, chemicals … According to the office of the US Trade Representative they actually benefit from an industrial plan "Made in China 2025" aimed at making and keeping the market competitive land in high-tech industries.
Taxes in Beijing have come into effect just after Washington, in response to US decisions, mentioning the Chinese authorities "Necessary reprisals". In July last year, the products were taxed for $ 34 billion by the Trump administration. Today, the American President justified the continuation of these measures by denouncing the practices "Unfair" from China, "Forced technology transfer" and others "Theft of intellectual property".
About 200 to 500 billion more taxed?
The talks had resumed in Washington since August 22, between their respective negotiators. Chinese Vice Minister of Commerce Wang Shouwen and China's Deputy Minister of Finance, Liao Min, met with the American vice president of the Treasury for international affairs, David Malpass and deputy trade representative.
If the Chinese have been optimistic, President Trump said "Do not expect much". His trade minister, Wilbur Ross, had placed a worrying insurance on the CNBC television channel earlier this week:
"We have a lot more ammunition than they do, they know, our economy is much stronger than theirs."
Washington still thinks about weighting the Chinese bill with one probably salvo of taxes at $ 200 billionor even 500 billion according to Donald Trump. This would represent almost all imported Chinese products. Auditions are also scheduled to establish a new list of products to be taxed.
In Beijing, on the other hand, the replica would not exceed $ 60 billion, but would be accompanied by legal and fiscal pressure on American companies on Chinese soil, such as Boeing or Apple.
Will there be a winner?
Why so much ruthlessness from the American government? President Trump hopes to turn the very surplus trade balance on the Chinese side. Indeed, China imports four times less than it exports to the United States. The trade deficit of the USA. with China $ 335 billion per yearand even rises to 375 billion for goods alone, the remaining balance for services. But verbal charges and financial penalties are likely to be enough to reverse the tide and may even turn against them.
"The Chinese government has more influence on the origin and quantity of its imports than the American government," says Bank of America Merrill Lynch. China could miss its imports from the US by buying other markets relatively more easily than the United States by forcing its companies to seek other countries to outsource or import. "
The Asian power, however, has shown its opposition to this trade war policy and announced that it will file a complaint with the World Trade Organization (WTO).
"China is resolute against this and will continue to take the necessary countermeasures," said the government. In order to protect free trade and multilateral systems and to defend its own legitimate interests, China will take action against these tariff measures in the context of the WTO Dispute Resolution Mechanism. "
Risk of "derailing the world economy" according to Moody & # 39; s
The analyzes are good about the consequences of these renditions. If the impact is expected to be reduced in 2018, the growth of 2019 can be negatively affected. At the last meeting of the Fed's monetary committee this week, the US central bank reported the situation:
"If a major dispute continues, this will have negative consequences for the confidence of entrepreneurs, investment and employment."
Economists estimate that every $ 100 billion of imports impacted by rates would reduce world trade by around 0.5%, with an impact on Chinese economic growth of 0.1 to 0.3 percentage points. percentage less in 2018.
A figure that would rise to at least 0.5% by 2019, according to Moody's office, even if it was accompanied by a moderate fiscal policy to relieve the pressure on businesses. Similar effects can be expected in the United States, even if economic dynamics are still significant.
"The magnitude of the macroeconomic effects will depend on the market sentiment," said Madhavi Bokil, vice president of Moody & # 39; s. The tightening of financial conditions by adjusting the price of assets and currencies, as well as a greater impact on the confidence of consumers and businesses now seems more likely than a few months ago, and can really derail global economy. "
The outcome of this week's talks is therefore more than decisive. The most important partners and economic competitors of the United States are probably also involved, Donald Trump is in charge of their products at the moment.
Source link