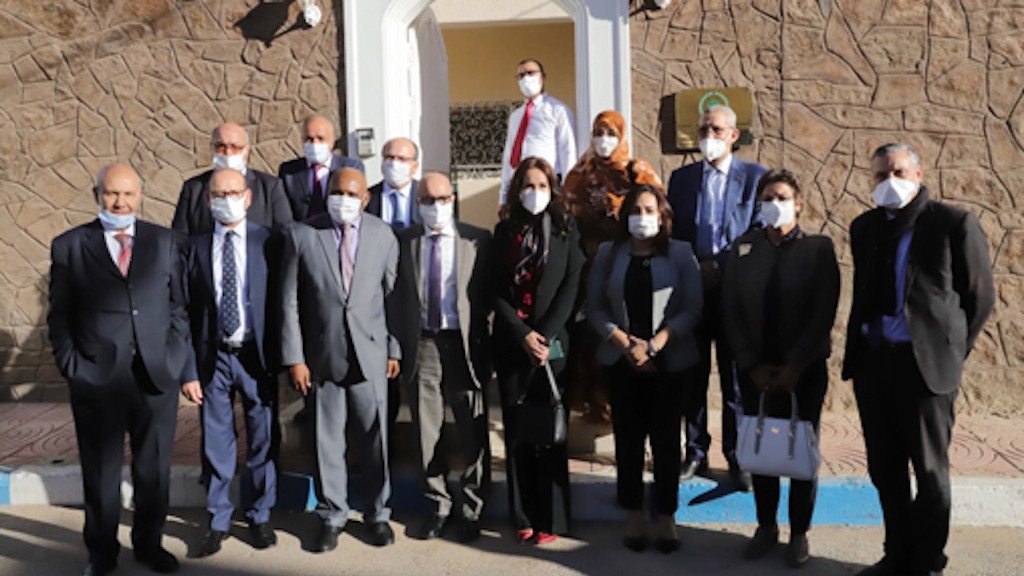 By Le360 (with MAP) on 03/12/2020 at 7:30 PM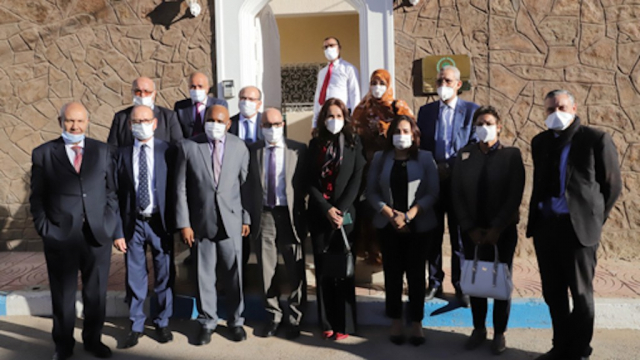 The delegation of the Committee on Foreign Affairs, National Defense, Islamic Affairs and Moroccans living abroad to the Lower House, on December 3, 2020 in Laâyoune.
© Copyright: MAP
A delegation from the Committee on Foreign Affairs, National Defense, Islamic Affairs and Moroccans living abroad to the House of Representatives visited several consulates accredited in Laâyoune on Thursday (December 3).
This visit is part of strengthening parliamentary diplomacy and cooperative relations with fraternal and friendly countries that have opened consular offices in the capital of the Moroccan Sahara.
The delegation thus visited the consulates of the United Arab Emirates, Gabon, the Comoros and Sao Tome and Principe.
The Chairman of the Parliamentary Committee, Youssef Gharbi, indicated that this visit is an opportunity to express the great gratitude of the representatives of the Moroccan people to these fraternal and friendly countries for their support for the Moroccan character of the Sahara, and stressed that these will have representations for the mission. , in addition to the consular component, consolidate economic and trade relations and exchanges with Morocco.
Morocco, open to its African environment, has strengthened its relations with the countries of the continent through hundreds of cooperation agreements covering all areas, he told reporters, adding that parliamentary diplomacy inspires initiatives by HM King Mohammed VI that have allowed for solid enter into cooperative relationships with African countries.
He stressed the importance of strengthening parliamentary cooperation relations with countries that have opened consulates in the southern provinces, in particular through the creation and activation of parliamentary friendship groups between Morocco and these countries. Arab and African countries.
Souad Zaidi, a member of the committee and a member of the Progress and Socialist Party, for his part, welcomed the expansion of the circle of international recognition of the Saharan Moroccan regime through the enlightened policies of SM the king, as evidenced by the growing number of countries opening consulates in Laayoune and Dakhla.
She noted that the purpose of this visit is to strengthen parliamentary cooperative relations with these countries and open them to promising horizons.
Allal Amraoui, committee member and deputy of the Istiqlal Party, for his part, stressed that this visit is of great importance as it is an expression of the unanimous mobilization behind the Sovereign in defense of territorial integrity and the accession of MPs to the State-led diplomatic dynamism sanctioned by various successes at regional and international levels, the withdrawal of recognition by various countries of their recognition as the pseudo "SADR" and the opening of consulates in the southern provinces.
After Laâyoune, members of the delegation will go to Dakhla to visit several consulates stationed in this city, as well as to El Guerguerat to show their support for the recent intervention of the Royal Armed Forces against the "Polisario" militias.
By Le360 (with MAP)
Source link