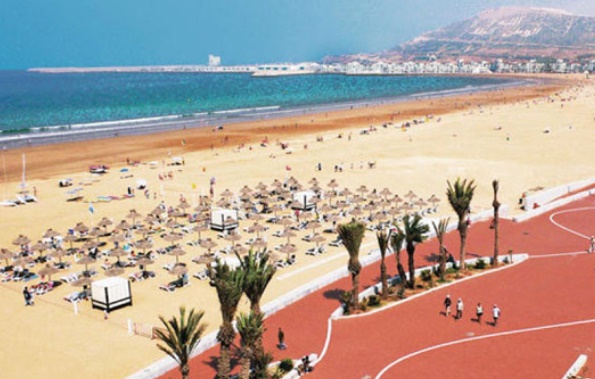 A total of 127,240 tourists visited Agadir during the month of July, an increase of 19.44% over the same period a year earlier, according to the Regional Tourism Council Souss-Massa (CRT).
A year ago, the coastal city welcomed 106,528 visitors, says the same source in a note of economic activity the MAP has achieved.
National tourists remain at the top of the clientele of the destination with 56.671 visitors, an increase of 16.57%. The upward trend of the past month is also due to the good performance of various foreign emission markets.
The French, who finished second, reached 14,536 against 12,231 in July 2017, with an increase of 18.85%.
With a variation of 43.17%, the Germans followed with 11,683 arrivals against 8,160 a year ago versus the English, from 7,988 to 9,107, an increase of 14.01%, and the Poles reaching 6,347 arrivals against 3,783, + 67.78 %
In terms of falling markets, the destination of Agadir attracted only 1,656 Russian tourists by 2,400 for the same period of 2017, -31.17% lower. The number of tourists from Algeria and Spain also fell by -14.43% and -3.55% respectively.
According to the CRT figures, the hotel capacity in Agadir is around 30,695 beds, consisting of more than 57% of four-star hotels, followed by holiday villages (24.56%) and tourist residences (21.61%). and rooms in 5-star hotels (14.17%).
As a reminder, the city of Agadir passed the milestone of 2.2 million overnight stays in the first six months of the current year, recently indicating the CRT Souss-Massa, noting that the nights have evolved from 12.22% to 2,246,045 2,001,378 for the same period last year.
According to the CRT, the analysis of cumulative entries recorded during the first six months of the current year shows that French tourists reached the highest number of overnight stays, or 522,573 compared to 412,592 a year ago, an increase of 26.66%.
The Germans are in second place with 428,029 overnight stays, compared to the first part of 2017 when the number was 453,241, just like the citizens who had 310,387 overnight stays together, compared with 318,536, a decrease of 2.56%.
Source link