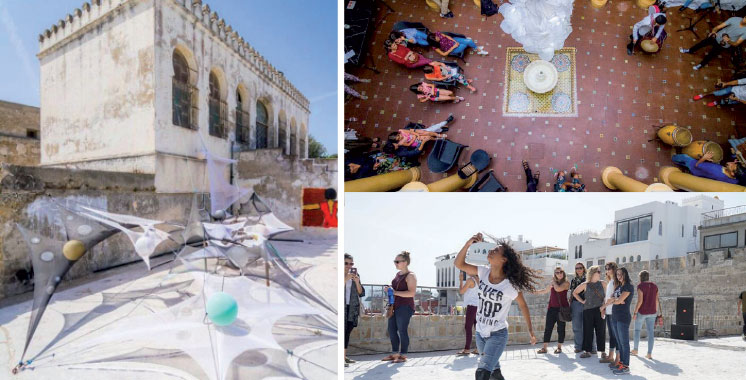 Encourage the public to reconnect with the architectural and historical past of the Street. This is one of the goals of Tangier Artistic Route 2018, whose work will take place on 16 September under the same slogan as the two previous editions "Being Here". This biennial event is planning to create a festive and cozy atmosphere again this year, in which 48 Moroccan, French, Spanish and Belgian artists will participate. True to the ambition of its initiators, Etre Ici offers a large audience an unprecedented meeting between artists from here and elsewhere and emblematic places in Tangier, according to the organizing team of this third edition.
Initiated by the association Ssilate, this event will take place again this year under the sign of the meeting and the invitation to dialogue between an artist, an audience and a place. And like the two previous editions, Etre Ici 2018 intends to open new doors according to the same source by reinvesting identity places, singular, unusual and sometimes unsuspected Tangier heritage for artistic encounters. This makes it "an event of awareness and appreciation of the value of the heritage of the city and the urgency to preserve it at a time when the city embraces modernity frantically," says someone.
The 48 participating artists are invited to record each one according to their artistic discipline, and this in the six emblematic places chosen for this third edition, in particular the residence of Emily Keene and the Grand Chérif of Ouazzane Sidi Haj Abdeslam , the house Jnan Kaptan, the prison of Mechouar, the Tower of Heaven, the Cinematheque of Tangier and Borj Dar Baroud. "The artists bring the place back to life, take it over, give it a new reading between past, present and future, new fields of inspiration and action for an eclectic scene", says one.
The organizers are focusing this year on welcoming a public that is even broader than the two previous years. Especially since the works of Being Here 2014 and 2016 "an ever-increasing audience has known: an attendance that has risen by about 50%, 2,000 people in 2014, 3,000 in 2016", reports one, which means that more than 70 artists already performed in some 12 mythical places that were freely accessible to the public during the two previous editions.
It is largely composed of artists and communication professionals. The mission of the Ssilate organization is to design and implement awareness-raising events that build bridges, promote meetings and exchanges between the public and the cultural world, artistic / creative, heritage, social and environmental issues of Morocco.
Source link