Municipal secretary Bert Winthorst and Bas Eenhoorn mayor of Amstelveen inform the members of the municipal council of Amstelveen about the fire in Bovenkerk, which partially destroyed the St. Urbanuskerk on Saturday 15 September 2018:
'Dear counsel,
Just like you, we find it terrible that the beautiful monument and icon of Bovenkerk was partly destroyed by fire. Especially the nave of the church has suffered a lot. Fortunately, the tower has been preserved. We live with the local residents. This is terrible for the whole of Amstelveen. We will continue talking to the church board and the residents to see where and how we can support as a municipality.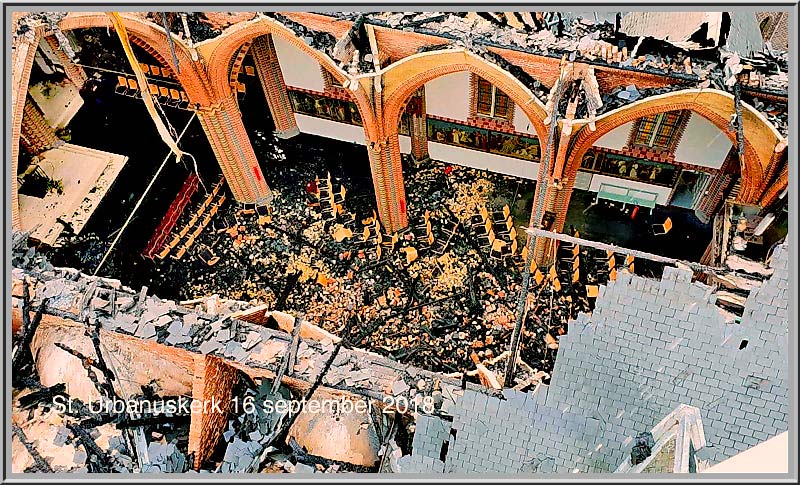 (Source Stichting Vrienden van de Bovenkerkse Urbanus – 2018)
The roof of the ship was severely destroyed by the fire of the St. Urbanuskerk and the interior was badly damaged. The nave is the central part of a church, stretching from the main entrance or back wall to the transepts, or in a church without transepts to the choir. In churches, a transept (transept) is an area placed transversely to the nave in a cruciform building within the Romanesque and Gothic Christian ecclesiastical architectural traditions.
Part of the college of B and W attended Saturday night to look at the situation and express their condolences to the many startled residents. Because of the fire, the residents of 15 houses had to be evacuated. They were taken care of in the Noorddam center. Most residents could return home the same evening. For one home and an office space this is not yet the case. From today on, we are working hard on the safety around the church. This way the end walls are stabilized and the loose roof tiles are fixed or removed.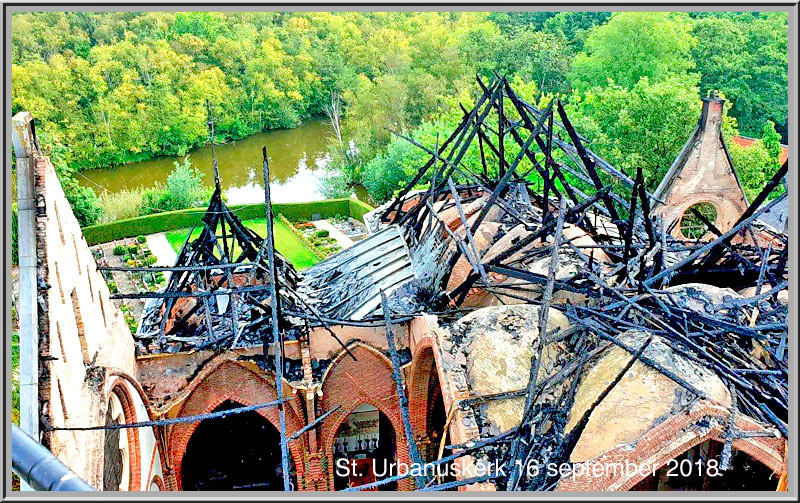 (Source Stichting Vrienden van de Bovenkerkse Urbanus – 2018)
The destruction of the roof construction of the church is particularly visible from above
Also on Sunday, college members went to Bovenkerk to speak with the residents and with the church administration of the Urbanuskerk. As you will understand, everyone was very upset and emotional because of this situation. Many people came to watch. In order to guarantee road safety, on Sunday a large part of the day the Noorddammerlaan was closed for car traffic.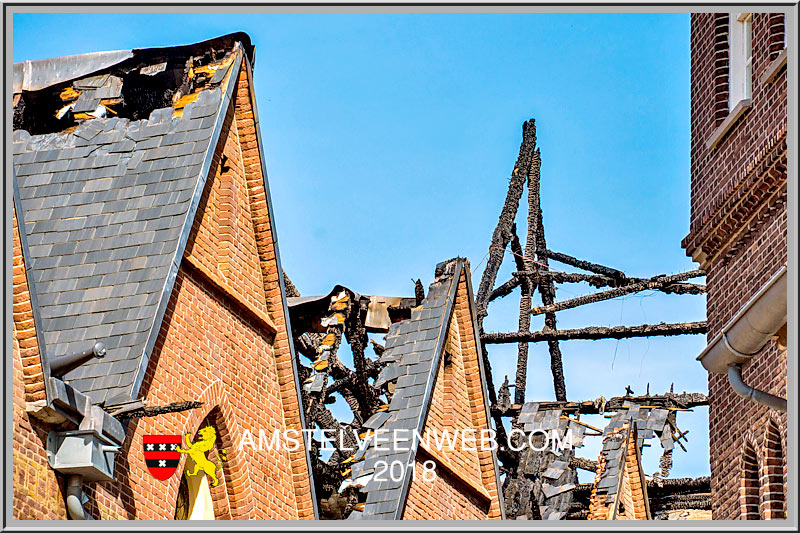 (Photo Amstelveenweb.com – 2018)
From the Noorddammerlaan on Monday, September 17, 2018, the damage to the church is clearly visible
The fire brigade was quickly on Saturday night and worked with heart and soul to save as much of the church as possible. However, there are some questions around the beginning of the fight against the fire. That is why the fire brigade commander and the mayor have jointly decided to conduct an independent investigation into the fight against the fire. Meanwhile, the Presidium has been invited to an extra meeting to exchange information about the fire of the Urbanuskerk.
Yours sincerely, mayor and aldermen of the municipality of Amstelveen, the secretary Bert Winthorst, the mayor, Bas Eenhoorn.
Source link