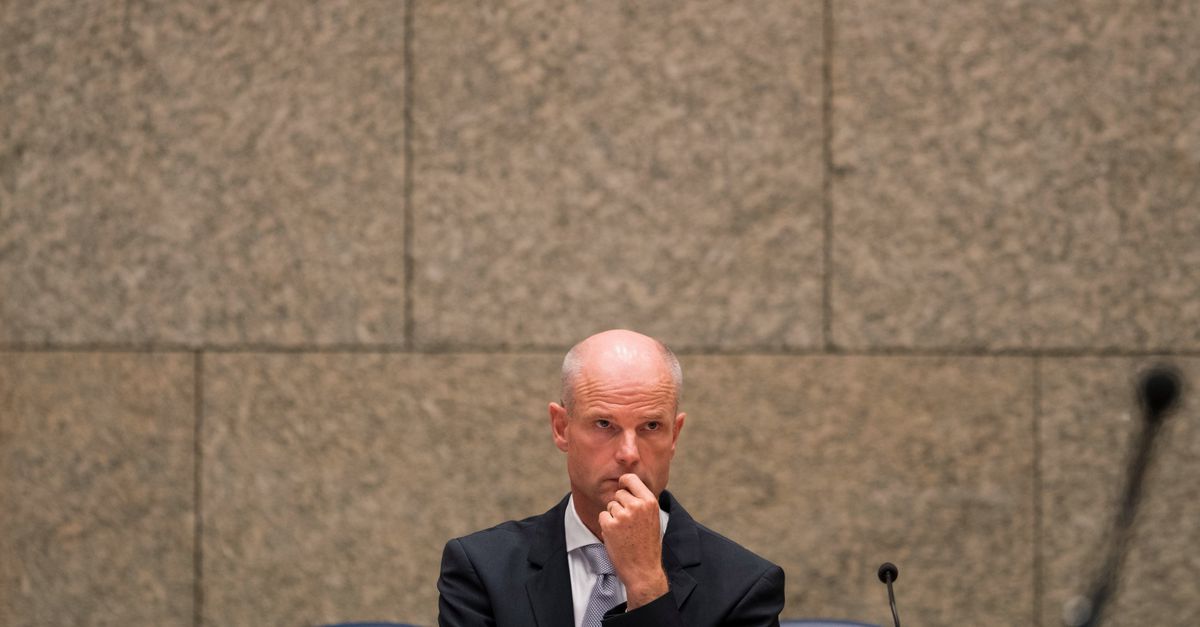 His position has been saved – Stef Blok can continue as Minister of Foreign Affairs. But the image of the VVD'er is damaged. The statements he made last summer at a private meeting in five minutes, led to a debate lasting six hours and a vote of no confidence. The motion, submitted by Denk, received support from PvdA, SP, GroenLinks and the Party for the Animals and can count on 45 seats.
The coalition finally settled with Bloks apologies, but the annoyance towards the minister was clear. Sybrand Buma (CDA) concluded that Blok had great difficulties answering fairly simple questions, and only after giving a long press. He warned: "The minister must weigh his words more carefully and choose wisely."
'Bizarre and painful'
D66 leader Alexander Pechtold also ruled hard about the controversial statements Blok made in July about, among other things, the multicultural society. He called them in succession "painful", "bizarre", "disconcerting", "harmful" and "far from diplomatic". He demanded Blok to distance himself from it, but felt compelled repeatedly during the debate to intervene if Blok again threatened to fall into ambiguity.
It was a remarkable sight: with some regularity the group leaders of the coalition parties CDA, D66 and ChristenUnie were on the interruption microphone. It sometimes seemed as if opposition and coalition had changed roles. In that other difficult discussion – about the abolition of the dividend tax, which is so eagerly desired by the VVD – the coalition partners keep as far away as possible. The impression that they also had to compare the VVD with regard to Blok was therefore to be avoided – sometimes with peppery criticism. According to Pechtold, each minister must "promote the ideal of multi-ethnic societies". "And if he can not, or if he does not, or if he does not believe that, then he does not fit into this cabinet."
On 10 July, Blok spoke at a meeting of Dutch people working for international organizations. There he made a series of remarkable statements, whose recordings leaked. Suriname is a 'failed state', in Eastern Europe foreigners are beaten up, Belgium is unlivable and peaceful, successful multicultural societies do not exist, because people are genetically not in the cradle. Blok told his audience that it is "deep in our genes that we want to have a well-organized group" and that "we are not able to connect with unknown people".
Especially this passage caused a head start on Wednesday, especially when Blok took an unclear view of it. The minister said he should not have commented on the connection between genes and the (in) possibility to live together, because he could have done this better to science. Pechtold found that "too easy". Only after frequent insistence – Tunahan Kuzu (Denk) counted thirty attempts – Blok said he sees "no automatic connection" and that living together is very possible "with all the challenges, tensions and risks involved".
Read the live blog from the parliamentary debate here: Motion of no confidence against Block rejected


'Ministerial minister'
For Pechtold, that was just enough to succeed. The minister had gone "rudely" through the dust. "I hope that the minister can leave his false start after today." But according to Jesse Klaver (GroenLinks) it was "dragging and pulling" and therefore anything but equestrian. "It is not as if the minister stood there with the idea: this is not really what I thought", says Klaver. "This minister is now flabby. He has been approached in this way, and harsh words have also fallen from the coalition. "
According to the opposition, Blok can no longer operate internationally credibly after his statements. According to the minister himself, this is not the case, partly because after the statements had been leaked, he quickly sought contact with countries that might have felt insulted. Except in Suriname there is little anger. "Where people work, mistakes are made," he mainly hears abroad.
VVD leader Klaas Dijkhoff acknowledged that the statements had been "uniplomatic" and "crass". "Freedom of speech does not apply to ministers." But his fellow member did not have to worry so deeply about the dust. In fact, Dijkhoff especially wanted to emphasize that there was filming at the private meeting and that Blok did not seem aware of it. Otherwise he would not have made these statements, according to Dijkhoff. The opposition reacted bewildered. "I have rarely heard such a line of defense," Klaver said. Whether decided or not, Blok was minister at that particular meeting – and he had to act accordingly, according to the GroenLinks leader.
Dijkhoff tried to make the Blokdebat a much broader integration debate, in order to divert the attention of ministerial missteps. The statements might have been inconvenient, but the underlying point – that there are problems in the multicultural society – according to Dijkhoff was indeed valid. He denounced the "dummy police" that would prevent you from mentioning such problems. It gave him a lot of interruptions, but was Blok helped with it? The already very painful debate took at least much longer.
Blok made a nervous impression at the start of the debate. Later he rediscovered and, at times, he even sounded old-fashioned haughty. He called scientists "people who do good research". He did the straightening of individual pronouncements quickly, to sum up what had gone well in recent months, he took the time. He, he acknowledged, had "looked up the edges" with his statements, and sometimes he had gone over "not to linger in formal terms". For the time being, he can stay away from those edges better.
Also read the NRC Comment: Staying bloks is cynical outcome political logic


Source link