When shortly after the discovery of the killed Nicky Verstappen two marechaussees guard the location where Nicky was found, a 35-year-old man approaches the place by bike.
The Marechaussee finds it strange that the man drives there at that time – shortly after midnight. They hold him and ask the man what he is doing there. It is warm and by cycling around the man hopes to find some cooling, he says.
The Marechaussee's write down his contact details and that's why the man named Jos Brech comes in the file of the death of Nicky Verstappen as a passer-by.
OM speaks of breakthrough
On Wednesday it became clear that Brech, twenty years after the death of Nicky, is the main suspect in the long-running murder case. The Public Prosecution Service (OM) speaks of a breakthrough, now that it has a suspect in mind. But the same suspect must still be found, because since February of this year Brech is missing.
Before Brech traveled to the French Vosges in February and was in contact with him for the last time, he lived for most of his life in Simpelveld. The village has over five thousand inhabitants and is located in the extreme south of Limburg on the border with Germany. Brech's father died in heart surgery when Brech and his two sisters were still small. When his sisters leave the house, Brech continues to live with his mother.
He has worked in a playgroup over the years, helps children to build wooden huts during holiday weeks and guides children through the scouting in the south of Limburg. The exercises that he wants the children to do to survive in nature, Brech himself mastered to perfection. He is an experienced 'bushcrafter' through which he has learned techniques for survival in nature.
For his flight, he often spent weeks in the wilderness without hearing anything from him. He then always informs family or friends which route he is taking and when he intends to return, something that is common in the world of bushcrafters. If something happens during a walking tour, there are at least some starting points that can be used during the search.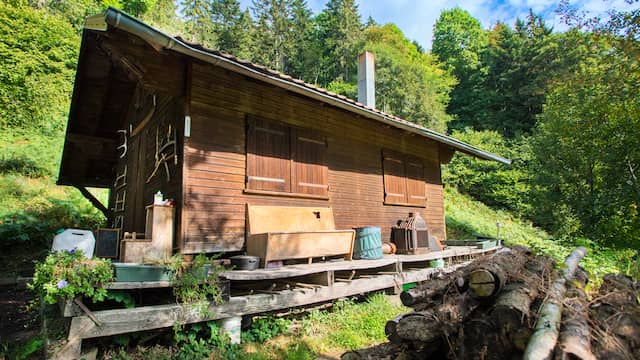 The hut The Old Crow is the last place where Brech is known to be there. (ANP)
Brech would start a long hike in February
At the beginning of this year, Brech announced that he plans to walk from The Old Crow, a hut near Sainte-Marie-Aux-Mines in the French Vosges, to Wissembourg. That French village is on the border with Germany. The tour will last three weeks and he plans to return to the Netherlands to visit his sick mother. If the health of his mother so requires, he is also willing to come back earlier. From this it can be concluded that he wants to have regular contact with his family.
On the forum of bushcrafters in the Netherlands Erik van 't Padje, himself a bushcrafter and a good friend of Brech, writes that on 19 February he receives the latest SMS from Brech. He reports that Brech leaves the day after for his week-long walk. On February 20, Brech leaves his hut without a telephone. He leaves it behind in The Old Crow. He does take an outdoor outfit and he has equipment with which he can measure which GPS coordinates he is on. A week before Brech starts his journey, he pints for the last time on February 14th. He does that to pay for groceries in a store in Sainte-Marie-Aux-Mines.
According to Van 't Padje, who left The Old Crow in early March and was looking for Brech en route, Brech must have encountered extreme conditions. The paths are smooth through the ice and there is a thick layer of snow. The temperature has also fallen to well below the zero point.
Family and friends give Brech as missing
If in April there is still no contact with the 55-year-old bushcrafter from Simpelveld, friends and family beat the alarm. There is a missing message and bushcrafters from both the Netherlands and other European countries are looking for him. In the spring the mother of Brech dies. He is missing at her funeral.
Residents of Simpelveld say that they have seen him in the village in April, but it is certainly not. In early April, the police to appeal to five hundred men to still report for DNA research. The men are part of a group of fifteen hundred men who have already received a call in October 2017, but have not yet registered for it.
The police wants to have access to the Brech DNA for a long time. Because he is still in the files of the murdered Nicky Verstappen as a passer-by, he is also called up for a DNA test. The police will come to the door twice, but it will not be opened. Brech does not respond to further calls for DNA.
Because Brech was reported missing by friends and family and because he did not comply with the request to donate DNA, his belongings are sent to the Netherlands Forensic Institute (NFI). DNA is taken from that and compared with the DNA that is protected from the pajamas and the underpants of Nicky. In June, it appears that the two DNA traces completely correspond and from then on Brech is no longer wanted as a missing person, but as a suspect in the murder of Nicky Verstappen.
'If you said hello, he did not react'
As Wednesday shows that Brech probably made himself untraceable, the bushcraft world is startled. They seem to have searched for months and put money into the search for someone who just did not want to be found. "I spoke to him extensively in February last year when I picked him up in Simpelveld to go to a funeral in Paris for a bushcraft instructor we both knew, but he is not someone who is very talkative, it is a very closed person", outlines Siegurd van Leusen, owner of a bushcraft shop.
That image confirms Wiel Weijers, who also lives in Simpelveld. "He used to pass by, but then he did not say anything.If you said hello, he did not react, he is a modest, somebody who lived in retreat, a loner, we would say here."
According to a local resident who has lived in Simpelveld for over fifty years and wants to remain anonymous, Brech did not talk to anyone. "The rest of his family always kept their distance, they were all the same, you did not get in touch with them."
Brech was a suspect in previous sexual abuse
Brech is not only represented by the Nicky Verstappen case in the police systems. He is known to be a suspect in a sexual offense in Simpelveld in 1985, but he is never condemned. The reason is unknown. After a number of years, files must be destroyed in the OM's archive.
After it is known that Brech is being sought for the murder of Nicky Verstappen an article from 1985 dives out of it Limburgs Dagblad on. It states that "a man from Simpelveld has known that he committed fornication with several children". Also in the year before the man would have committed sexual abuse with two underage boys. The name of the man is not mentioned in the article.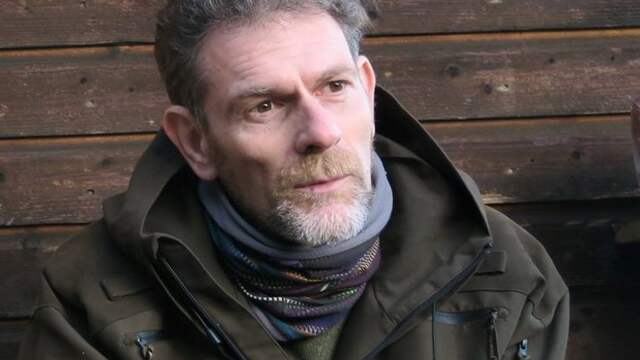 The photo that Jos Brech's police distributed. (ANP)
OM thinks that Brech is still alive
According to bushcrafter Van Leusen, even the most experienced bushcrafters would have a hard time surviving without contact with the outside world. "He fled in a period of extreme weather conditions, when there was a lot of snow and it was -20 degrees Celsius, which is almost impossible for any bushcrafter to do."
Yet Jan Eland, chief public prosecutor, says that "there are more and more indications" that indicate that Brech is still alive. In that case he would have to be somewhere in the wilderness of Europe. Van Leusen thinks that it is not impossible to survive in the mountains and forests. "But I wonder if he has the expertise that goes so far that he can."
Friday, Peter R. de Vries announces that Brech logged in on the internet on 27 April. Brech did that under a nickname. De Vries has been researching the murder of Nicky Verstappen for many years and has become a trusted person for the family.
Peter R. de Vries is now a confidential adviser of the Verstappen family. (ANP)
In winter it is harder to survive
Van Leusen thinks that Brecht can survive in the summer by eating nuts, berries and carrots. "It is known that he has experience with edible plants and he can eat mushrooms, but I doubt that he has the experience of gaining protein in a different way in winter by catching fish or other animals."
In order to survive, Brech will also have to make fire and in Western Europe this means that "you expose yourself", according to Van Leusen. "The hunting season has started and many hunters come to remote areas, which can then see or smell the smoke."
Justice is committed to finding and arresting Brech. "We know from the DNA traces that he has witnessed the last hours of Nicky Verstappen.In fact, it is only possible that he was there when Nicky died, but he did have to explain to us", says Eland.
Eland is not afraid that Brech "does something to himself", because the research team gets more and more indications that he is deliberately untraceable. "In the end, he runs into the lamp, I am convinced of that and I hope it will be soon."
The police decided in this case to release the full name of the suspect. Permission from the Chief Public Prosecutor is required for this. It must weigh up the seriousness of the offense and the privacy of the suspect. NU.nl basically follows the 'initials rule' (first name and first letter surname) when we write about Dutch suspects and perpetrators. However, we can decide to follow the police if the importance of informing our public is high and / or if the suspect is being searched internationally.
Source link