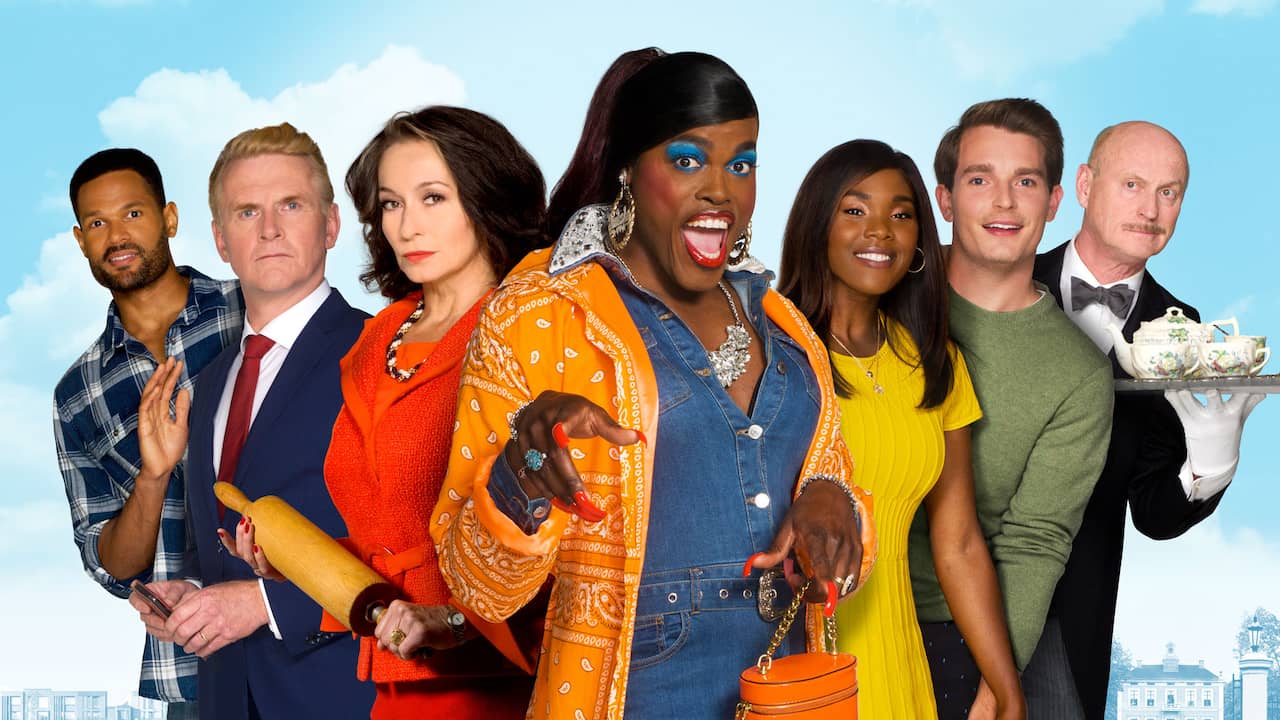 Jandino Asporaat has been secretly working on a new feature film since April, due out on December 10th. Bon Bini: Judeska in da House is set around one of his most popular characters, during the lockdown in the Netherlands. The comedian will announce this to NU.nl on Thursday.
Judeska's niece has a relationship in the new comedy with Lucas, the son of the Minister of the Interior. The lockdown is announced just as she drops off Gabriëlla on the large estate. The hot-tempered chicken saleswoman is therefore stuck and soon becomes irritated by the wealthy family, who are just as not waiting for her. In addition to Asporaat, Cynthia Abma, Arjan Ederveen and Humberto Tan can be seen in the film.
"Everyone suddenly has a problem with each other", Asporaat tells NU.nl. "You can actually guess the hilarity. In the meantime, Judeska, with all her fanfare, is actually just trying to protect her niece. She fights like a lioness for her family. And that also applies to Liselotte, the lady of the house who does her son wants. "
The tension between the two women is running high. "Liselotte says quite hard and racist things, but she also does that to protect her family. Ultimately, it is about realizing that there is another way. You don't have to fight each other for your family. She can do that too. by side. "
'Comedy is our weapon to connect'
"We really need each other in the Netherlands to make it," Asporaat continues. "That big house of the minister is in this way a metaphor for our country. Opinions do not all have to be the same. As long as you continue to see each other as fellow human beings."
Asporaat says that his latest film has become a bit more mature than the previous two in that regard Bon Bini Hollandmovies. The fact that the second part attracted 715,000 visitors and thus became the most visited Dutch film of 2018 also created a greater sense of responsibility.
"We are very aware of the stage that we now have", says producer Maarten Swart of Kaap Holland Film. "Humor brings people together, so comedy is our weapon to connect. We want to make people laugh as well as build bridges. We find a balance in that. Bon Bini Holland 3 unfortunately had to be postponed due to the corona crisis, but this way we also wanted to do something for the fans. "
"You don't want to just name problems", Asporaat adds to his colleague. "In recent months you can only hear how miserable everything is Bon Bini Hollandfranchise we want to show how it can be done. "
'Judeska wants to be loved just like everyone else'
Judeska's popularity became apparent earlier this year when her music video One and a half meters, along with Ali B. and Poke, went viral. "Now you want to talk about hygiene, your funerary face should be in quarantine", the character rapped, among other things. Asporaat had underestimated the success, he says jokingly.
"Everywhere I went, people started singing 'five feet'. I've gone completely crazy. Ali called me recently for another number. Well, you better figure it out yourself this time, haha."
The comedian understands why Judeska is his most popular character. "She wants to be loved like everyone else. I think we all want to have a girlfriend like that. Not that you'd want to spend two weeks in one house with her. But if you want to see other people try to do that. , you can go to the cinema soon. "
Source link