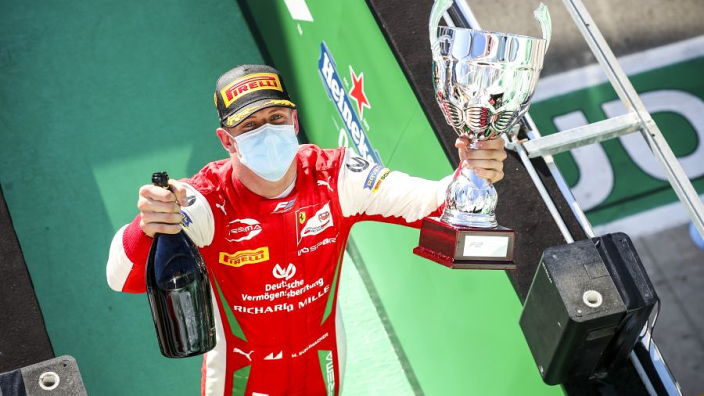 Mick Schumacher will make his Formula 1 debut with the Haas team in 2021. There has been speculation about such a switch for some time, but it has now been officially confirmed by the American racing team.
Schumacher is currently doing excellent business in Formula 2 and is well on his way to becoming champion in that class. With two races to go, the 21-year-old German is at the top of the standings. Schumacher has shown in recent months that he has a lot of potential and so it is no surprise that the Haas team has chosen him. Schumacher will take place next to the previously announced Nikita Mazepin.
"I am very pleased to be able to confirm Mick Schumacher for our driver line-up for next season and look forward to welcoming him to the team," team principal Guenther Steiner said in a statement. "The Formula 1 Championship has long served as a testing ground for great talent to show their worth and this year's field is undoubtedly one of the most competitive of the last few seasons."
"Mick has won races, collected podiums and excelled against quite some exceptional talent," Steiner continued. "I am convinced that based on his performance he has deserved the opportunity to make the switch to Formula 1. We, as a team, now have opportunities ahead of us to evaluate and nurture a new driver, given our reputation. with our race packer towards 2021. We are setting the building blocks for the team's continued long-term growth and I look forward to Mick's contribution, both on and off the track, in that process. "
Schumacher himself is very much looking forward to his Formula 1 debut. "The prospect of being on the Formula 1 grid next year makes me incredibly happy. I am just speechless," he confirms. "I want to thank Haas, Scuderia Ferrari and the Ferrari Driver Academy for putting their trust in me. I also want to recognize my parents and show my love. I know I owe them everything. I have always believed that I have my Formula 1 dream. I would also like to thank all the motorsport fans who have supported me throughout my career. I will, as always, give my all and look forward to embarking on this journey with Haas F1, "said Mick Schumacher.
Germany @SchumacherMick Joins the Haas F1 Team as part of our all-new driver line-up for the 2021 Formula 1 season ⤵️# HaasF1https://t.co/P20qleWLac

– Haas F1 Team (@ HaasF1Team) December 2, 2020
Source link