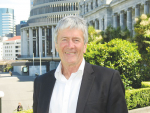 Recent changes to the NAIT regulations are generally welcomed by the agricultural sector: DairyNZ and Beef + Lamb NZ are in favor, although Federated Farmers sees them as rushed.
The technical changes in the legislation are in support of the current work to eradicate Mycoplasma bovis, says Minister of Biosecurity Damien O & # 39; Connor. But the NAIT problems should have been solved years ago, he says.
The problems stemmed from farmers who did not record animal movements and slack enforcement of farmers' compliance with the use of NAIT.
The changes that have been urgently adopted in parliament, align the search powers of the NAIT Act with the law on investigation and supervision. They make it clear that all movements of animals must be reported to NAIT, even if the new location is not registered with NAIT; and they will allow an action against an animal owner who does not make these movements known to NAIT.
O & # 39; Connor says that the changes do not go beyond the powers that already exist under other laws, allowing government officials to obtain information lawfully when non-compliance is a problem.
The new regulations also make M.bovis an obligatory body under the Biosecurity Act 1993, which requires that people who suspect the presence of the disease at a new location must report this to MPI.
"Rapid reporting is necessary to eradicate the disease and a well-functioning NAIT is an important part of our efforts to protect our vital primary industries from diseases and pests," said Connor.
"Farmers and the business community have asked MPI to increase compliance so that people who do not comply with the rules can be held accountable."
DairyNZ says it supports the government's decision to make the changes urgent.
Head of government Tim Mackle says the changes will lead to inspections without control of farms, clarification of requirements for movement of animals and making it punishable not to record animal movements.
"The past year has become clear, because we are dealing with the consequences of M.bovis, that some farmers have not taken the requirements to take animal movements through NAIT as seriously as they should have been.
"We have always encouraged farmers to ensure that they have fully completed the NAIT records, and the failure to do so has led to significant problems for the sector since M.bovis was discovered in New Zealand last year."
Mackle says that the changes in the law were clearly necessary.
Beef + Lamb New Zealand (B + LNZ) welcomes the government's adoption of amendments today to improve national identification and tracing legislation.
Dave Harrison, B + LNZ & # 39; s General Manager of Policy and Advocacy, said: "Mycoplasma bovis has shown that it is crucial to monitor animal movements between farms in the event of a biosecurity raid and effective compliance is an important part of that process.
"Today's amendments are a good first step towards improving the NAIT system and provide more clarity on enforcement.
"The farmers who work hard to meet the NAIT requirements have increasingly demanded stricter punishments and compliance measures against those who endanger the sector and this gives them confidence that action is being taken.
"Beef + Lamb New Zealand looks forward to working with the government on further improvements to NAIT to ensure it meets New Zealand's biosecurity interests and the needs of farmers."
BLNZ says that M.bovis shows that it is crucial to be able to follow animal movements between farms in the event of a biosecurity invasion and that effective compliance is the key.
Dave Harrison, BLNZ's general managerial policy and advocacy, says that farmers who work hard to comply with the NAIT rules have called for tougher sanctions and compliance actions against those who endanger the industry; they are confident in the latest moves.
Source link