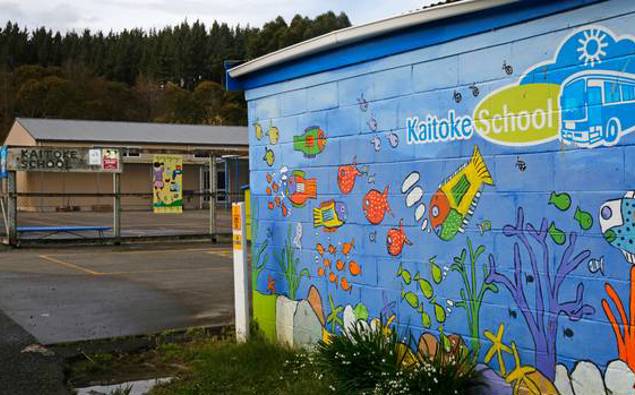 A Whanganui school that allows a relief teacher to have her baby in class while she is teaching has made some parents hurt who say that their children's learning is being neglected.
Kaitoke School takes a relief teacher for two hours a day in a classroom for students of about six years old. But as part of the deal she is allowed to manage the class with her baby, presumably about one, now old.
One boy at Kaitoke School has for the first time warned his mother for a few months for the chair of the teacher's relief at school this year. Her son was frustrated and she said that his reading level had also dropped.
"I just do not understand why the child can not be put in a kind of childcare while she is teaching," said the mother.
She has paid to teach this lesson for two hours and you can not focus 100% on those children if you have a child of your own whom you have to worry about. & # 39;
She said that they were told in a Facebook message about the teacher, but it was not clear that her baby would be in her class.
The parent, who chose not to be named, so that her son would not be identified, was frustrated by the school's reaction to her concerns.
"I went to the headmaster because I was not happy and I was pretty well off her.
"So then I went and wrote a letter to the Board of Trustees and they took the time to come back and told me that this is what it is, the baby stays, it is written in her contract."
The parent has now registered her son at another school.
She said that she had found 11 parents of the 19 children in the class who also said it was not good for the school to allow the teacher to have her baby in the classroom. A newsletter was even sent to the parents when the school was informed of a possible petition from the parents.
"Say they do not approve this [the petition], "said the parent of the newsletter.
"They are not even interested in what we have to say and will not even look at it.
"It's a bit like … the baby stays and it does not matter if the baby influences your child's upbringing or not."
Kaitoke School's deputy chairman of the Board of Trustees, Rob Crawley, said the baby was in a carry-pack and was sleeping for most of that time.
He said that the school had received two complaints and that they were addressed in the right way.
Crawley also said that the school had received a number of statements of support from parents who felt that the school had a holistic view of teaching.
Source link