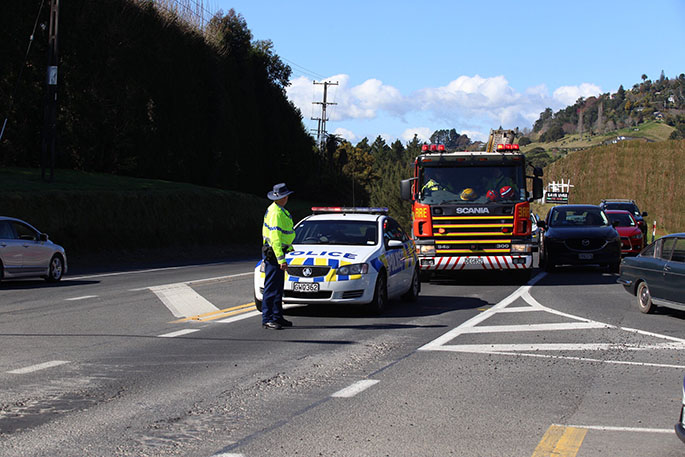 A Bay of Plenty road safety group says that a delay of six months when upgrading the deadliest New Zealand highway is unacceptable and will cost more lives.
The statement was made after the announcement by the Minister of Transport Twyford of an investment of $ 665 million in BOP roads.
It says that a delay of six months when upgrading the deadliest highway in New Zealand is unacceptable and will cost more lives.
Although the Government's attention to road safety has been welcomed by the BLOODY Road campaign, the group fears that, without urgent action, SH2 will demand more lives between Waihī and Tauranga.
"There were 18 deaths between Tauranga and Katikati between 2012 and 2016. In the past nine months, four fatalities have been reported, including the most recent in Te Puna earlier this month," says spokesman Andrew Hollis.
"We know what needs to be done to make this road safer." We need a limited speed limit as a matter of extreme urgency, we need broader shoulders, and media and side barriers at the highest risk locations. make mistakes, but they should not die for them on 2-star safe highways. "
Andrew says that successive governments have passed the dollar on this busy road instead of spending the money.
He says that every six months delay three more people are killed here – regardless of whether their driving style caused a crash or not.
"You are eight times more likely to die in the Apata or Te Puna sections SH2 than on the average highway – these are hard evidence.
"This is a tragically missed opportunity to reassure residents of the Western Bay of Plenty that their lives matter."
The group's advisor, Matthew Farrell, says that SH2 transports 30,000 vehicles per day on one lane in each direction between the largest city and the busiest port in the country.
"This is much higher than the safe operational capacity for a rural corridor, with so many local roads and driveways."
Matthew says the road is the only option by the area at local, regional and national level, including cargo, commuters, school buses and business traffic.
"Traffic has almost tripled over the last 20 years, with peak traffic now reaching up to 1,500 vehicles per hour on one lane, and it only gets worse as time passes.
"This is not a political agenda, it does not matter what color the government of the day is." This is a sincere plea for a quick assessment, a decision.
"A large part of this country is owned by NZTA and the previous government has allocated money to the TNL in Te Puna in 2016", says Andrew.
"NZTA then planned to extend this dual carriageway to" Mokoroa. "If safety really is the top priority of this government, the most deadly road should have been the highest priority for a decision on investment, rather than the lowest priority behind all. projects announced today. "
Supporters of the Fix the Bloody Road campaign made more than 2,000 entries to the Bay of Plenty Regional Council in April 2000, including a 7,000 signatures petition and represented a significant number of the 900 entries from the Government Policy Statement in May.
The group is planning a meeting of campaigners on Sunday 9 September to reveal plans for protest actions.
Plaster "solution" from Tinkering Twyford – Muller
Bay of Plenty MP Todd Muller has sent Transport Minister Phil Twyford and the Labor / New Zealand First Coalition Government for "not delivering for Bay of Plenty regional roads".
"The government is spending a record $ 16.9 billion on transport, allegedly focusing on safety, but they could not find money for the deadliest stretch of State Highway between New Zealand between Tauranga and Katikati," says Todd.
"To put it bluntly, there are cuts to regional roads and a boost for Twyford's Trams and trains in Auckland for life here in the bay.
"It's all good to talk about safety improvements for SH2, but what's on the table, $ 65 million, comes down to tinkering at the edges."
Todd says this is a drop in the bucket.
"Our community has been talking about this road for more than 25 years, National has received it in the tendering phase and now the government has pulled the carpet out of our feet".
"It almost seems as if he ignores this region out of grudge.
"Mr. Twyford argues that the government makes safety a priority, but the best thing the government can do to improve safety on our most dangerous roads is to continue with the Roads of National Significance program, which results in some of our safest weigh."
Todd says that National has committed to upgrading the entire stretch of road as part of the Tiganga or National Significance program from Tauranga to Katikati.
"The minister claims that TNL is promised but not funded, while the reality is that the national government has announced a $ 520 million funding for SH2 between Tauranga and Waihi in 2016, and we planned to do more."
Todd says the package includes:
The $ 286 million Tauranga Northern Link (TNL).
$ 85 million in safety improvements designed to reduce death and serious injury accidents.
Up to $ 150 million for future traffic growth, paving the way for an upgrade between Omokoroa and Te Puna.
"This road is in urgent need of improvement and our community can not afford to wait for a change of government to get the job done."
"The minister would have understood how important this investment was if he had taken the time to drive and get on the road, but my invitation was not accepted."
Source link