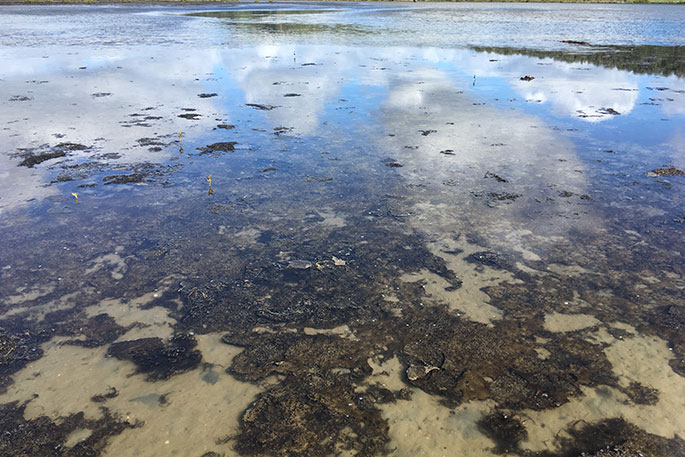 Beachgoers are warned to avoid the water in a mouth of the Bay of Plenty, where poisonous algae may be in bloom.
The health warning was issued on Friday, August 17, for the Waihi estuary in Pukehina, with Dr. Neil de West, medical officer of public health, who says that crustaceans are not allowed anywhere in the mouth of the Waihi or mouth of the estuary. collected.
The Ministry of Primary Industries has extended the public health warning against the collection of shellfish on the west coast of the North Island in Taranaki, Waikato, Whanganui, Manawatu and Horowhenua.
The warning now extends from the mouth of Port Waikato south to Te Horo Beach in the Wellington region.
The algae form mats in the shallow parts of the estuary and they can float freely and spread through the estuary.
Contact with toxic algae can cause asthma, hay fever attacks and skin rashes. If swallowed, it can cause stomach problems, headaches, tingling around the mouth and in severe cases muscle paralysis and breathing problems.
"The health warning means that people have every activity involving contact with the water in the Waihī river estuary at Pukehina," says Dr. de Wet. "
" Algae mats can also accumulate along the coastline of the estuary and around the mouth and therefore it is especially important that parents ensure that children avoid contact with these mats, because they can be toxic. "[19659004] Current information about this health warning and others for the Bay of Plenty and Lakes districts is available through these channels :
• Phone: 0800 221 555
• Website: www.toiteora.govt.nz/health_warnings
* Facebook: www.facebook.com/toiteora
• Twitter: www.twitter.com / toiteora
• E-mail alerts f or subscribers: www.toiteora.govt.nz/alert
Source link