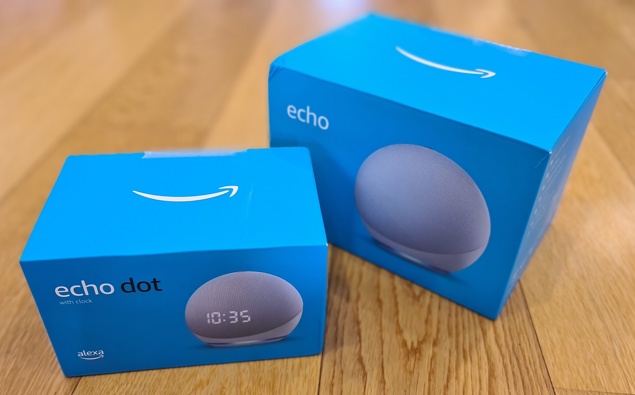 Change.
People just hate it, don't they? As much as they love to constantly scream for something new, the moment you give it to them, the complaints flow thick and fast.
Amazon closed the year by giving its range of smart Echo speakers a total facelift and some people panicked.
Not me. I'm crazy about …
While there isn't a dramatic difference in performance between last year's edition of these entry-level speakers with Alexa, they are physically a world apart – or a world apart anyway.
For whatever reason, Amazon has decided to make its speakers spherical and while they may take up a little more shelf space, they look pretty cute, available in Charcoal, Twilight Blue, or Glacier White.
Instead of a jug-shaped cylinder for the Echo and a flatter, wider puck for the Echo Dot, we have a ball instead – for both speakers. Yes, they look exactly the same now, just different sizes of course. And they are not all the way around – how would you make sure they stay in one place? There is a rubberized base where the status LED has been moved, which reflects brightly off the surface on which the speakers stand. In any case, this makes more sense than the top-mounted lamp from previous generations, which often meant you couldn't tell if Alexa was listening if the echo in question was placed on a shelf higher than eye level.
I've read comments about the buttons on the top being difficult to use. Seriously, what's wrong with people?
In any case, I have found the opposite. The four traditional control knobs are now rubberized and raised in their specific shapes, making them easier to use than ever in my opinion – again, when your speaker is set high you can literally feel which knob is which without having to see them. Not that I ever use the buttons anyway. Isn't that the point of having a smart speaker in the first place?
Especially if there has been a noticeable improvement in microphone sensitivity. I didn't hear myself screaming across the room to be heard like I used to with older models. I know Amazon is sticking a lot of resources into Alexa's speech recognition capabilities, with a more intuitive follow-up skill set to roll out in the coming months. As it is now, I'm pretty happy with the way she follows my instructions – over time I've learned not to be so formal with my requests. "Alexa, louder" works just as well as "Turn up the volume, please."
And there is still no other ecosystem that comes close to operating IoT devices in the home. I have a lot of lights, plugs, motion sensors and security cameras attached to my Alexa account that respond to different skills and routines – not to mention my doorbell.
In terms of music appreciation, there is a significant improvement in sound quality and volume – especially with the new Echo. Ask Alexa to turn the volume to ten and prepare to let your eyebrows shine. Not bad for a $ 179 speaker. The 3-inch woofer and dual tweeters create an impressively rich soundscape across the frequency range, and the bass response is wonderfully warm, punchy and powerful. I'm sitting here with Fat Freddy's Drop in shuffle and every song is thumping the most satisfying.
As for the Dot – the improvements in audio transmission aren't that pronounced here; Yes, there is more volume than before, but due to the size, most songs still sound a bit dry and top-end. In large rooms, the Dot is best used in conjunction with another, larger Echo as part of a multi-speaker setup – something that can be easily created in the Alexa app. If you have two identical echoes, you can even pair them as a stereo pair – quite a few if you go for the bigger one. There is also still the option to connect an external device via bluetooth or 3.5mm jack – very versatile.
As with the previous generation, the 2020 Echo Dot is also available as an Echo Dot with clock – with an easy-to-read LED clock made from under 100% recycled fabric. This works great as a kitchen timer or bedside table – it even displays the temperature.
I remain confused as to why some reviewers seem obliged to make mistakes with such well-priced, great-sounding devices. I've even seen complaints about the size of the power adapters really strange as they are considerably smaller than the previous square bricks we dealt with. These plugs are easily narrow enough to nest alongside other plugs on your multi-board or side-by-side dual outlet. Again, I think people just like to complain.
Well, no complaints from me; The combination of build quality, design quality and sound quality make these new Echoes of exceptional value, especially when you consider Alexa's intelligence … which gets smarter every day.
Click here for more information and prices on the Amazon Echo.
Click here for more information and prices on the Amazon Echo Dot with clock.
Source link