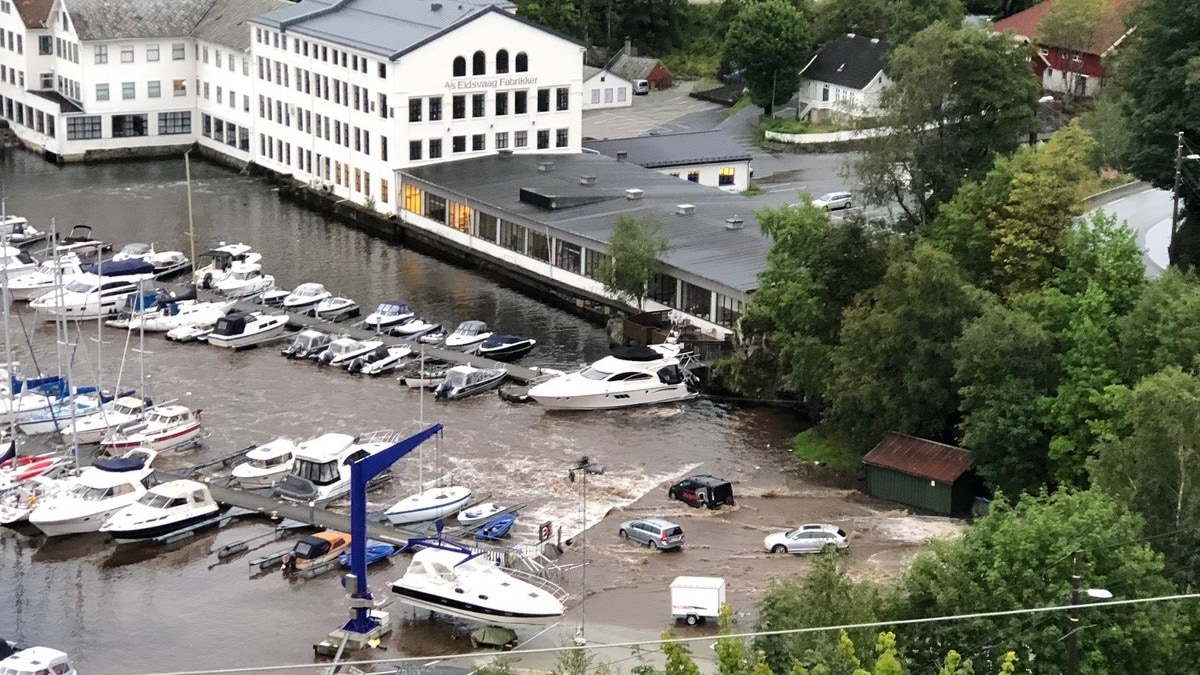 "A parked car is about to be washed at sea," said police deputy leader Ivar Kvant in the 21st century at NRK.
On Wednesday afternoon the municipality of Bergen reported that more houses in Eidsvåg were being evacuated because of the fear that the temporary dam on the Munkebots water would burst. The reason was large amounts of precipitation.
And around 20.20 the message was that the dam was broken.
"It is estimated to be about 15 meters long and 6-8 meters deep," chief officer Tommy Kristoffersen said in the Bergen fire department at NRK.
The water dropped at 20:30 past the valley, according to witnesses. According to BA, about 40 houses in the area have now been evacuated, for fear of being hit by the water masses. The E39 is closed to all traffic, but according to the fire brigade the water has not crossed the European road.
"The river found a street under E39," Chief Officer Tommy Kristoffersen said to NRK at 21.45.
Up to 1.1 million cubic meters
According to the Norwegian Water Resources and Energy management, it is uncertain how much water was found in the dam before the failure occurred.
– It is 1.1 million cubic meters of water in Munkebotsvatnet. The two catch ponds have much less water, "says Lars Grøtte, department head for Dammen Safety.
Initially 12-15 houses were evacuated on the north side of the Eidsvåg tunnel.
"Evacuation and possible closure have taken place in consultation with the West Police District," City Director Urban Development, Anne Iren Fagerbakke, said earlier on Wednesday at NRK.
The municipality of Bergen has set up a shelter where the victims of the evacuation can be accommodated.
The police report that it is both forbidden to fly over Munkebotn and to go to sea at Eidsvåg until Thursday morning.
Fire department Bergen has crews on Wednesday evening at the provisional dam of the Munkebotswater.
They tried to pump as much water as possible, but failed to crack the dam.

Source link