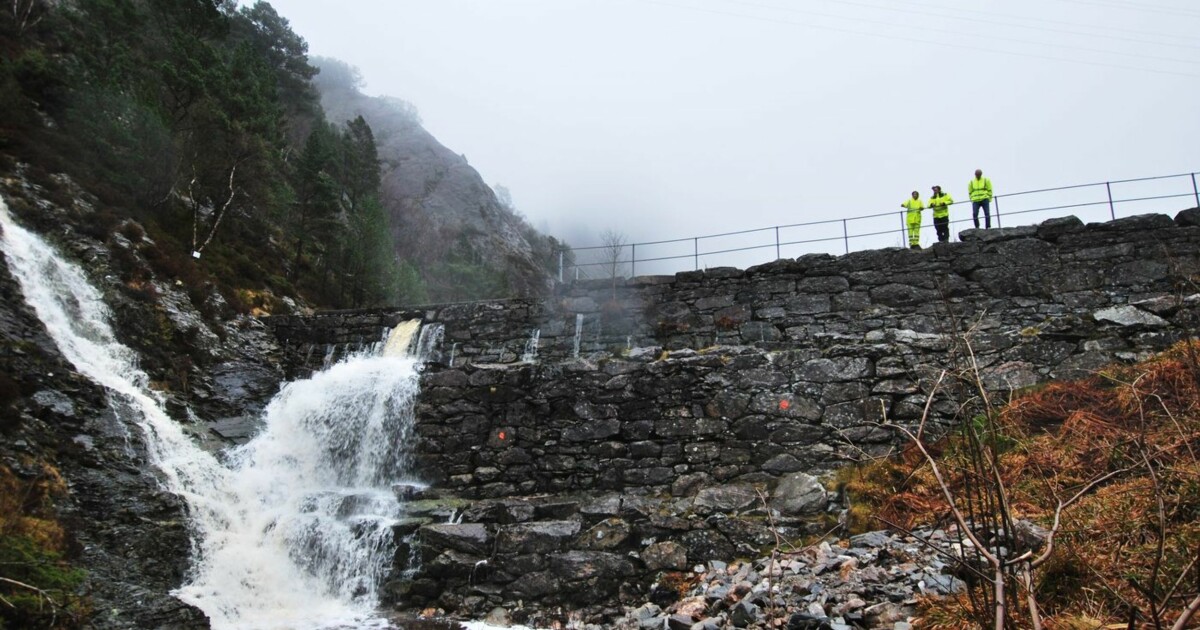 Do you know anything more about this issue? Do you have photos? Tip us at [email protected]
The police have started evacuating a number of houses in Eidsvåg in the Åsane district in Bergen, for fear of a disintegration of demolition.
"It is a temporary dam that can burst because of the high rainfall, which can lead to flooding in the Eidsvåg area.We close the E39 with supply routes and assess the situation carefully.It has stopped raining, but there is plenty of water in the area, this is a review we have made now, "says Anne Iren Fagerbakke, municipal director, Bergens Tidende (BT).
The municipality states in a press release that they are concerned that the dam, which is temporarily suspended in connection with the remediation of the Munkebots water, is not resistant to the large bodies of water.
– As a result of heavy rainfall, the municipality of Bergen is concerned that the temporary dam will not tolerate the water masses, which could lead to flooding in parts of Eidsvåg. As a result, in consultation with the West Police District, evacuation of potentially affected houses in the area and closure of the E39 and supply routes was initiated, writes the municipality.
#Mountains #Munkebottsvannet Due to heavy rainfall, the municipality of Bergen is concerned that a temporary dam will burst. The police are busy evacuating homes in Eidsvåg. E39 is open. The police and the municipality will monitor the situation closely all evening.

– West police district (@politivest) August 22, 2018
– Determines how wrong it is
However, the police denies that the E39 is closed.
"We are now working on the evacuation of homes, but the road is open and remains open until the situation changes, and we evaluate the situation on an ongoing basis," says operations manager Per Algrøy in Dagbladet's Western police district.
The article continues during the advertisement
There are large amounts of precipitation that have filled up the pond, causing concern whether the temporary dam retains the water bodies.
– The dam is full. But a plan has been made that shows which houses can be influenced, says Algrøy.
– Is there a major damage potential if this dam is broken?
"There may be a little … It depends on how wrong it is," says Algrøy.
Pumping water
Entrepreneurs are on site to find a solution to the problem.
"Water will also be pumped out of the dam to relieve the temporary dam," said the operational manager.
Between 12-15 houses in the area have been evacuated, BT writes.
Municipal administrator Fagerbakke will not say anything about the probability that the dam is missing.
– I do not want to judge it. We want to evacuate the areas and want to ensure that this does not happen, "she told BT.
Dagbladet comes back with more.
Like Dagbladet on Facebook
Source link