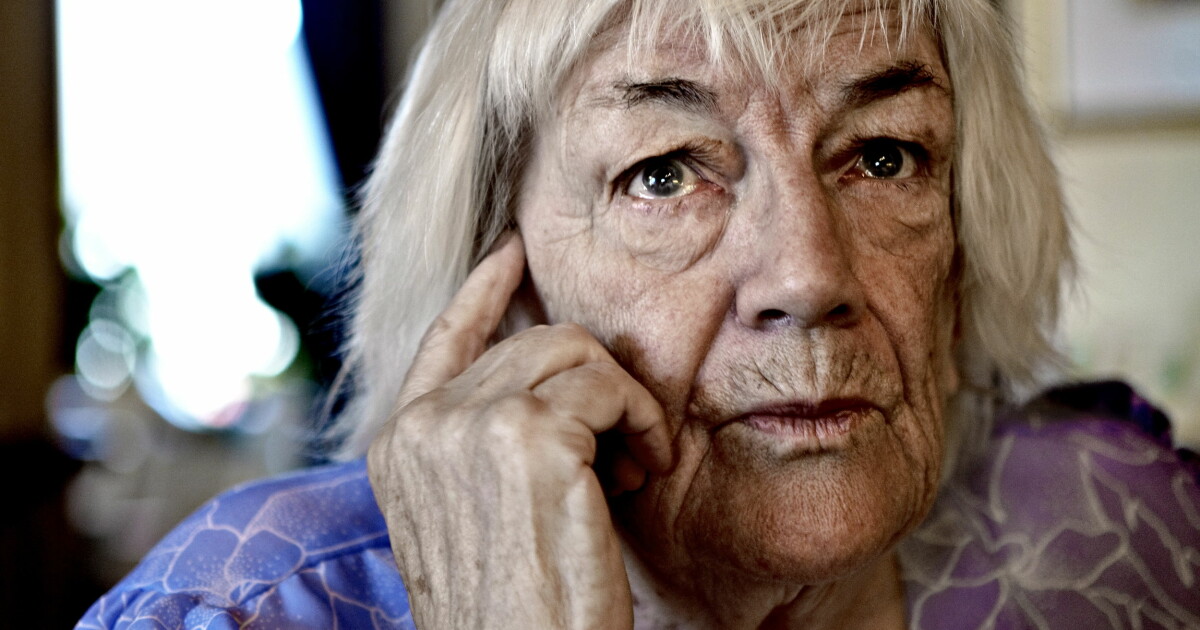 On Saturday, the popular love writer Margit Sandemo (94) fell asleep in his home in Sweden. In addition to a very rich literary catalog, she leaves behind two sons, seven grandchildren and ten grandchildren.
Son Henrik Sandemo (72) is clear about what he believes is the most important contribution of the mother through a long and controversial life.
"With her books she has taught many young people to be happy to read, she has inspired people and entertained them, he tells Dagbladet.
"She was a different mother and gave us an exciting upbringing It was always very interesting to visit her She was not so good at taking care of us, I remember that, but she picked it up with so much more With humor, fairy tales and stories, it has kept us going all the time ", continues Henrik Sandemo.
Compassion from friends, acquaintances and readers begins to flow in, says the son. Margit Sandemo acquired himself a big fan and enjoyed the success.
"She loved the limelight and loved to act in. My mother never took five of us to pick something up, he says.
Enormous success
The woman behind the 47 books in the novel "Sagaen om Isfolket", stands out as one of the best-selling Norwegian authors with more than 37 million books sold, divided into about 200 titles.
The article continues during the advertisement
The "Saga om Isfolket" was published in parallel in Norway, Sweden, Denmark and Iceland. It was also published in Germany, Hungary, Poland and Sri Lanka, according to the Store Norwegian Dictionary (SNL).
Sandemo debuted as an author at the age of 40 after the series "The Three Friars" was printed in the Norwegian weekly in 1964. The stories of Sandemo came for many years in Norwegian weekly magazines such as Hjemmet and Allers before they were approached by the publisher Bladkompaniet in 1980, writes SNL. In 1982 the first book was called "Trollbundet" in the "Sagaen om Isfolket". The rest is the popular Scandinavian cultural history.
In an interview with Dagbladet from 2015, Sandemo talked about the economic aspects of authorship.
– The money is gone. In the first year I paid 80 percent tax. When I lived in Valdres, Sandemo explained and continued:
– They broke in my pocket and I did not do any business that paid off. I buy houses like crazy and sell them at a loss. I would become famous, not rich. And then I became rich, but now I am poor again.
Traveled to Iceland
According to Henrik Sandemo, she loved treating people.
– She brought friends, celebrities and family on a journey. Spending on others was one of her pleasures. Many believe that we are sober in the family, but we are not.
Iceland was the favorite destination, he says.
"Mother was very fond of Iceland and much of the action in the" Ice Age "series and the" Witch Master "was inspired by the many trips there.
– What was it like to grow up with such a famous mother?
"It was fun and she deserved fame It can be a lot of publicity, I remember a bit when she talked about the wounded adventures of her childhood, but she wanted to go with us and we supported her," said the son .
Margit Sandemo was open to being the victim of more rapes, such as children and young people. She even claimed that she had killed a man who tried to bother her. She must have hit him with a stone in his head.
"I was 60 years old when I finally told a good friend It was very heavy, she told Dagbladet in 2015.
Will spread the ashes
The author will not be denied at his own request. Instead there is an asparagus ceremony in the cabin in Grunke in Valdres. At the same place where ashes 19 years ago ash was scattered for her beloved husband Asbjørn, the family reported on the press release from Saturday.
Margit Sandemo was clear that she did not want to be in a grave. Unlike Dagbladet, she told her the following about her view of death:
"I was lucky and had a great life Bellman sings:" Drink your glass, see death waiting for you "I am not afraid of death No, not at all It would have been nice to live and See how it goes, but they die, my friends, I do not know if I want to be 102 years old.
"When I'm gone, I want my ashes to spread to the wind in Valdres, in the same spot as we spread Asbjørns, and I told my children," The one who places me in a tomb, I'll come back to joking.
Like Dagbladet Literature on Facebook
Source link