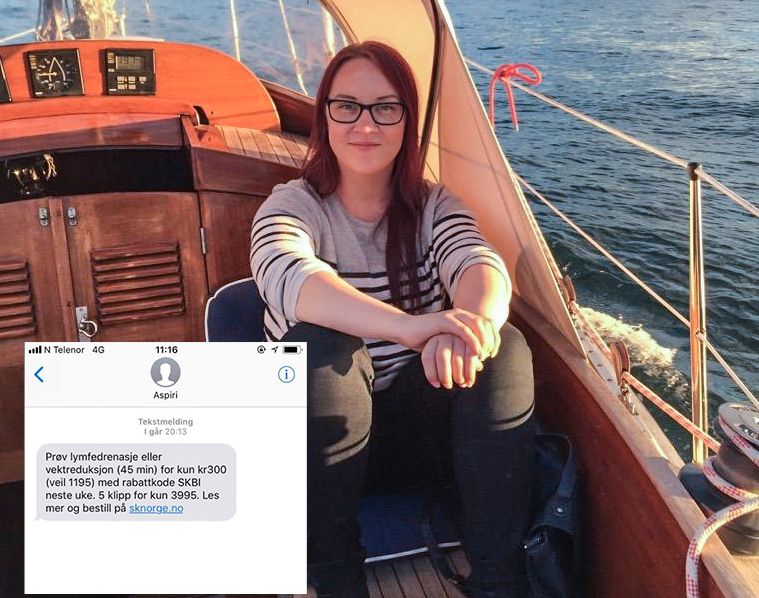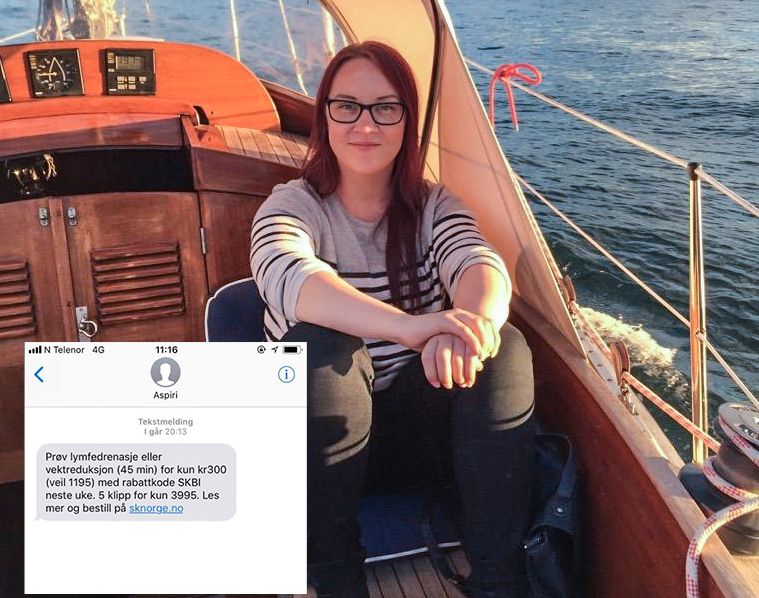 DOMESTIC
Students received SMS offers on weight reduction from supplier of exam preparation courses and compendia.
published: Updated: 20.08.18 22:38
On the phone of several current and former BI students, a Sunday evening, a message was received, in which the recipients received an offer to try out lymphatic drainage or weight reduction with SK Norway.
The sender of the message was Aspiri, which comes on the market as "the largest and leading supplier of courses for preparing exams and compendia in the Nordic region".
The company appears to have the same owner as the beauty services for which it was advertised.
– I answered for the first time that this is very focused on BI. The discount code in the message contains "BI". It is a school with a lot of attention for the superficial, right clothes and to fit in. Second, direct advertising for weight reduction is aimed at young students, says BI student Camilla Støylen.
Another recipient was a former BI student who did not want to appear with a name. She said she was dumbfounded that she had received a message from Aspiri, whom she had nothing to do for several years.
– I also responded to the message, which says nothing about the service they are doing. Students have enough pressure from the start, do they also have body pressure? It makes me angry, says the 26-year-old.
Feel a nice gesture
They can read on Aspiris websites that they have been giving courses to BI Oslo students since the fall of 2010, where they now follow more than half of the school students and that the company today offers its services to students across the country.
The chairman of Aspiri, Andreas Bjerkedal, started the company SK Norway, for which the SMS was advertised.
Bjerkedal describes the VG business SK as "a health and beauty clinic focused on preventive health". He also says that he is "very fond of the treatments offered in yesterday's sms".
"It had to be a nice gesture for old customers when I recently started with SK. My thought was that the offer for the treatments would be welcomed, but I understand that more people have experienced this as spam, he adds.
Word flat
Bjerkedal tells VG that he has sent an SMS today, he regrets the message.
The following text message was sent on Monday:
"Hey, I am an entrepreneur behind Aspiri and SK Yesterday I sent an offer to Aspirikunder with treatments from SK It was well meant, but I understood that this was completely wrong to do, I lie flat and have the most regret. You will not experience the same from us again. Mvh Andreas »
Camilla confirms that VG received such a message on Monday afternoon.
Bjerkedal says the original ad was published to Aspirikunder hbo BI Oslo, who said yes to advertising.
"However, this does not apply to third-party ads, so I have to go flat and take self-criticism.
"I would like to emphasize that this type of marketing is something I do not understand in my companies, so I do not have the necessary knowledge of the current rules, I understand that this is sensitive and will keep me away from it in every imaginable future. .
– Had to correct the behavior of Aspiris several times
Yngve Kveine, Communications Director at BI Norwegian Business School says that the school understands very well that their students and alumni do not want to receive such advertisements over the phone.
Kveine says that the school has asked Aspiri to relate to simple driving rules that are about not encouraging advertising in their buildings and not about violating the Marketing Act.
You can read more about this here
Source link