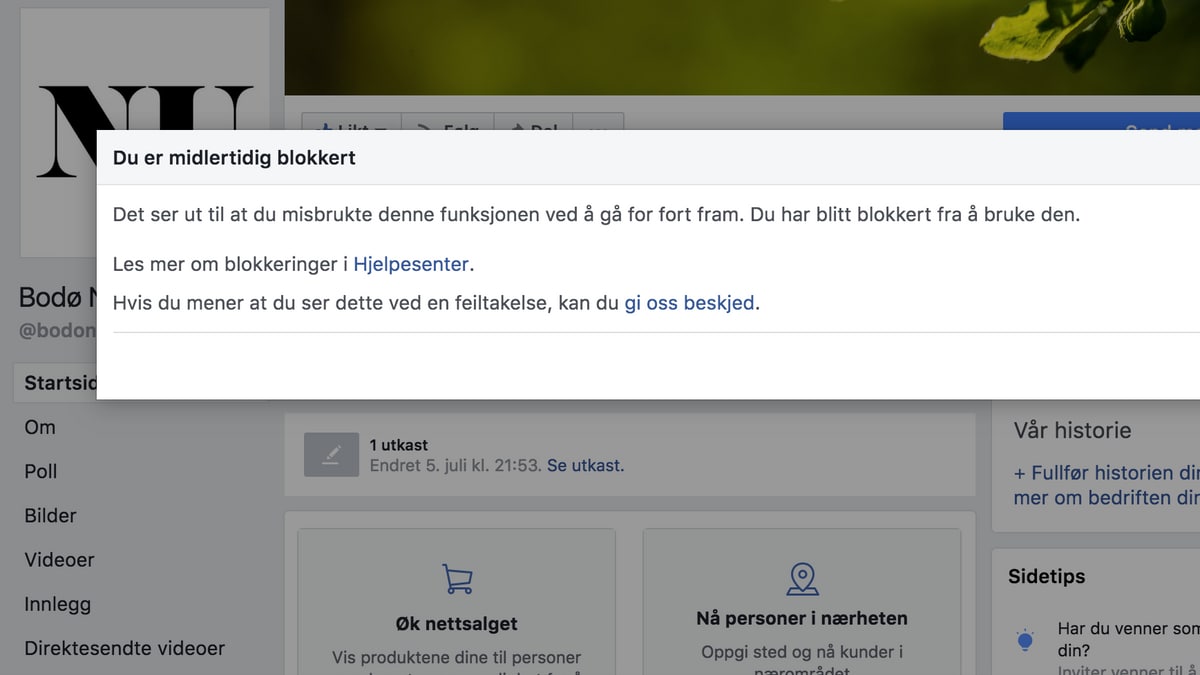 UPDATE: Facebook has in an e-mail to editor in Bodø Now Markus Jensen said there was a technical error that led to the exclusion.
"It is not surprising that Facebook reacts so absurdly, but it is surprising that the company has committed itself to such an inaccessible form of communication and that the processing time is so long.It is half a day since the problem arose and this will cost us the ultimate due to subscription and advertising revenue, "he says.
Here is the answer that Bodø received from a spokesman on Facebook:
"An error today affected our automated systems, meaning that some entries were incorrectly referred to as span, we have found a solution that is now being implemented to solve the problem, and we apologize to anyone affected."
—————————–
Editor of the newspaper Bodø Nu, Markus André Jensen, reacted strongly today to the ban on publishing content on their own Facebook page.
"We do not know why this happened or which guidelines we should have violated." Despite trying, we have not been able to connect with Facebook.
The result is that the newspaper lost a distribution channel for its journalism, a channel that, according to Jensen, accounts for a significant part of their traffic.
Never experienced the same before
While Rana has no 6600 followers, Bodø Nu has 25700.

Development editor Geir Are Jensen in Bodø Now he has also noticed that he is not allowed to share Bodø Now articles on his own Facebook page.
"I do not think much about the cause, but I find it remarkable that this happens at a time when we have worked hard and shared a lot of critical journalism.
He adds that they have been on Facebook for seven and eight years and have never experienced the same.
Association of Editors: – Must get a good explanation
Lawyer Vidar Strømme has represented the most large media companies and has brought things from everything, from defamation to privacy and copyright issues.
He has experience with matters related to freedom of expression.

– This shows how vulnerable you are. Such a vulnerability can be said to be a freedom of speech, says Strømme.
General secretary Arne Jensen of the Norwegian editorial board says this is regrettable and illustrates a dilemma in Norwegian media reality.
"Facebook has such a big impact that it is impossible for an actor to be absent in practice, while at the same time being a private actor who chooses his own principles to govern.
"In practice, this means that it is possible to check the publication of editorial content from Norwegian media houses, and that is not advantageous, and the newspapers should receive a quick answer here.
Source link