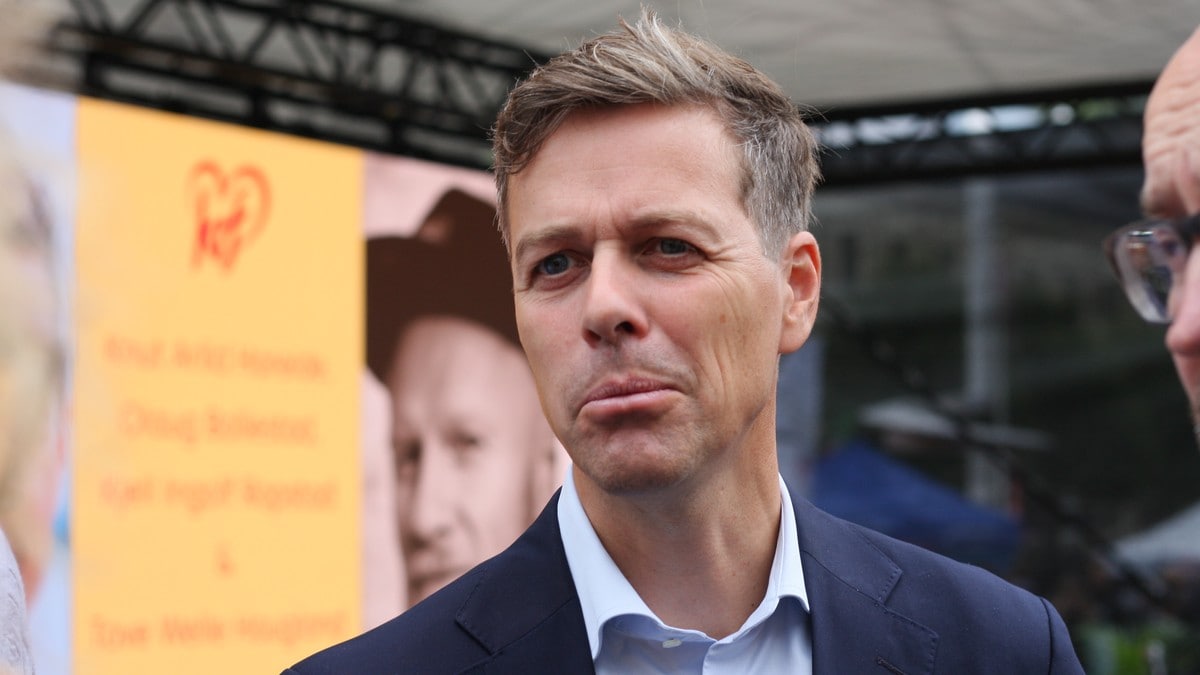 Tilt cases, announcements and a gay marriage for problems. KrF & # 39; s chairperson Knut Arild Hareide is confronted with a roadmap this autumn. The main question is: Erna Solberg or Jonas Gahr Støre?
– It's dramatic
"In many ways, this is a dramatic situation for KrF, and it seems that party management and central administration are living in a sort of" Oslo bubble "where they do not understand what is happening at the base," says Vebjørn Selbekk, editor-in-chief from the Christian Daily Newspaper.

NRK has spoken with commentators about what KrF's headache is about:
1. Right or left?
It is going to fall and Knut Arild Hareide has promised to make a final, and too long, long-awaited decision on which side of the KrF policy should be. The challenge is to make a choice without splitting the party.
"The big choice where they belong in Norwegian politics, KrF really never wanted, and when the Left and the Center have done that and are now well placed on both sides of the political scale, KrF must also make a choice," says Selbekk.
NRK's ​​political commentator Lars Nehru Sand believes that the decision will become extra difficult because of the major divisions within the party.

"This is a fundamental situation, and I think that all problems amount to a directional problem: the voters and foundations in the KrF do not necessarily correspond with the parliamentary group and the national assembly, it strengthens the conflict and makes it more difficult to take the choice. Someone will be disappointed anyway, and in the worst case enough people will reach the feast not to reach the barrier, "says Sand.
He believes that KrF stands for three alternatives.
– They enter the government immediately, or they let it be now, but it is clear that they will be in government from 2021 onwards. A third option is that they seek cooperation with today's opposition.
Berit Aalborg, political editor in our country, KrF's biggest dilemma concerns the many wings that cross the political axis.

"On one axis you have the value conservative, and on the other a broader national wing.These axes do not overlap the right and left wings of the party.It makes the situation extremely demanding for the party leadership to gather all wings and viewpoints together. keep it, "says Aalborg.
2. Contested announcements
More and more people have registered with KrF this summer. During the first two weeks of August, 50 members opted out.
Several important local politicians have also exchanged a party. On 4 August, four KrF politicians joined new parties in Western Norway. Among them, provincial councilor in Hordaland reported the transition from Pål Kårbø to the right.
"KrF has to go into today's government, it's a serious warning that a national strategy has made it impossible to keep the crew," Kårbø told NRK after the announcement.

"There are many voters and members who want clarification of what the KrF project really is," says Lars Nehru Sand.
Vebjørn Selbekk agrees and believes that members are critical.
"It does not appear that the party leadership says people do not vote for KrF because they have a brilliant economic policy or a very good transport policy, they vote for the party because they want to focus on Christian values." KrF & # 39; s leadership seems to want other voters than they actually have.
Selbekk refers to the conflict where the family spokesman of the priest and KrF, Geir Jørgen Bekkevold, dedicated a lesbian couple to the church.
3. A cheerful feeling for problems
Recently, KrF & # 39; s communications manager Mona Høvset and her female cohabitants were committed to Bekkevold. It has upset many of the party.

Party leader Knut Arild Hareide said earlier that Bekkevold undertook the wedding as an individual and priest and that KrF & # 39; s program remained unchanged.
The party program states that the marriage "as a rule between man and woman has a deep roots in faith and tradition".
Berit Aalborg from Our Country believes that the case strengthens internal conflict points in the KrF.
– I do not think that KrF can choose one of the ways in gay marriage. If one of the wings is not heard, one will encounter quite a large part of the party, regardless of what they choose. They have to live with different views within the party.
However, she believes that the case makes it extremely difficult for party leadership to make a concrete choice on which side of the policy they will be.
"If parity is already in a chaotic situation, it is more difficult to make a difficult choice, I speak a lot with KrF people and there is no doubt that KrF is in an extremely demanding situation.

Vebjørn Selbekk believes that the conflict gives the clearest picture of how management has no contact with the grassroots.
"It does not seem that the party leadership understands how fried something like that works in the districts where KrF still has his constituents, they have to remember that they are a Bible event, that neither the communication manager nor the party leadership could see how this would degenerate – shows that they are in a bubble without sufficient contact with the supporters, says Selbekk.
Aalborg does not agree with this.
– I think it is an overly simple analysis. Hareide comes from Western Norway. The dividing lines within the party have been crossed to the top. There will certainly be local variations, but there are no geographical differences that are the problem.
Lars Nehru Sand believes that the conflict reflects the general problems of the party.
– It illustrates that KrF had the theological and Christian compromise altogether. In some areas it is good, while in other cases it is very exciting and almost impossible to reconcile, "says Sand.
NRK has had contact with 12 of the 16 provincial leaders in KrF. Most of them are crucial to the wedding ceremony, but Bekkevold is also praised for the efforts he makes as a parliamentary representative.

4. A provincial coalition with KrF in the leading role
Something fought in the north. On Monday it became clear that the municipal minister Monica Mæland (H) placed the provincial coalition between Finnmark and Troms on ice. She throws the ball back to the Storting.
Finnmark is now working on KrF in the Storting to make them turn.
This again makes KrF a key role in a rollover case.

"For a small party, it is really a dream situation to help politics decide, but with all the internal refusal in the KrF, I find it extremely stressful to be in a situation of danger in all cases, says Aalborg.
Selbekk fails to see how KrF can earn on the valve.
"There is little that creates hallelujahememning at a county meeting in the north of KrF's electorate.The party will give the impression that they are liberal and modern, while they communicate with the core thinkers that they stand for what they have always stood for. They whip and it is a very complicated double communication, says Selbekk.
Source link