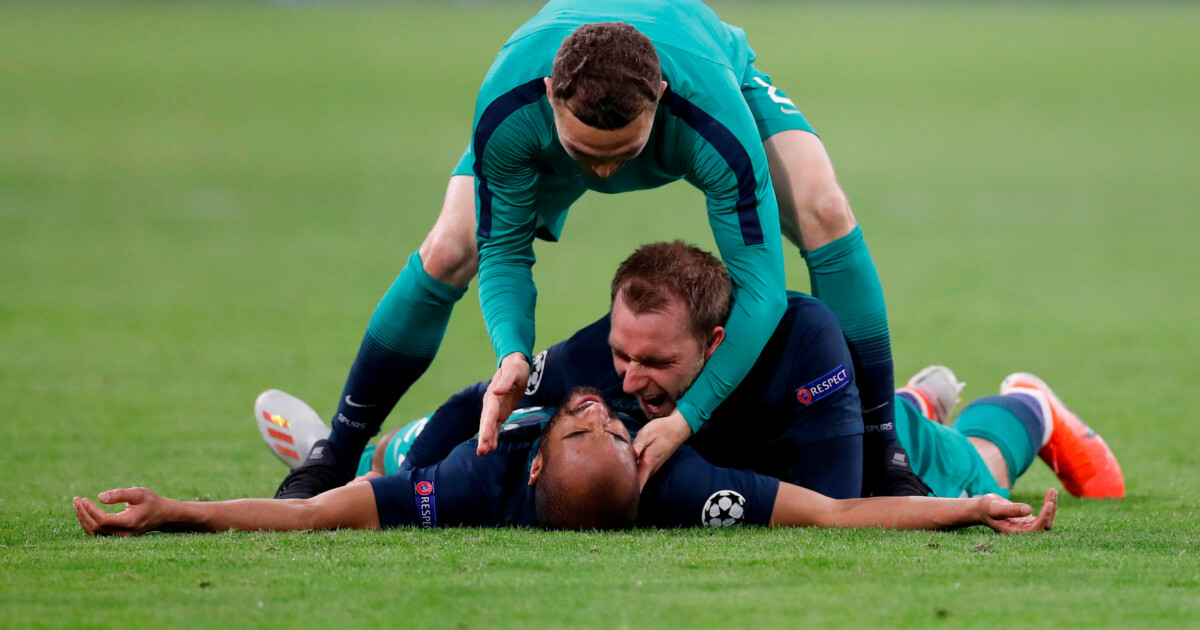 For the second day in a row we witnessed an interpretation of the rare in a final of the Champions League. When Liverpool became 0-3 to 4-3, Tottenham managed to turn 0-1 to 3-3 against Ajax – and assured himself of the final on the road goal line.
On June 1, Liverpool and Tottenham will fight for the good-natured Champions League trophy.
Tottenham won 3-2 in the Netherlands. The decisive goal was five (!) Minutes of overtime. Lucas Moura became the big hero. However, the Danish midfielder of Tottenham, Christian Eriksen, believes the London team was lucky.
– It was a nerve-racking fight. We tried to fight back, but in the end we were just lucky, says Eriksen in the interview after the game.
Collapsed in interview
Eriksen says that he was hurt by Ajax, who seemed to be ready for a Champions League final for a long time.
– They were better than us in both games. But this is a relief, because we fought hard for this. It is a dream to be in the final, Eriksen continues.
How much it all meant was visible on coach Mauricio Pochettino. He broke into the interview zone after the game.
– Thanks, soccer. Thanks guys, the players … They are heroes. Last year I told everyone that I have a group of players who are heroes. The other half was fantastic. Thanks, soccer. Without these feelings, without football, it is impossible to live. Thank you to everyone who believes in us. It's amazing, but hard to explain how we feel now, says Pochettino after the match against BT Sport.
He continues:
– We spoke before the fight that we had to work hard and feel the love. It is not stress, it is passion. The feelings we showed are passion. This is soccer. I am so grateful, Pochettino said before he broke again.
hailed
It was Lucas Moura who for five minutes in overtime became the great hero of Mauricio Pochettino & # 39; s men after scoring the important final for Tottenham. It was Llorente who pushed the ball to Dele Alli, who just sent the ball to Lucas Moura. So he was a hat trick and sent Tottenham to the final against all odds.
– It is a drama of dimensions, reports Viasat commentator Lars Tjærnås about the direct.
After the goal, you saw crying players for both teams. Shattered Ajax players and tears from the Tottenham players.
Former Tottenham player Jermaine Jenas was of course very happy with the way the game ended in Amsterdam.
– Ajax played so well, but Tottenham gave it all in the second half, and they looked like a completely different team. For an evening before the club, Jenas tells the BBC.
Such as Dagbladet Sport on Facebook
Source link