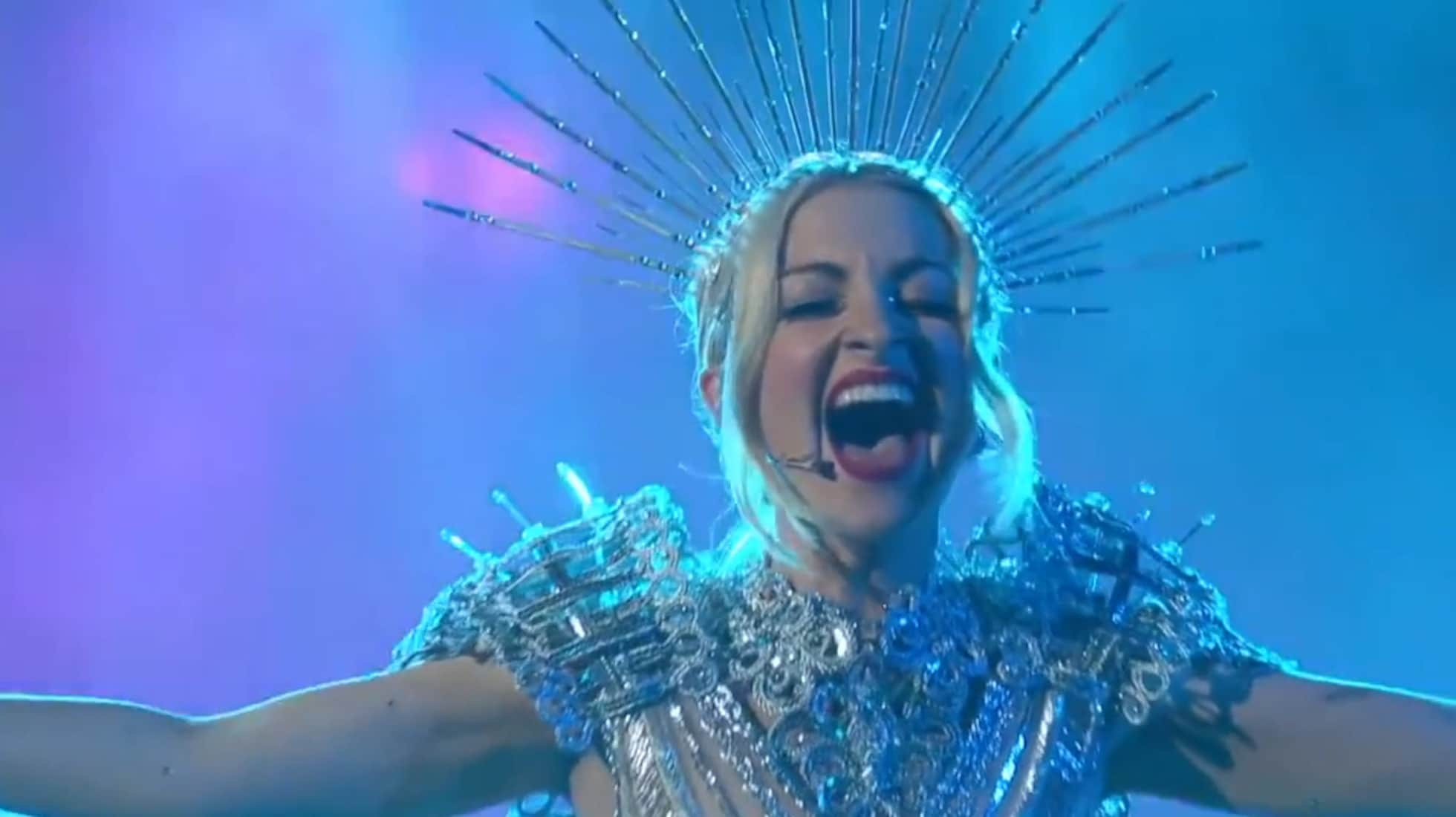 Tonight, the last ten participants were picked up for the final in Tel Aviv on Saturday. VG & # 39; s assessor constantly assessed performance.
Also read: KEiiNO sang wrong – went on
Read the reviews of VG & # 39; s music reviewer Tor Martin Bøe here:
1. Armenia
Srbuk «Hiking»
This was to be the opening of the Eurovision Song Contest. "Walking Out" is tactically tough both fast and fit. The vocal power of Srbuk is not as impressive as in the recorded version. Here there is a number of varying volume and tone precision that is not completely affected. Dull show with long boots, red lights and trivial pyro. Armenia did not manage to get out of the semi-final last year and with this surprisingly poor performance it can also cause problems this year.
2. Ireland
Sarah McTernan – "22"
Sweet ice cream bar shows where McTernan at least sings as well as on the plate. Still fairly uninteresting song. It runs away in an unforgettable and innocent event. What makes it really boring is the trivial chorus where "blue" rhymes with "u", "deja vu" and of course "22". In fact, the text is so miserable that you are not sure whether it is really native English.
3. Moldova
Anna Odobescu – «Stay»
Here is the championship of miserable enderim. Notes that I am almost upset about how incredibly slow and dramatic this is. Odobescu has a lot of power in the vocals, without anything helping. This white fabric that they draw in the background is fascinating craftsmanship anyway. The number is absolutely not, despite a steady modulation at the end. It should not be allowed to submit something so banal. Neglect, disappear.
4. Switzerland
Luca Hänni – "She Got Me"
Imagine something so beautifully simple and pop-danceable from Switzerland. Luca Hänni has worked with Dieter Bohlen herself (ask grandma about Modern Talking). This wink from Justin Timberlake from a popperle tries to be much cooler than last year's Cypriot silver. If someone has to hang on something, he gestures and removes a lot. The "drop" also tries a bit too heavy. But if there is a number so far that is clear for the final in this semi-final, this is this.
5. Latvia
Carousel – "That night"
Very cute with towering buzz and demise of young children to the nursing home. Nice green hat too, that fits perfectly with light-footed doll with First Aid Kit kink. The challenge is that there is really little else going on in the song than that the same chord changes over and over again. At the same time, the poem in this "wohohohoho, let-a-ha-ho-ho, where are you, I need you all night long" thing. Not because the singer has forgotten the lyrics, but because the band has forgotten to write it.
6. Romania
Ester Peony – "On a Sunday"
Electropop at the intersection with the top bars on any energy service. The pieces are reminiscent of other songs that are halfway through memory. Moreover, it is strange to scream in a gloomy scary show with bizarre handmade, Dracula aesthetics and the other mandatory references from Transylvania. "On A Sunday" tries to hide that it is actually nothing special, in a dark scream of ghost electronics. It causes it to slip away like a dying vampire instead.
7. Denmark
Leonora – "Love Is Forever"
This is wonderfully sweet, crazy naive in his embrace of love as the one and only. Especially since we are in a competition where politics should not be mentioned (as is also noted in the text). The show is literally just as light-hearted, in which you sit and dangle with your legs from a chair that could have given all cuttings at Sunnmøre good months. Leonora focuses on the international languages ​​of love, performed in various national languages. Perhaps not very impressive, but the melody is impressively effective in its exciting banality. Sometimes you need no more than that.
8. Sweden
John Lundvik – "Too Late for Love"
"Is it too late to try," asks John Lundvik. "Then answer me! Listen to me. I'm bringing a small gospel choir that asks me." Undoubtedly the most enjoyable and least inventive song of this year. He does it as if he really believes in it. The show must be the most appealing Sweden that have existed for a long time. Here is no fun animated figure or stylish steps, just a solid waterfall of sleepy yellow light. Even when the four-person choir enters the end, it doesn't feel as intense as it was intended.
9. Austria
Pawn – "Limits"
Skirt and made with great "CAUTION. CAN KNOW" warnings for vocal cords, events and stage lighting. This is a nice case on "board". The Peacock does not quite manage to transfer the slumbering and intimate to Expo Tel Aviv, but it will certainly prove that she is trying. The song may be too quiet for a festive audience to continue, but at least it is a delay in all other rings.
10. Croatia
Roko – "The Dream"
Roko Blažević has a fantastic voice and a terribly bad song. And he has digital angel wings where he drums around in a lowland landscape that is more reminiscent of hell. Does this mean he is a fallen angel? Or was it just a dream? Anyway, this is a true nightmare that will haunt us for years to come. Some of the most hopeless in the competition for several years. If this continues to the final, something is seriously wrong with both the ears and the eyes of the entire continent.
11. Malta
Michela – "Chameleon"
Malta finally delivers the fun and silly dance song that they have tried to make several times. It appears that you may never want to give up. Not completely perfect this time either. Michela sometimes only hits every fourth tone. The text is hysterical without meaning. And the drop is not quite among the biggest – it really sounds like it's from a completely different song. The same. Here is a lot of beautiful, deliberately dusty Mediterranean expertise.
12. Lithuania
Jurijus Veklenko – "Run With The Lions"
There is a lot of emotion here. A lot of. Emotions. Veklenko sings as if someone tried to tell him what the intensity is through an oversized Excel sheet. The result is calculated accordingly cool. The number is so heavy that even a hungry cat wouldn't bite it. Lions are quite graceful, even if they reach the maximum speed of 80 km / h. It is so far from the pace and the result that you can get here.
13. Russia
Sergey Lazarev – "Scream"
Russia is very good at both theater shows and obligatory votes from friends and acquaintances in neighboring countries. "Screaming" builds strong and well, the Russians must have. And the mirroring is pretty stylish. The shower cubicle too. And for a singer he is. But seriously: this is probably a bright and soft ballad where the singer keeps the tone, but manages almost 1/3 of the "meeee" of Morten Harket on "The Sun Always Shines on TV" (which reminds a few seconds of the transition here, with not so much goodwill). It will of course score high in both this semi-final and the final.
14. Albania
Jonida Maliqi – "Ktheju tokens"
Actually one of the most original songs of this year. Both in message and in execution. Moreover, it is strong Albania to continue to insist on singing in the native language. An example that could have been followed by several. On the other hand, why she comes up in something similar to Sauron's Eye in the "Lord of the Rings", I can't quite find the explanation. And the song gradually squeezes itself into a mix of electronic tough techno and an ethnic landscape of windmills, where you can really remember nothing but nasty roar.
15. Norway
KEiiNO – "Spirit in the Sky"
Yes, the chorus is still good and solid. None of the parts themselves are bad, but it is as it is put together that still seems awkward and somewhat unfocused. And here two of the three struggle with the implementation. The show was great since Oslo Spektrum. The text is just stupid to run in the air with demons and spirits, and this banal Eurotrash description feels very exhausted. Fred Buljo, like a joik, is still the best. In fact, I want to say that the whole song rests on him. By the way – based on the atmosphere of the room, this is already the winner of the year.
16. The Netherlands
Duncan Laurence – "Arcade"
The Netherlands sends a favorite that has used the entire childhood to consume Coldplay discs. Laurence controlled it so perfectly that Chris Martin can take the rest of his career free if he so wishes. It's a lot about losing and winning, and not on the losing side. The number is fine and ours. The piano is quiet and delicate. And as suggested – brilliant. But this cannot be the roller coaster that you want to get out of the bridge. It's going well anyway.
17. Northern Macedonia
Tamara Todevska – "Proud"
Another participant who has been with us before, such as Russia, is responsible for re-using artists, among other things. The second last contribution from Todevska has a good and clear message that you are proud of yourself for who you are. I had kept that in mind too. It is no longer impressive, even though it has all the singing qualities that various other sleepy and undersized ballads have lifted here. Unfortunately "Trots" only delivers the latter. Unfortunately, such idealism wins absolutely nothing.
18. Azerbaijan
Chingiz – "Truth"
Finally some pace again. Chingiz is actually called Çingiz Mustafayev. He brings electronic equipment with a dark skin color, with matching creepy drums and a more than just falsetto finish. Besides, a suitable electronic operation shows with a kind of surgical precision that fits the whole. The text on the chorus also has the potential to become a festive apropos when someone is asked to stroke again. Whichever setting. The truth is that everything else in the song has been anonymously forgotten and must be kept up-to-date.
Commercial cooperation: discount codes
Source link