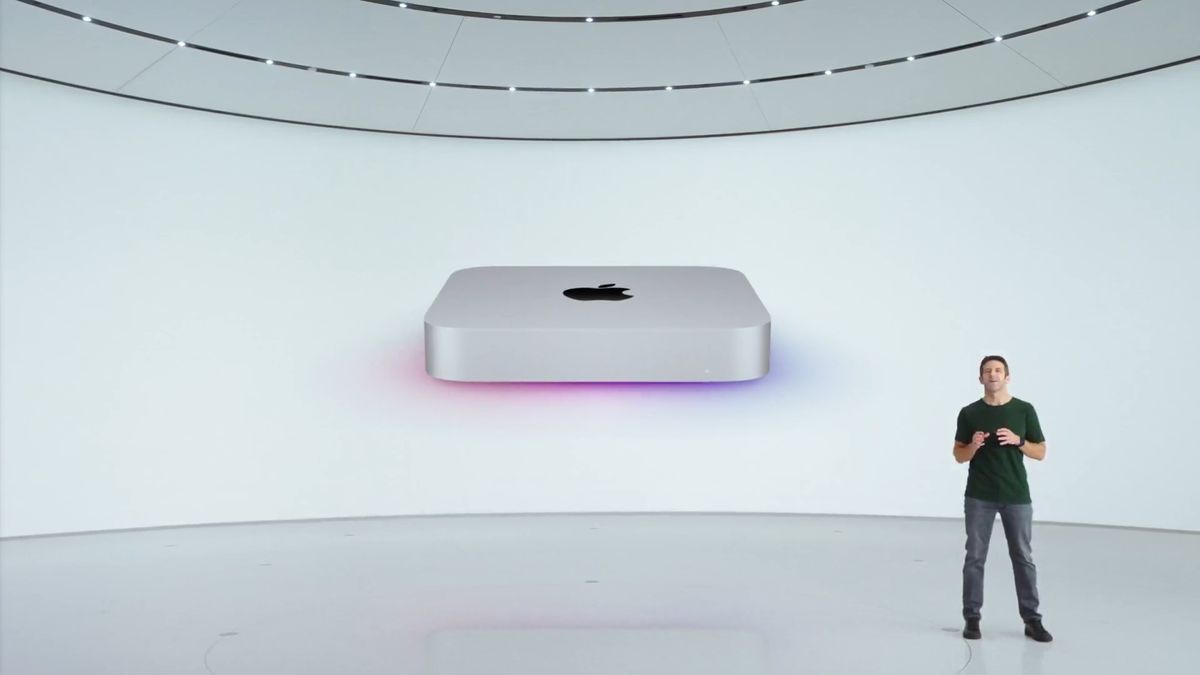 The new Mac mini (2020) was unveiled at Apple's One More Thing event. The new computer looks quite similar to the previous model visually, but Apple has made some relatively bold claims about the new interior, namely that the new computer should have up to three times faster CPU performance than the previous Mac mini model, and up to six times faster graphics performance.
This is due to the new integrated M1 chip, a SoC (system on a chip), which debuts with the new Mac mini, along with the new MacBook Air (2020) and the new MacBook Pro 13 " (2020) , which was also just announced.
According to Apple, with this new processor, the new Mac mini can compile Xcode up to three times faster, play advanced games and render complex Final Cut Pro scenes much faster than the previous model – while still being impressively small and compact. Here's everything we know about the new Mac mini by now.
New Mac mini (2020) comes with macOS 11 Big Sur pre-installed. This is the latest version of Apple's operating system and is built to take full advantage of the new M1 processor in the new Mac mini.
The most important
What is it? The new Mac mini model from Apple
When will it be available? Available to order now, delivered from next week
How much is it? 8990 crowns
New Mac mini (2020), price
When it comes to price, you get the cheapest Mac mini base model, with 8 GB RAM and 256 GB storage, for 8990 crowns.
The second base model, with 8 GB RAM and 512 GB storage, goes for 11,490. Both models have the same M1 processor.
This is cheaper than the 2018 variant of the Mac mini, which cost NOK 10,490 at launch. Not only does this updated variant of the Mac mini cost less, but it also offers a much bigger upgrade than the previous launch, which basically only gave us twice the memory for the same price.
New Mac mini (2020), release date
We were almost overwhelmed by the fact that the new Mac mini was now being unveiled, as the minicomputer had been updated just under seven months ago. In March 2020, with the machine's previous update, we felt that the specifications presented did not justify the price, so we cross our fingers for this new M1-based model.
New Mac mini (2020) is now available for purchase (pre-order was available at launch on November 10) and the machines currently have an expected delivery time of around a week (first machines will ship in week 47).
New Mac mini (2020), specifications
The big headline during the launch of the new Mac mini is that the computer now uses Apple's proprietary silicon, namely M1, a new SoC, which means an all-in-one solution with an eight-core processor section, I / O section, security module and much more.
Apple is making big claims and promising that the M1 will be able to offer the world's best CPU performance per watt. The M1 chip has a CPU section of eight cores, of which four are high-performance cores and four are high-efficiency cores, so you get a combination of good performance and energy efficiency. Apple further claims that tasks can be processed almost three times faster on the new computer compared to the previous Mac mini model.
Game performance was also mentioned. If for some reason you tried to play on your old Mac mini, this new computer can offer up to four times the performance compared to some games with M1.
Additionally, which is good news for graphic designers and video producers, it also promises that Final Cut Pro X rendering will be up to six times faster than previous models; and currently up to two monitors are also supported (one with resolution up to 6K at 60Hz via Thunderbolt and one with resolution up to 4K at 60Hz via HDMI 2.0.)
As mentioned above, the base model in the new Mac mini (2020) has Apple's M1 chip, which includes an eight-core CPU, as well as a GPU, also this one with eight cores, 8 GB RAM and 256 GB SSD storage.
The second base model has the same specifications, but doubles the storage to 512 GB. That is the only difference.
You can also customize these base models with up to 16 GB RAM and up to 2 TB storage.
When it comes to inputs and outputs, you get an ethernet port, two Thunderbolt ports, HDMI, two USB ports and a 3.5mm audio output for headphones, for example.
Source link